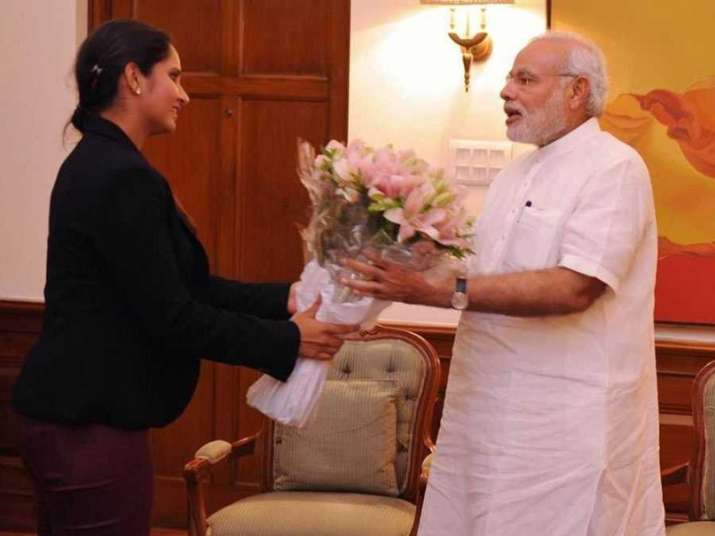 Prime Minister Narendra Modi celebrated his birthday on Sunday. On this occasion, he was greeted by the prominent personalities of the nation, including singers, Bollywood stars and sports icons.
Also many BJP workers, leaders and ministers took part in several programs across the country in honor of PM Modi's  birthday.
The PM himself spent the day in Gujarat, first meeting his mother and then addressing a couple of gatherings.
Not only this, many celebrities came out to wish the him by writing  testimonials about Mr. Modi on his official website. These included the likes of Sachin Tendulkar, Anil Ambani, Amitabh Bachchan, among others.
One of the best notes about the PM came from tennis star Sania Mirza. 
In her wish,  Sania described here two meeting with Mr. Modi and also shared a sweet anecdote.
This is what Sania Mirza wrote on PM Modi's birthday: 
It was a great privilege to meet India's dynamic Prime Minister, Narendra Modi Ji twice in my life.

I got the opportunity to visit him after winning the US Open in 2014 and then met him along with the rest of the medal winners of the Asian Games a few months later. I have to admit that on both these occasions I was floored by Mr. Modi's oratory skills, razor sharp memory and vision for all-round development.




The Prime Minister is very open to new ideas that can raise the stature of our country. He was thrilled with my performances for India at the world level and extremely pleased with my efforts in trying to produce more Grand Slam champions through the Sania Mirza Tennis Academy that I have set up in my city of Hyderabad. His enthusiasm is infectious and I felt more motivated to achieve my dreams after each of my two meetings with him.




He surprised me when he enquired about my sister, Anam, who he had met many years ago when he was the Chief Guest at a National Pistol Shooting competition in Ahmedabad in which she had participated. It was amazing that he still remembered her after all these years.




As an Indian belonging to the sporting fraternity, I was delighted to learn that the Prime Minister, Mr. Modi is taking a very special interest in the development of sport in our country. The setting up of the Olympic Task Force with an eye on the next three Olympics to be held in 2020, 2024 and 2028 is a giant step in the right direction that is bound to provide a major boost to sport in India.




I wish the Prime Minister success in realizing the dreams of all Indians and wish him a wonderful birthday.