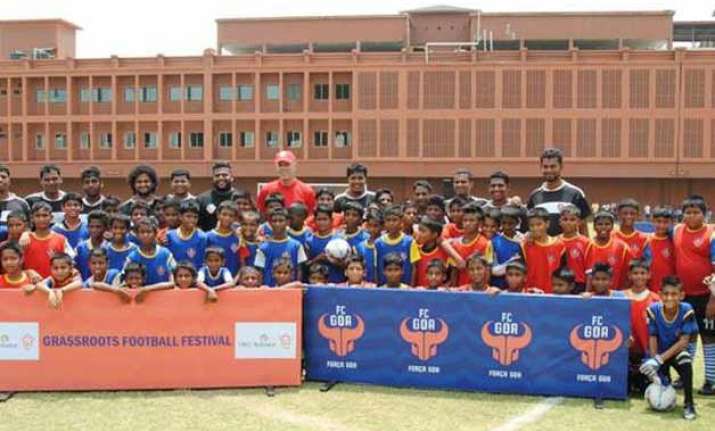 Panaji: FC Goa's grassroots development programme, which commenced a few months ago, saw the franchise reaching out to over 20,000 children and actively mentoring and coaching over 1500 students from 16 schools.
Now, around 25 of Goa's most promising footballers between the age of 11 and 13 will be offered an opportunity to train with the best coaches at the Reliance Foundation Young Champs national selection camp in May - a training and selection camp organised by the Reliance Foundation.
The first-ever Reliance Foundation Young Champs Scholarship Program - a nationwide search for the country's next footballing stars is underway and will culminate in Mumbai next month.
Approximately 25 shortlisted players from each of the eight franchisee clubs will participate in the week-long Reliance Foundation Young Champs national selection camp to be held in Mumbai in May. Of the 200 shortlisted players participating in the said selection camp, around 25 players will be selected to receive a Reliance Foundation Young Champs Scholarship.
In continuation with its commitment to encourage and support football, FC Goa organised the FC Goa Grassroots Football Festival for children between the age of 11 and 13 years, at Tilak Maidan, Vasco, on Sunday.
Piet Hubers, Technical Director Grassroots, Indian Super League was down in Goa to scout for potential talent at the grassroots festival.
Over the last three months FC Goa's grassroots coach, Gavin Araujo, an AFC A license coach has been working closely with Goa's young and talented footballers. Gavin has been an excellent footballer and has captained Goa at the U-16, U-19 and U-21 age groups with a long playing stint at Vasco SC.
Gavin has been supported by a team of four assistant coaches and eight grassroots coaches, besides 16 physical education teachers from the respective schools inducted in the programme.
Shrinivas Dempo, CMD of Dempo Group of Companies and co-owner of FC Goa, said, "The enthusiasm and interest in the sport of football is what drives us to invest in it. Football has always come before everything else. We at FC Goa are committed to elevate the sport of football to a whole new level.
"FC Goa's grassroots initiative has been born with the intent to give birth to rising stars in Goa and we are certain that we will make that happen.