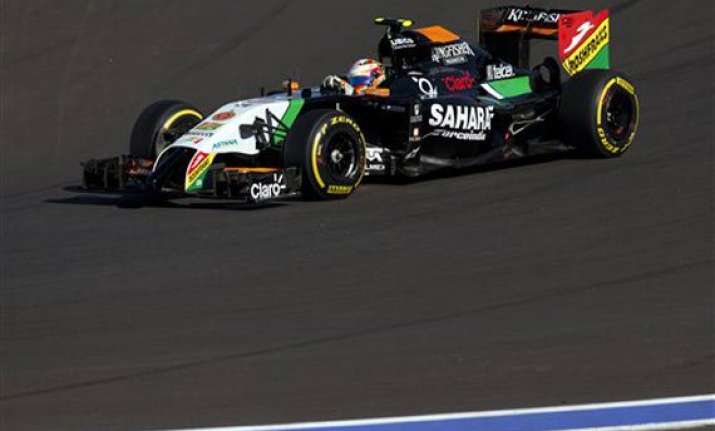 Sochi: Sergio Perez's secured 10th place at the inaugural Russian Grand Prix, preventing a no-points show but Sahara Force India conceded the fifth spot to McLaren in the team championship, here today.
Perez earned the last available point after starting 12th on the grid while his teammate Nico Hulkenberg finished 12th to come out of an F1 GP without points for the third time this season.
Hulkenberg had started from 17th place on the grid due to a five-place penalty for an unscheduled gearbox change.
Force India came into today's race with a narrow one-point lead over McLaren but the British side today pocketed 22 points as Jenson Button finished fourth, just ahead of teammate Kevin Magnussen.
Force India are now lying at sixth spot with 123 points, 20 behind McLaren.
"It was a very hard race and a very hard-earned point. We tried our best to push throughout the race, but obviously the fuel strategy was quite marginal - especially because I started the race on the medium and had to really push to keep in touch with the group on the softs," Perez said.
"When I was on the softs, it was hard to save fuel because I had to defend from Felipe [Massa] who was behind me for the whole of the second stint. So it was a hard afternoon, but hopefully we can be in better shape for the coming races."
Hulkenberg also said it was a difficult race for him.
"We started pretty far back on the grid and I was struggling a little with my straight-line speed compared to the cars with which I was battling. We were doing well in the corners, but losing a bit of ground on the straights, which made it difficult to overtake, especially on a track like this, where the straights are the only good passing opportunities," he said.