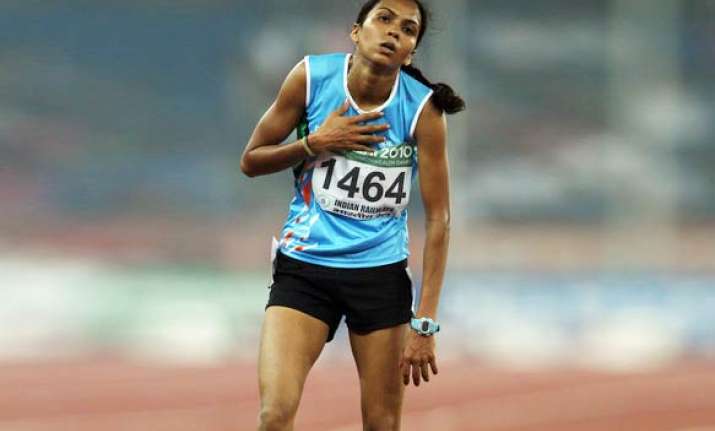 Ranchi, February 21: Kavita Raut continued with her sizzling performance on the track as she shocked Asian Games gold medallist Preeja Sridharan for the second time in the athletics competition while Services consolidated their lead in medal standings in the 34th National Games here today.
Having earlier beaten Preeja for 10,000m gold, the concluding day of athletics competition witnessed the 25-year-old Maharashtra tribal girl notching up a double as she pipped the national record holder from Kerala for the 5,000m title.
In a repeat of the 10,000m final, Kavita trailed past Preeja in the final run to stop the clock at 15:54.26 and shatter the 12-year-old Games record of Sunita Rani who had a timing of 16:05.36 in Imphal National Games.
Preeja's timing of 15:54.98 also bettered the meet record.
Kavita had finished behind Preeja in both the 10,000m and 5,000m in the Asian Games last year, settling for silver and bronze respectively.
In another upset of sorts, Indian sprint king Abdul Najeeb Qureshi was pushed to the third spot in 200m when Services Nitin Kumar bagged the gold from Andhra Pradesh's M Manikanandaraj in a photo-finish.
Services also clinched the 4x400m relay gold as they went on to add five more yellow metals to their yesterday's tally to take a commanding lead over their rivals with 44 gold, 33 silver and 26 bronze in the medal standings at the end of the ninth day of the competition.
Maharashtra were a distant second with 34-37-36 as Manipur, gaining heavily from cycling and fencing, occupied the third spot with 30-19-19.
Star international cyclist Ch Rameshori Devi of Manipur won her fourth gold, while fencing competition got underway with the North-eastern state bagging two more yellow metal through W Roji Devi and in the team event.
Meanwhile, Chhattisgarh marksmen dominated the shooting range, picking up both the gold medals on offer today.
Another highlight of the day was promising Nagpur shuttler Arundhati Pantawane's rise to stardom when she clinched the women's singles title after defeating P C Thulasi in the final. She had earlier stunned top seed Sayali Gokhale in the semifinals.
The Nagpur girl, who was briefly ranked India number one after she finished runner-up in the Nationals, came back from behind to oust Kerala's P C Thulasi for the title.
In the men's singles summit clash, Guru Sai Dutt of Andhra also rallied spectacularly after losing the first set against Karnataka's Aditya Prakash.
Having ousted top seed and statemate Sayali Gokhale in semifinals yesterday, 21-year-old Arundhati continued her fine run as she pipped Thulasi 14-21, 21-17, 21-15 in a close tie.
In the men's final, Guru Sai recovered quickly after losing the first set against an error-prone Aditya Prakash to win 16-21, 21-10, 21-18.
The Andhra duo of Jyotshna Polavarapu and Nelakurthi Sikkireddy clinched the women's doubles title after beating Maharashtra's Sampada Sahasrabuddhe and Pradnya 21-16, 21-18.
Alwin Francis and Arun Vishnu Sivaraj Anrevamm of Kerala beat Maharashtra's Jishanu and Akshay 21-12, 26-24 for the men's doubles title.
Manipur dominated fencing competition with two gold medals while Services bagged one.
Vijay Kumar earned Services the individual foil gold as Tuka Ram of Andhra Pradesh bagged the silver while Gourav Gupta (Chandigarh) and Rajeshwar (Manipur) bowed out in the semifinals for bronze medals.
Manipur clinched women's team gold in the epee event as Punjab bagged the silver, while Kerala and Chhattisgarh bagged the two bronze medals.
W Roji Devi completed Manipur's domination with a gold in individual foil while Jasmine bagged silver. S Bindu Devi and Inderpreet Kaur won a bronze each after losing in semifinals.
In cycling, Gurpreet Kaur bagged two gold medals even as international rider Ch Rameshori Devi pocketed her fourth yellow metal in the competition.
Riding on Gurpreet and Rameshori's performances, Manipur and Punjab bagged two gold each to dominate the competition.
Having claimed a hat-trick of gold medals yesterday, Rameshori clinched the women's 200m sprint, pipping her statemate K Suchitra Devi and stopping the clock at 13.876.
Kerala's Kezia Verghese settled for the third spot.
Manipur clinched their second gold in cycling in men's 200m sprint through O Bikram Singh. Asia Cup (Japan round) bronze medallist Bikram Singh clinched his second gold when he stopped the clock at 13.338 en route to the 200m sprint title.
Punjab's Amrit Singh and R L Manoj of Services bagged the second and third spots respectively.
Pankaj Kumar of Haryana clinched men's 6km scratch title with 09:51.30 as Amandeep Singh (Punjab) and Manpreet Singh Kalsi of Maharashtra settled for silver and bronze.
Gurpreet earned Punjab the title in women's 4km scratch clocking 07:27.723, while Rejani V (Kerala) and T Nita Devi (Manipur) bagged the silver and bronze medal.
She bagged her second gold of the day logging 25 points en route to the title in the 16km points race as Th Helen Devi of Manipur (21) was pushed to the second spot. Rejani V of Kerala logged 17 for third place.
Chhattisgarh dominated the shooting range, clinching both the gold medals on offer today.
PPS Guron earned Chhattisgarh the men's skeet individual title shooting 143, as Services Allan Daniel Peoples was two points adrift for the silver. Chhattisgarh also bagged the bronze through Baba Bedi who shot 140.
With scores of 353, Chhattisgarh were clear winners for the team gold as Services (333) and Punjab (332) bagged the silver and bronze respectively.
In men's football, Bengal and Services dished out a dull goalless stalemate to join Goa and Services in the last four.
In the semifinals, Bengal will lock horns with Goa, while Services will clash against Punjab on February 23.
In men's basketball, Punjab scraped past Tamil Nadu 67-59 to move into the final.
Meanwhile, top boxers from Manipur and Services sailed into the semifinals after winning their respective bouts at JRD Tata Sports Complex at Jamshedpur.
In the women's fly weight (51 kg) class, Rebecca Lalinmawaii of Mizoram was no match for Sarita Devi of Manipur, who was the best boxer of National Championship held in Kerala last December.
A former world champion and four times Asian championship gold medallist, Sarita kept on the pressure on her rival with her left-right punches to widen the margin before she clinched the bout easily 18-2.
Vinita Mahar of Uttarakhand trounced Rijumoni Patar of Meghalaya 9-2 to move into the semifinal round in the same weight category.
Pinky Jangra (Haryana), who created a flutter by defeating five-time world champion M C Mary Kom in the quarterfinal of Senior National Boxing Championship at the same venue two years ago, maintained her form brushing aside international N Tonibala Chanu of Arunachal Pradesh 10-0 to move into the semifinals.
In the men's section, CWG bronze medallist Amandeep Singh of Punjab, internationals Sandeep of Tripura, Th Nanao Singh of Manipur and Sanjay Kolte of Services registered wins over their rivals Madan Lal (Haryana), Amit Kumar Shukla (Jharkhand), Madan Rai (Sikkim) and Madan Lal of Haryana respectively to sail into the semifinal round in the light fly weight (49 kg) category.
In fly weight (52 kg) class for men, junior international Gaurav Bidhuri of Delhi trounced L Devendro Singh (Services) by virtue of better points while Sunil Kumar of Haryana defeated Sunil Sharma of Jharkhand to move into semifinals.
Prakash Darjee of Arunachal Pradesh and Santosh Harijan outclassed Debendra Thapa of Orissa and Kulwinder Singh of Punjab in the same weight category in the quarterfinal.
Playing before the home crowd, Mishal Banjamin Lakra of Jharkhand delivered some powerful punches on Arun Kumar Limbu (Arunachal Pradesh) to emerge 11-5 victorious. PTI