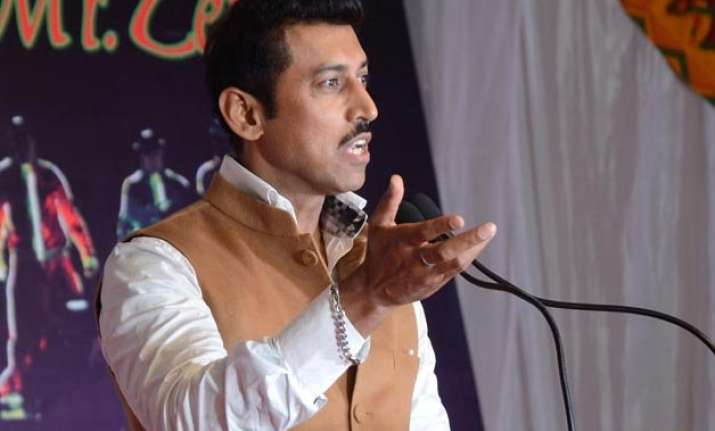 New Delhi: Taking a walk down the memory lane, Olympic silver medallist Rajyavardhan Singh Rathore says people called him a "mad" when he first started dreaming about basking in glory at the world's biggest sporting extravaganza.
Trap shooter Rathore was seen as flag bearer of Indian sports when he clinched a historic silver medal at the Athens Olympic Games in 2004.
He remained India's lone individual medal winner in Olympics till fellow marksman Abhinav Bindra emulated the Colonel four years later in Beijing by winning a gold.
"People called me a mad when I first started preparing for winning at the Olympics," Rathore said during the inaugural Times of India Sports Awards (TOISA) night here.
"But I worked hard and was determined to bring laurels to the country," the Arjuna awardee said while motivating the current generation of sportspersons to strive for excellence in their respective disciplines.
Now a minister of State for Information and Broadcasting, Rathore said the TOISA awards night, which was graced by legendary American athlete Carl Lewis besides a host of big names from the Indian sports fraternity, including former cricket captain Sourav Ganguly, reminded him of his playing days.
"This reminds me of my playing days. It's a great initiative, recognising the achievements of India's sportspersons. This is highly motivating," the 45-year-old retired Army man said in the presence of the who's who of Indian sports.
Rathore also spoke about his rivalry at the range with Sheikh Ahmed Al-Maktoum of the UAE, saying there was a wide gap in the rankings of the two shooters before the Athens Games. It was Al-Maktoum who pipped Rathore to the silver in UAE, by winning the yellow metal.
Born in Jaisalmer, Rathore is a multiple Commonwealth Games, Asian Games, World Cup and World Championships medallist.