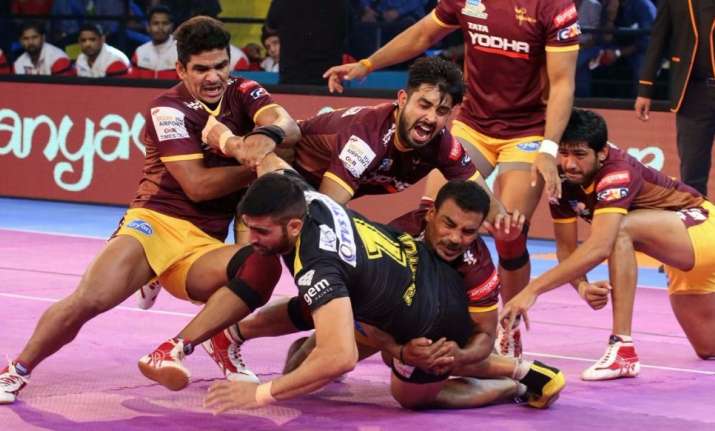 Nitin Tomar led from the front and scored 10 points as UP Yoddhas beat Telugu Titans 39-32 in their Pro Kabaddi League (PKL) match here today. 
Tomar was ably supported by Rishank Devadiga who scored six raid points. Telugu Titans' dismal campaign continued as they crashed to their sixth defeat of Vivo Pro Kabaddi League Season 5. Rahul Chaudhari scored 12 points but his effort went in vain. 
UP Yoddhas now have 15 points from four games whereas Telugu Titans have 12 points after eight games. 
Telugu Titans led 2-0 in the first minute as Rahul Chaudhari scored a raid point. UP Yoddhas scored three straight points in two minutes to lead 3-2. Vikas Kanwar failed with a do-or-die raid as Telugu Titans led 5-4 after seven minutes. 
UP Yoddhas levelled the game at 6-6 in the 10th minute as Jeeva Kumar scored a tackle point. Nitin Tomar scored his first raid point in the 12th minute as Yoddhas led 7-6. Rahul Chaudhari came up with a brilliant super raid as he scored four points to give Titans 10-7 lead. 
With less than five minutes to go in the first half, Reshank Devadiga scored a raid point for Yoddhas to tie the game at 11-11. Telugu Titans scored a point in the dying seconds of the first half as they trailed 13-14 at the break. It was an evenly matched contest as both teams traded raid and tackle points. Rahul Chaudhari scored six points for Telugu Titans in the first half. 
Telugu Titans started the second half brightly as they picked up three straight points to lead 16-14 after 23 minutes. 
UP Yoddhas put in a super tackle in the 24th minute to lead 17-16. UP Yoddhas were reduced to just two men in the 25th minute with the score level at 18-18. Telugu Titans inflicted the first all out of the match in the 28th minute as they led 24-22. 
UP Yoddhas recovered from the all out and scored two quick points to level the game at 24-24. Nitin Tomar scored three points for UP Yoddhas in the 32nd minute as they led 28 -26. 
Tomar was on a hot streak as he scored two more points as UP Yoddhas led 30-28 in the 35th minute. Tomar attained a super 10 in the 36th minute as UP Yoddhas inflicted an all out to lead 36-29. 
Rahul Chaudhari achieved a super 10 in the 37th minute as Titans trailed 30-37. Telugu Titans never looked like making a comeback as they lost 32-39.