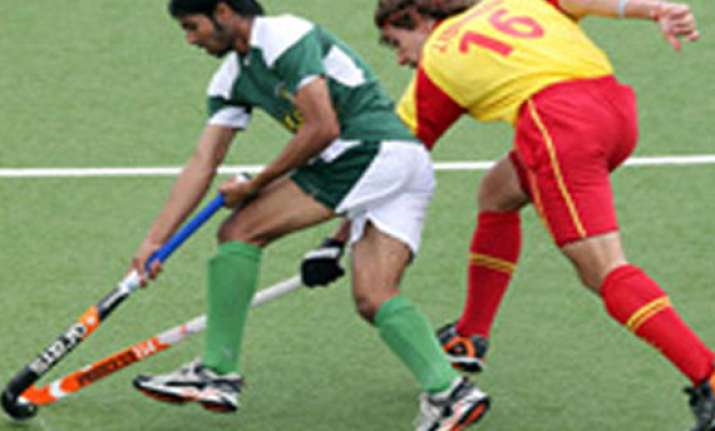 Auckland, Dec 5: Pakistan's dream of a triumphant return to Champions Trophy hockey ended with a 4-2 loss to Spain Monday, as defending champions Australia brushed aside Great Britain 4-1.

Spain's Pau Quemada scored two second-half goals to inflict Pakistan's second defeat in as many matches, knocking the Green Shirts out of medal contention at the last major tournament before the London Olympics.

Pakistan, making their first Champions Trophy appearance since 2007, equalised twice before Quemada's double sealed the win for Spain.

While the result means Pakistan cannot make the top four teams in the eight-nation event.

Pakistan made a disastrous start when veteran Spanish captain Santi Freixa found the net after just two minutes, converting the first penalty corner of the match.

With Spain dominating early possession, Pakistan were forced into a counter-attacking game, looking to hit Spain on the break.

Muhammad Rizwan had a chance to equalise when he burst through the Spanish
defence, only to miscue his shot with only Spanish keeper Francisco Cortes to beat.

Shakeel Abbasi had better luck in the ninth minute, when Cortes got a glove to his looping shot but could not prevent the ball dribbling over the line.

Gabriel Dabanch restored Spain's lead before half-time when he latched onto a pass in the Pakistan area and executed a deft turn to evade two oncoming defenders before scoring.

Pakistan's intensity lifted after the break and the reward came when Sohail Abbas, the highest scorer in world hockey, made it 2-2 with a trademark drag-flick goal from a penalty corner.

Pakistan created chances as Abbasi drove the attack but failed to convert them, while Quemada made no mistake slotting home penalty goals in the 57th and 65th minutes.

In the other Pool A match, Australia had little trouble defeating Great Britain 4-1.

Chasing an unprecedented fourth straight title, the Kookaburras found their rhythm after a stuttering display against Spain in the opening round, with goals for Matthew Butturini, Matt Gohdes, Luke Doerner and skipper Jamie Dwyer.

Germany play the Netherlands and South Korea face New Zealand in Pool B matches later Tuesday.