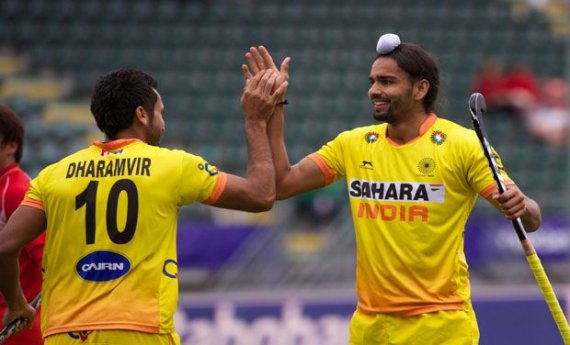 New Delhi: After playing a vital role in India's campaign in 17th Asian Games and Champions Trophy, Akashdeep Singh is now hoping to produce another steller performance for Delhi Waveriders in the Hero Hockey India League (HHIL) starting next month.
The young striker, who idolises India skipper Sardar Singh, said he is lucky to play under him and is looking forward to once again share the dressing room with him.
"It has been a great prospect to play under Sardar's leadership and I am one of those lucky ones to not only play under his guidance in the Indian Men team but even in the Hero Hockey India League where we are with Delhi Waveriders," said Akashdeep, who was awarded the 'Best Junior Player of the Tournament' in the Champions Trophy.
"Watching him play as well as discussing the game with him has helped me to learn a few tricks of the trade and has enhanced my game immensely. He inspires me and many others to become the player we want to be and make a difference to the game when on the field.
"I am really looking forward to the League as we both personally are looking at a big challenge from the rest of the teams and the aim to retain the title this year too," said Akashdeep, who bagged the 'Upcoming Player of the Tournament award' for the last edition.
On the upcoming Hero Hockey India League, he said: "I have had amazing experiences at the last two seasons of the Hero Hockey India league as it is one of those rare golden chances where one gets to play along some of the finest hockey talents from world-over.
"One such player is Simon Child and playing alongside him in the forward position has been a big experience for me."
The inaugural day of the 3rd Hero Hockey India League will see Kalinga Lancers taking on Ranchi Rays on January 22 in Bhubaneswar.
Hero Hockey India League will be telecasted LIVE on Star Sports.