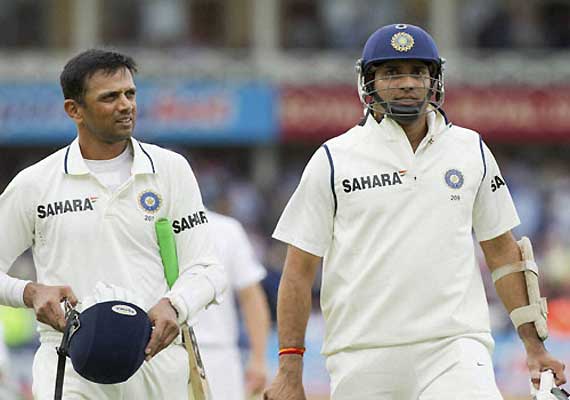 Hyderabad, Aug 21: Life after Rahul Dravid and VVS Laxman, the two stars of Indian cricket who retired in the aftermath of the 0-8 debacle overseas last season, may look difficult but Cheteshwar Pujara offers a ray of hope.
Pujara was the obvious choice after Dravid's retirement in March. Now that Laxman too surprisingly retired ahead of the Hyderabad Test, the Saurashtra middle-order batsman feels the youngsters need to live up to the challenge.
"Not only us, all the cricket lovers will miss them. Both VVS and Dravid have set benchmarks. It's a huge inspiration for the youngsters in the side. If we can atleast try and emulate it, it would really help," he said on Tuesday.
"Obviously the youngsters in the side would have to take more responsibility now. It's difficult to replace them straightway. But they have been our motivation and now it's time to live up."
Pujara along with
Suresh Raina
and Subramaniam Badrinath are in contention for the two vacant slots but the Saurashtra lad, known for his temperament and technique best-suited for the Test scheme of things, said he was not looking too far ahead.
"I'll look to perform and contribute to India's winning cause. I know that's the outcome if I win matches for India," Pujara said.
The three-Test match old Pujara would make a comeback after a knee surgery in London and said he is hugely motivated to do well in the series.
"It was a tough last year. One of the toughest phases ... I had to deal with my knee injury and then my father had to undergo bypass surgery," he recalled about the last season when he went into sidelines after playing two Tests in South Africa.
"You always have to start from a scratch after an injury. The rhythm take a beating as you are out of practice for three-four months.
"But I never lost heart. I believed in myself. I knew I would make it once again. The support which I got from my father was immense."
"I miss my mother (who died five years ago), but I know she is there with me through her prayers. She is there in my thoughts, something that helps me to do well," Pujara said.
"Thankfully, I've now overcome that phase. I'm fully motivated to do well. I know if I perform well, I'll cement my place (in the side). So priority is to score runs and win matches for India," he added.
It was in Australia's tour of India in 2010 when Pujara had made his dream debut with a match-winning 72 in the fourth innings.
The fact that the innings had come after a failure in the first innings in which he had got out for four made it more special for Pujara.
"I got out to a low ball in the first innings. I was promoted to No. 3 in the second innings and Rahul bhai dropped himself down (to No. 5) as we had to chase a target (207). It was a move that paid off. Winning a Test match is really a memorable experience," he said.
But it was reality check on the bouncy South African wickets when he could only aggregate 31 from two Tests in Durban and Cape Town.
"Facing two of the great fast bowlers -- (Dale) Steyn and (Morne) -- was a big learning experience especially on bowling-friendly condition," he said.