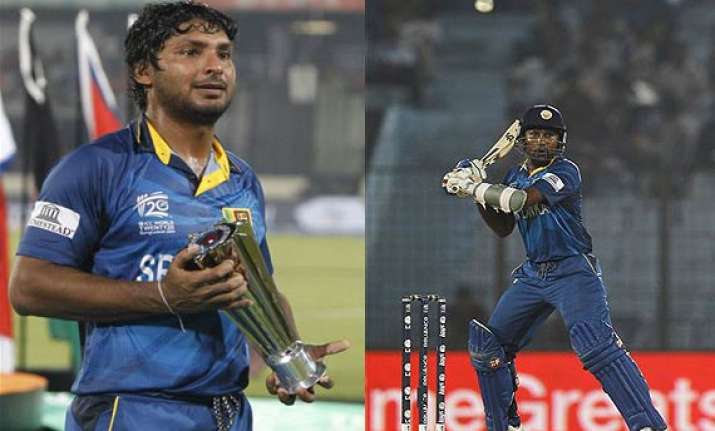 Mirpur (Bangladesh):  Cricketing stalwarts Mahela Jayawardene and Kumar Sangakkara were finally relieved as they finished their Twenty20 International careers with Sri Lanka breaking the jinx by winning the ICC World T20 at the Sher-e-Bangla National Stadium here Sunday.
The World Twenty20 win here for Sri Lanka came after a series of losses in four ICC World Cup events. Sangakkkara and Jayawardene, both former skippers, were a part of the Sri Lankan side that lost the 2007 and the 2011 50-over World Cups and the 2009 and the 2012 Twenty20 World Cups.
Sangakkara and Jayawardene, who have played 14 years of international cricket together, admitted that the win was sweeter as they had to wait for five ICC finals. The win was also a sweet revenge for their loss to India in the 2011 World Cup ODI final in Mumbai.
"It's been a long time coming.. Waited five finals. Pretty happy I was able to do something for our team," said Sangakkara, who was adjudged Man of the Match, for his match-winning unbeaten 52.
Jayawardene said Sri Lanka have been waiting for this title desperately since their last World Cup win came in 1996. They had shared the ICC Champions Trophy in 2002 with India after final was washed out twice due to rains.
"We finally managed to break the jinx. Thanks so much to family and friends but this one is for Sri Lankan fans who have been waiting since 1996. It wasn't a normal match. Lot of emotions as this was the last T20. It hasn't sunk in yet and it will take a couple of days to get the feeling," he said.
The two legends were then given a grand farewell by their team mates, who carried them on their shoulders around the packed stadium.
Sangakkara said it was a humbling experience for both him and Jayawardene.
"It means a lot to all of us. We are very humbled by this. The way (Virat) Kohli was batting, he was about to take the game away from us, but the way we bowled was brilliant.
"It was an all-round performance, led by Lasith (Malinga), Angelo (Matthews) had an amazing tournament. India are a tough side, but we are happy to be in the winning side. My family and playing for Sri Lanka are the two most important things that happened to me in my life. Everyone's got to go and my time is now," he said.