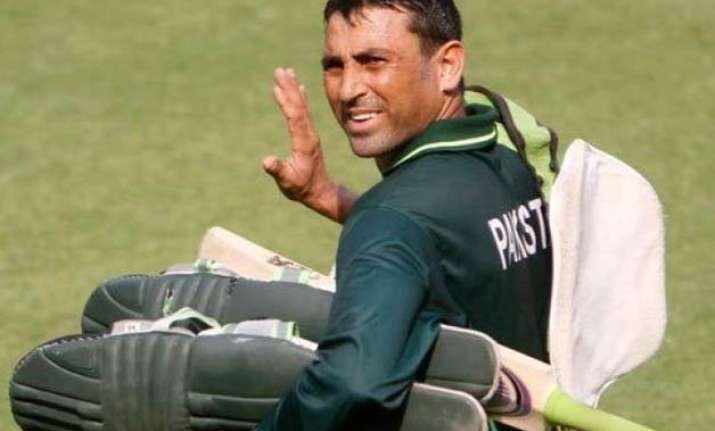 If Younis Khan were to retire today chances are it would be far from a fairytale farewell for one of Pakistan`s modern batting greats.
For Younis Khan not only runs have dried up, even his admirers are out gunning for his head with some of his former team mates considering him a burden on a team whose World Cup campaign is in disarray after losing both his games against India and West Indies.
If the 37-year-old had not hit a century against New Zealand in Abu Dhabi in December and not had the experience of 250-plus ODIs he would have sat at home watching World Cup on TV as he was not a natural choice.
However the former captain, so far, has failed to justify his selection for a fourth World Cup appearance, managing six runs against arch-rivals India and being out for a golden duck against West Indies.
Rameez Raja, former captain, went to the extent of begging him to leave the team.
"I beg of Younis. Thank you for your services to Pakistan cricket but please leave this ODI side now," former Test captain Rameez Raja said to a private channel on Tuesday.
"I think Younis should tell the management he should be rested."
Younis` former team mate Shoaib Akhtar has also joined the chorus demanding his retirement.
But can Younis Khan also blame his blip on a gamble that backfired on Pakistan.
Against India, Younis was asked to open the innings, just the third time in his 263-match ODI career and his struggle against the new ball was evident in the way he was dismissed.
Younis could neither duck under Mohammed Shami`s bouncer nor could he pull it as the ball hit his glove and lobbed up for wicketkeeper Mahendra Singh Dhoni to take the catch.
Batting great Javed Miandad was among those furious with the experiment.
"What`s the rocket science of promoting Younis Khan as an opener?" Miandad wrote in his column for the International Cricket Council (ICC) website.
"If you are not an opener you tend to struggle against the new ball and if you are not in form, it only compounds your problems," said the former Pakistan captain.
Miandad perhaps has the best suggestion how to make the best use of cricketer who led Pakistan to their Twenty20 World Cup triumph in 2009.
"The top four batting spots are specialists` slots and those who are in form should raise their hands for it.
"If Younis has to be slotted in the playing XI, then he should come down the order when the ball gets a bit old."
Against West Indies, Younis batted at number three but the Pakistan innings was just two-balls old when he had to walk out to join Ahmed Shehzad after opener Nasir Jamshed fell for a duck.
Younis nicked the first ball he faced from Jerome Taylor behind as Pakistan slumped to 1-4 before succumbing to their second successive defeat in the tournament.
Pakistan play Zimbabwe on March 1.