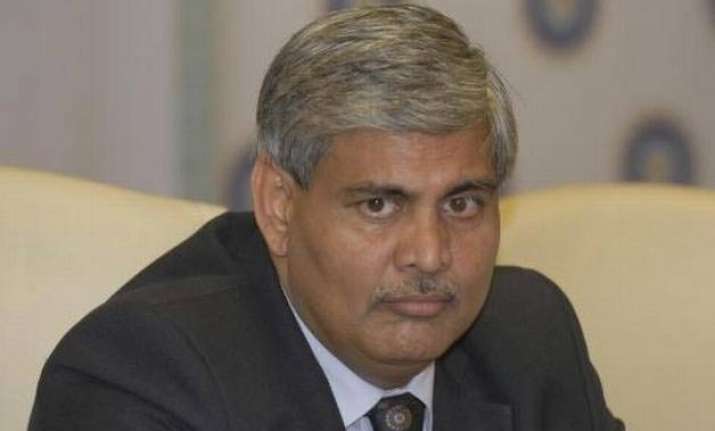 Mumbai: Shashank Manohar was today unanimously elected as the president of Board of Cricket Conrol of India. He was appointed unopposed as the President for the second time ushering a new era in the Cricket Board and reflecting Srinivasan's diminishing hold in Board's power politics.
His appointment was ratified in the Special General Meeting of the BCCI in Mumbai on Sunday.
Shashank Manohar, who today took over as the 36th president of the BCCI, is known for his integrity and regains control of the country's richest sporting body at a time when cricket's image has been tarnished by the spot-fixing scandal and intense factionalism.
The reticent 58-year-old Nagpur-based lawyer in the past decade, has been known as someone, who bears a tough, no-nonsense attitude and at the same time is accommodating towards the needs of the players.
A shrewd tactician and someone who knows implications of any policy decision like the back of his hand, Manohar has been a trouble-shooter since 2005, when he became the vice- president and 'Man-Friday' to Sharad Pawar, who became the president that year.
Once he was through in 2011 with his first presidential tenure, Manohar stepped away from the limelight, rarely voicing his opinion on cricketing matters until the spot- fixing scandal broke in 2013.
From then, Manohar and N Srinivasan became adversaries with the former sticking to the principles that need to be followed urging the Tamil Nadu strongman to relinquish his post. Srinivasan, on his part, kept claiming that it was a case of pure vendetta.
That he stuck to his principals was proved when he made it clear that he is not in favour of Pawar aligning with Srinivasan in the presidential battle following the demise of Jagmohan Dalmiya.
In a Cricket Board riddled by scandals, factionalism, money-power and heavy politicking, the need of the hour was a man, whose image could restore the faith and credibility of the sporting body whose revenues runs into millions of dollars.
While mulling on a replacement for Dalmiya, the majority of the influential decision-makers in the BCCI including Finance Minister Arun Jaitley could come up with only one name that could be befitting to the stature of a body like the BCCI and that was Manohar.
Some of his ground-breaking decisions during his first tenure (2008-11) include suspension of erstwhile IPL commissioner Lalit Modi on allegations of financial irregularities, calling for fresh bids for new teams after allegations of rigging, and advising BCCI to encash the bank guarantee of Kochi Tuskers Kerala after they defaulted on franchisee fee.
It was in Manohar's first presidential tenure that India regained ODI World Cup after 28 years and players were rewarded with a cash prize of Rs 2 crore each after it was decided that they would be given Rs 1 crore each.
When IPL spot-fixing scandal broke in 2013, it was Manohar, who was the original whistleblower as he demanded Srinivasan's resignation urging him to take moral responsibility of his son-in-law's actions.
Such has been his integrity that even Lalit Modi, who has been a constant thorn in the flesh for some of the BCCI bigwigs including Srinivasan with his twitter-tirade, could not find reasons to badmouth him on social networking sites.
A fiercely private man, some of the nuggets of information about him in all these years have reached legendary proportions -- he still does not have a mobile phone, only way to get through to him are the two landline numbers of his office and residence, his personal e-mail communications are done through his wife Varsha Manohar's e- mail account, his first passport was issued when he was 51 years old.
His relationship with the fourth estate has been one of indifference rather than a love-hate one like his predecessor Dalmiya as he has always believed in airing his views to a chosen few on even fewer occasions.
The only two aspects where he has been criticised are his silence when Srinivasan as the treasurer of BCCI was allowed to bid for an IPL team in 2007-08. The second was when the zonal rotation policy of the BCCI was done away with which Srinivasan tried to use albeit unsuccessfully to his own benefit. Manohar had later said that the amendment was done not for Srinivasan but for the then DDCA chief Arun Jaitley.
Before Umesh Yadav burst into the national scene, Vidarbha only had Prashant Vaidya, whose international career was a blink and miss one.
Therefore, it was difficult for a Vidarbha administrator to gain foothold -- especially for someone who was not power hungry.
However in 2004, the western bloc of BCCI was slowly going against Dalmiya as they thought that the CAB president was running the board in an autocratic manner -- something Srinivasan would be accused of in later years.
The Indian cricket fraternity warmed up to Manohar during the last days of October 2004 when hard bouncy green top was provided to the home team against an Australian pace attack that had Glenn McGrath and Jason Gillespie in their ranks.