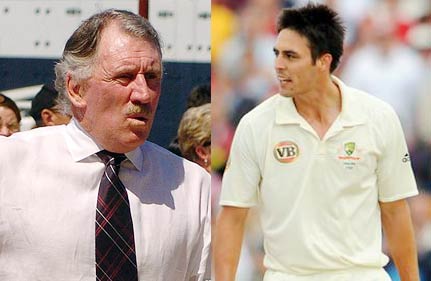 Brisbane: Australian paceman Mitchell Johnson has lost his confidence and must be dropped for this week's second Ashes Test in Adelaide, former captain Ian Chappell said on Tuesday.
Johnson, 29, went wicketless for 170 runs for the first time in his 39 Tests, made a duck and dropped a catch in Monday's drawn Gabba opener prompting a call for his axing.  
The 2009 ICC Cricketer of the Year struggled throughout last year's Ashes series loss in England and the tourists had devised a plan to cut down on his effectiveness on home pitches, Chappell said.  
Chappell said the national selectors had no option but to drop Johnson, because he had shown no ability to counter the patient English batsmen and his bowling had deteriorated as the first Test progressed.  
"Really you could just see his confidence ebbing away to the point where there were some wides and horrible deliveries, and he just looked like a guy bowling without confidence," Chappell told the website Cricinfo.  
"So I'm not sure you can take him into Adelaide with no confidence, that's one change they've got to make."  
England stymied Johnson by not allowing the left-armer to bowl to his strengths, refusing to be tempted by deliveries angled across them, then picking him off when the frustrated bowler pitched straighter.  
"England have done a very smart thing, they've made life difficult for him by the right-handers not fishing outside off stump, he's always got a lot of wickets out there," said Chappell.  
"They've been very smart not doing that and saying 'you show us you can bring the ball back in then we might start playing there'.  
"At the moment he doesn't look even close to being able to swing a ball back in, so they've helped to dent his confidence.
"At the moment you've just got to send him away and say 'go and get some wickets and get your confidence back', whether he can do that and come back and be a good bowler, we'll find out."  
Johnson's spot in the Australian team has been placed under renewed pressure by the inclusion of Doug Bollinger and Ryan Harris in a 13-man squad for the Adelaide Test, which starts on Friday.