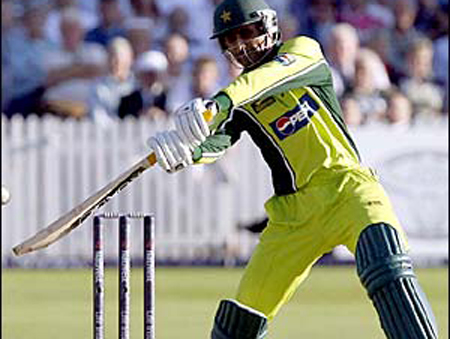 Pakistan's Abdul Razzaq cracked an unbeaten 109 to lift his country to beat the Proteas by one wicket in the second one-day international in Abu dhabi.Afridi chipped in with 49 runs while Alam made 48 runs as Pakistan made 289 for the loss of 9 wickets. South Africa has set up a winning target of 287, with Ingram scoring a hundred and Amla 65.
Razzaq's was a match-winning century. His ten sixes in the innings moved him into the joint third position among batsmen scoring the highest number of sixes in ODIs.
Xavier Marshall holds the record with 12 sixes, while Afridi and Jayasuriya had cracked eleven sixes each.Razzaq's century was the fifth fastest century by a Pakistani batsman in terms of ball faced. Razzag made his century off 72 balls.  
The outrageous 72-ball 109 from Abdul Razzaq dragged Pakistan to a series-levelling target of 287 against South Africa, one ball and one wicket left.
It was scarcely-scriptable and only when Razzaq hit his tenth six in the last over, slogging Albie Morkel over midwicket to climax an unimaginable orgy of power-hitting, was a Pakistan win even worth contemplating; until then he had played to a backdrop of impending, imminent doom.  
To even get to that point needing 14 was a feat because for 99 overs Pakistan looked a distant second best; a solid, now-to-be-forgotten century from Colin Ingram, hands from
Hashim Amla
and
JP Duminy
and the continuing refusal of Pakistan's top order to turn up, the distinct story till then.  
Shahid Afridi and Fawad Alam had tried gamely to make something of the disaster of 70 for 4 in the 19th over. The spinners were on, Afridi was around so inevitably some fun was had. When Afridi went in the 30th, the score at 136, still the best they could hope for was an honourable scrap. Razzaq began quietly, expressive as a stone, and even a dance-down six off Robin Peterson four overs after Afridi left felt decorative.  
Alam, meanwhile, was getting bogged down by his own inability to clear a field. But South Africa relaxed, the pair stuck at it. Alam suddenly got going and Razzaq smoked a couple more sixes. By the 40th over, at 200 for 5, theoretically it looked possible - in this age of Twenty20 at least - even if, in reality, it didn't feel gettable.
But for once, Pakistan timed their Powerplay right and when Johan Botha was taken for 11 in the very first, a little tension crept in. Only a little though, for Alam went soon, Morne Morkel bowled two fine overs, there was the inevitable run-out and even though Razzaq had reached his fifty, it was done and dusted.