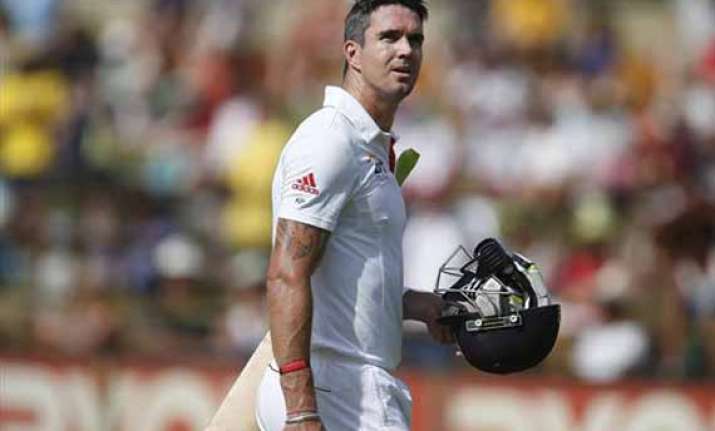 London: Kevin Pietersen's England career ended after nine turbulent years on Tuesday, when the brash batsman was dumped in a bid to rebuild the team following an embarrassing tour of Australia.
The divisive former captain, whose talent has regularly been overshadowed by his ability to attract controversy, discovered he was being dropped following a meeting of team management at Lord's to decide his future.
And after being axed for the tour of West Indies and the subsequent World Twenty20 tournament, the 33-year-old Pietersen signaled his international career was over.
"Although I am obviously very sad the incredible journey has come to an end, I'm also hugely proud of what we, as a team, have achieved over the past nine years," Pietersen said in a statement.
"I believe I have a great deal still to give as a cricketer," he added. "I will continue to play but deeply regret that it won't be for England."
The England and Wales Cricket Board is trying to usher in a new era after a woeful tour of Australia when England was beaten 5-0 in the Ashes and won just one limited-overs game.
By dumping Pietersen, the ECB said it hopes to "start the rebuilding process."
"Clearly this was a tough decision because Kevin has been such an outstanding player for England — as the fact that he is the country's leading run scorer in international cricket demonstrates," said Paul Downton, the England team managing director.
"However everyone was aware that there was a need to begin the long term planning after the Australia tour. Therefore we have decided the time is right to look to the future and start to rebuild not only the team but also team ethic and philosophy."
Pietersen has been accused of being a disruptive influence within the England dressing room several times since he made his debut in 2004, but played 104 tests, 136 one-day games and 37 Twenty20 fixtures.
"We all wish Kevin the very best in the rest of his career," Downton said.
Born and raised in Pietermaritzburg, South Africa, Pietersen qualified to play for England through his mother, Penny.
The 6-foot-4 (1.93-meter) batsman opted for England at the age of 20, claiming his path to the South African national side was being obstructed by a quota system introduced to redress the inequalities suffered by black players during the apartheid era.
He emerged as a major batting force for England during the team's win over Australia in the 2005 Ashes series, and was briefly appointed captain in 2008.
By becoming a crowd favorite for his vicious attacks on opposition bowlers, and unorthodox power shots, Pietersen gained the profile of a Premier League footballer, reveling in a showbiz lifestyle and regularly featuring in the gossip pages of the British press.
Soon he was being dubbed the David Beckham of cricket. Like the football star, Pietersen had the popstar wife, Jessica Taylor, a member of former group Liberty X. And like Beckham, he became the face of styling product Brylcreem at a time when his haircuts were as bold as his batting.
However, he was an increasing source of tension in the England camp, holding onto the captaincy for just five months. His resignation in January 2009 followed a power struggle with coach Peter Moores over selection decisions.
And when he was then dropped by England for the first time the following year, he made his anger clear by posting a profane comment on Twitter, which led to a fine.
Pietersen was fined for speeding in a Lamborghini during the Ashes tour of Australia in 2010, but he went on to help the team win its first series Down Under in a quarter of a century. His prolific batting helped England rise to the top of the test rankings in 2011 with a 4-0 rout of India.
But soon Pietersen's antics were again angering the ECB, which dropped him for the 2012 series against South Africa for sending provocative phone messages to Proteas players about England teammate and then-test captain Andrew Strauss.
After healing his rift with team management, Pietersen returned to the squad last year, and was selected for the recent ill-fated tour of Australia.
"Playing cricket for my country has been an honor," he said. "Every time I pulled on the England shirt was a moment of huge pride for me and that is something that will live with me forever."