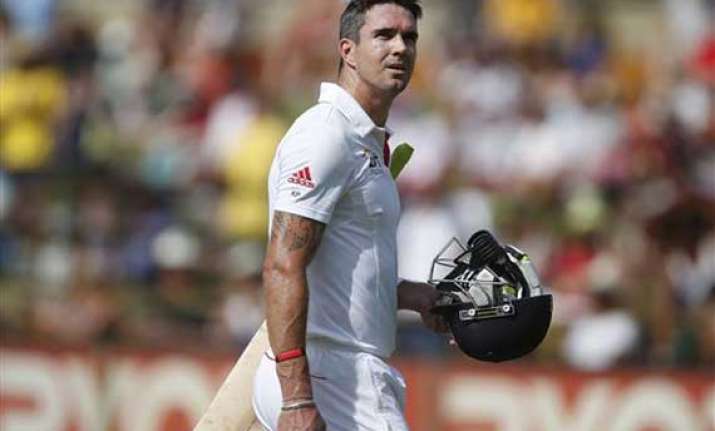 London: English cricket's embattled leadership disclosed Sunday that Kevin Pietersen was fired in a bid to rebuild trust within the team, while appearing to attack TV star Piers Morgan for defending the batsman in the damaging episode.
The decision to terminate the international career of one of England's leading players has led to a national outcry, with even Prime Minister David Cameron advocating the recall of Pietersen.   
But the England and Wales Cricket Board insists it was right to make South African-born Pietersen the fall guy for an embarrassing 5-0 Ashes series loss.   
"The England team needs to rebuild after the whitewash in Australia," the England and Wales Cricket Board said in a joint statement with the Professional Cricketers' Association.   
"To do that we must invest in our captain Alastair Cook and we must support him in creating a culture in which we can be confident he will have the full support of all players, with everyone pulling in the same direction and able to trust each other. It is for those reasons that we have decided to move on without Kevin Pietersen."   
Though Pietersen is yet to respond publicly in detail to being dismissed on Tuesday, close friend Morgan has been using Twitter to leak key details from the tour of Australia, including private team meetings to defend the player's reputation.   
The ECB didn't name the former British tabloid editor turned CNN presenter, but there was little doubt that a section of the statement referenced him.   
"Following the announcement of that decision, allegations have been made, some from people outside cricket, which as well as attacking the rationale of the ECB's decision-making, have questioned, without justification, the integrity of the England Team Director and some of England's players," the ECB statement said.   
"Clearly what happens in the dressing room or team meetings should remain in that environment and not be distributed to people not connected with the team. This is a core principle of any sports team, and any such action would constitute a breach of trust and team ethics."   
There was a clear reference to Morgan's barrage of tweets earlier in the week.   
"It is important to stress that (now former coach) Andy Flower, Alastair Cook and Matt Prior, who have all been singled out for uninformed and unwarranted criticism, retain the total confidence and respect of all the other members of the Ashes party," the ECB said.   
Morgan responded to the ECB statement by launching further attacks on the governing body.   
"It's all MY fault!" Morgan tweeted, mocking the leaders of English cricket. "The ECB sacked (Pietersen) for stuff I revealed AFTER he was sacked!" 
"Is this (at)ECB--cricket statement the most absurd ever made by an English sporting body?" he added.