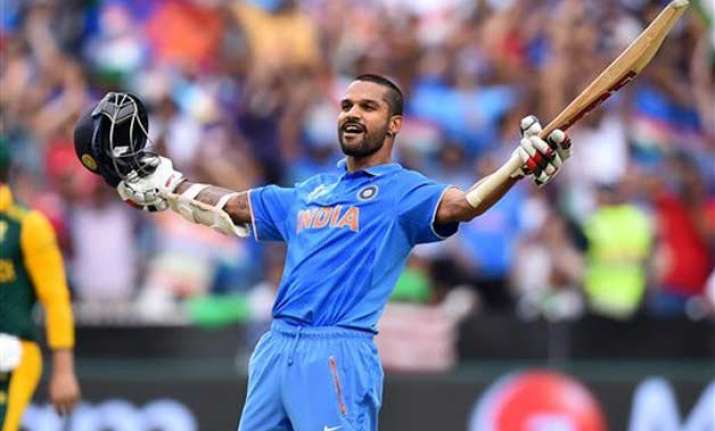 Hamilton: Former India captain Sourav Ganguly feels that key to opener Shikhar Dhawan's success in the cricket World Cup is about playing freely which was not happening during the Australia series.
"I believe it is about playing freely in the World Cup that can be attributed to Shikhar's success as it was not happening earlier during the Australia series," Ganguly said during an interaction, here today.
"Look, the moment you are not playing Australia everytime, you don't have those thoughts at the back of your mind that 'Oh I will have to face (Mitchell) Johnson again, oh I will have to face (Mitchell Starc) again'," he added.
The 42-year-old said he was always confident of India doing well at the World Cup.
"The World Cup was always going to be a different ball game. You don't need to play Australia in Australia everyday during the World Cup. India was always going to do well in the World Cup," Ganguly, who is known for his straightforward assessment, said.
Ganguly, like most people believe, that the bowlers have done a great job in the tournament.
"Indian bowlers have done a splendid job. They have surpassed everyone's expectations. Mohammed Shami has been consistent and Umesh Yadav has been brilliant. It's good to see a bowler hitting 145 kmph consistently. Mohit Sharma turned out to be the surprise package in the line-up. The way he has improved with each match is phenomenal," said the man, who led India to World Cup final in 2003 in South Africa.
Ganguly feels that India is a very good ODI side and that has been proved yet again in the global tournament.
"India are a better ODI bowling unit than what they are in Test cricket. It's a shorter format where you don't have to bowl those long spells," said Ganguly.
The elegant left-hander of yesteryears feels that Ravindra Jadeja's role as second specialist spinner in this World Cup will be needed as he expects India to reach the summit round.