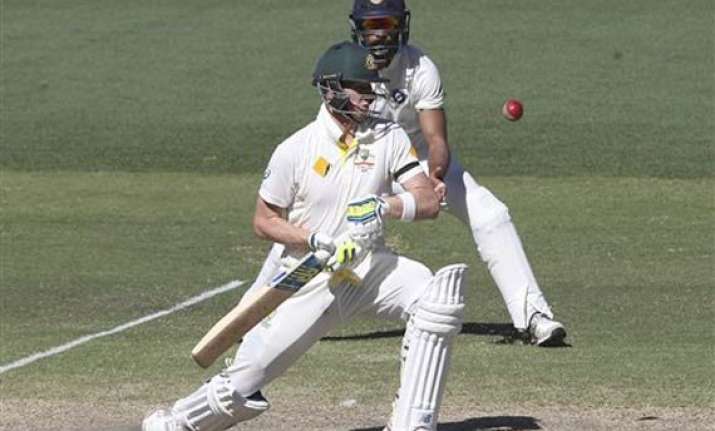 Adelaide: After bowling India out for 444 in the first innings with the lead of 73 runs, Australia would like to bat as much as possible to set a competitive target for the visitors.
Will there be an overnight declaration by the Australians again and setup a target of 364 as they already lead India 363? Will Australia go 1 up or India manages a draw here? Whatever the answer may be but the future of test is now only dependent on Indian batsmen how they bat on the fifth and final day of the test.
India began the day badly, losing their last six wickets for only 77 runs, which negated the advantage generated by Kohli's century on day 3. Rogers and Watson got off to decent starts only to throw them away.
Even as Warner fell to Karn, Mitch Marsh and Steve Smith lashed out at the hapless Indian bowlers to put them in a strong position, from where they could force a victory. The Indian bowling was ordinary yet again, barring patches of fire and brimstone from Aaron and Shami. Karn managed to prise out two wickets, but has not done himself any favours of being an automatic pick for the next Test.
A cracking day of Test cricket comes to a close. In 31 overs bowled in this session Australia scored 151 runs and lost four crucial wickets of Watson, Warner, Clarke and Marsh. But the session was dominated by them. That was an eventful third session of the day. Wickets for India, Warner-Rohit ruffle, Smith's half century and in the end the dramatic chance of Haddin's run out by Shami.
STUMPS DAY 4
Australia 290/5 after 69 overs
Smith 52 (64), Haddin 14 (15)
Steven Smith follows up his ton in the first innings with a fine half century. Haddin survived a stumping chance after he was beaten by Karn's flighted delivery. His balance was put off and Saha whipped the bails off the groove but he recovered and grounded his back foot on time. Bit of drama out there in the middle.
A back of a length ball on off was flat-batted down the track, hitting the stumps at Haddin's end. He set off in search of a quick single, but was sent back by Smith. Shami runs back to gather the ball, he does so and aims to disturb the stumps. However, he can't pull the stump out. Nothing is going in India's way.
Haddin finished the day 4 with a boundary on the fourth ball of last over bowled by Shami to fine leg.
Australia 267/5 after 65 overs
Smith 43 (54), Haddin 0 (1)
After Warner, Steven Smith is also trying some cheeky shots. He played a perfectly timed reverse sweep for four. Marsh gets in the show as well, hitting some eyecatching boundaries to take Australian lead past 300. Mitchell Marsh looked in a kind of hurry  Australia to set up a huge total after smashing Karn Sharma for 24 runs including 3 sixes and a boundary. Some good running between the wickets also brings up the 50 run partnership in just 29 balls but he falls 10 short of his half century trying to hit another one over the boundary line and found Vijay at deep midwicket. He played a great cameo of 40 runs in 26 balls.
Brad Haddin is the man in
Australia 266/5
Mitchell Marsh c Vijay b Rohit 40
OUT! Marsh trying to hit his fourth six over long-on, the ball finds Vijay at deep midwicket. He departs after playing a good cameo.
Australia 213/4 after 60 overs
Smith 29 (46), Marsh 0 (5)
Indians have started bowling tightly but it might be too late as the lead is already 286. Though Karn struck Warner in the first ball of 60th over but things are not over yet as Smith is joined by Mitchell Marsh with Haddin yet to come. Smith is having no issues in finding boundaries on both sides of the ground. Warner was seen struggling on many occasions. He might have got tired and finally gets out after setting it up for the Aussies.
Mitchell Marsh is the next man in
Australia 213/4
David Warner b Karn Sharma 102
OUT! Bowled him and this time it's not a no-ball. Karn Sharma gets his man. Warner's reverse sweep goes wrong and the ball hits the off stump.
Australia 200/3 after 55 overs
Warner 100 (156), Smith 19 (31)
Things are heated up again. This time Virat had some words with Steven Smith. It happened when Rohit asked the umpire about the lbw appeal, Smith said something to him and all the players around the batsman got invovled.
David Warner scored his 11th test hundred and second in the match through the covers boundary . What a performance and a standing ovation from the crowd. Perfect tribute to his mate Late Phil Hughes. He becomes only the second Australian to score centuries in both the innings of a Test match against India. The only Australian before him to achieve this feat was the legendary Sir Donald Bradman.
The Australians might have lost two wickets, but they still hold a considerable advantage over the Indians. India has managed to pull things back a little by putting brakes on the free flowing bat of Warner. Both the batsmen are constantly beaten outside off. Rohit Sharma as a part time spinner is doing well for the side.
Australia 182/3 after 50 overs
Warner 94 (142), Smith 8 (14)
After two quick wickets, Smith and Warner are trying to fight it out for Australia but Shami, Varun and Ishant are keeping a good control on them. Warner is into the 90s and is looking to score far more than that.
India missed another major breakthrough in 47th over after Murali Vijay dropped Warner at gully position helping him to enter the 90s. It was hit hard by Warner off Shami's fullish outside off delivery and Vijay did well to even get a hand on that. Shami was then smashed for four in the last ball by Smith.
Steven Smith joins Warner at the crease
Australia 168/3
Michael Clarke c Saha b Aaron 7
OUT! Nicely bowled outside edge and gone! No big innings for Clarke here as Saha made no mistake in catching that. Two quick wickets after tea for India. That's what India wanted. But the big man Warner is still out there and will be joined by Steven Smith.
Australia 162/2 after 45 overs
Warner 84 (125), Clarke 7 (19)
Two in-form batsmen Clarke and Warner are on the strike and Shami, Aaron are trying every line to get them dismissed. They continue to score at about 4 runs in every over and bowlers are finding it hard to get rid of them, especially David Warmer. He entered into the 80s and is slowly inching towards his two back to back centuries in a test match.
Australia 144/2 after 40 overs
Warner 74 (113), Clarke 0 (1)
Shami gets a major breakthrough for India breaking the Watson-Warner stand. India need some of this kind more to have their control over the match. Warner showing no concern to the bowlers smashed Aaron for another well timed boundary on the last ball of 40th over.
Michael Clarke comes in at no. 4
Australia 140/2
Shane Watson b Shami 33
OUT! Big reverse swing for Shami and he gets the vital breakthrough for India right after the tea. Watson was looking to drive, the ball swung past the inner half of the bat, clips the pad and crashes into the middle stump.
Mohammad Shami into the attack to begin the third session for India.
The third session of the day is about to get underway. Australia is in strong position to get this first test forward.
-----------------------------------
Aaron is getting the ball to reverse, but India can now only catch things up and the third session is going to be crucial for them.
Another session that gone in Australia's way. One thing to notice since Day 1 that no session have gone in the favor of the team bowling. This shows that the pitch is suitable for the batters and it would be interesting to know what Indian bowlers can do in the evening session of Day 4 so as to limit them to minimum score as possible as they are already leading by 212 runs.
TEA BREAK
Australia 139/1 after 38 overs
Warner 69 (105), Watson 33 (83)
The double W's completed their century partnership of runs before the tea.
Varun Aaron came back in 36th over strongly with a good bouncer that struck on Watson's shoulders but went for four. Thereafter in anger he conceded 5 wides and a boundary more, poor bowling! Rohit Sharma bowled his second maiden in 4 overs bowled.
Australia 122/1 after 35 overs
Warner 67 (102), Watson 27 (68)
What a dramatic 34th over! First Aaron bowled Warner in a no-ball and then a bit of exchange of words between the players. Dhawan first ruffled with Warner and then had some words with Watson too. Umpires are seprating the players. Kohli shows the sporting spirit and had a small chat with Warner. The players then went off smiling.
Bowled him! Varun Aaron gets his man. The ball straight went throughtthe defence of Warner and shattered the stumps. But unfortunately its a no-ball and too a big one! Indian celebrations ended and Warner is back on the crease
Another part-time spinner Rohit Sharma has been introduced by Kohli.
India need a wicket desperately here and if they managed to get three more wickets before the tea, Australia will be under immense pressure.
Australia 115/1 after 30 overs
Warner 63 (81), Watson 26 (58)
Ishant replaced Karn after the 25th over and there was a huge appeal for lbw against Warner but it was an inside edge which saved him. He gets to the individual score of 63 not out again with a single and the crowd is applauding his efforts. Bowlers are still getting nothing from the pitch but the flow of runs have been controlled. Karn was targeted by the batsmen after he was hit by Watson for the first Australian six in the match over midwicket.
DRINKS BREAK
Australia 93/1 after 25 overs
Warner 50 (63), Watson 20 (43)
Warner gets to his 14th test half century with a single. He started playing it defensively with Shane Watson scoring only 16 runs in 5 overs after hitting 2 fours in 21st over. Bowlers are getting the reverse swing and with the attacking field placed, dot balls have increased. Indians had a problem with the ball but the two umpires after checking it out handed over it back to the bowler Karn.
Australia 77/1 after 20 overs
Warner 45 (52), Watson 11 (23)
Australia gained some pace as runs started flowing after the dismissal of Rogers. Warner has started the assault again targeting Karn and Vijay for boundaies in every over. They are not getting what they want from the pitch despite the turn. Warner also completed his 1000 test runs in 2014.
Australia 42/1 after 15 overs
Warner 18 (33), Watson 3 (12)
India had a good start after lunch picking up the crucial wicket of Chris Rogers for just 21 in 1. Karn Sharma and Murali Vijay are holding on to their tight line and length giving no easy chances to score runs. Though Karn was replaced by Ishant Sharma in 15th over.
Shane Watson is in at no. 3
Australia 38/1
Chris Rogers c Rohit b Karn Sharma 21
OUT! Early strike for India! Rogers tried to chip the ball on the leg side but found Rohit Sharma at midwicket. Karn did it !
Chris Rogers is on strike and Karn Sharma to start the proceedings in the post lunch session with a slip, leg slip and a forward short leg in place.
Players are back on the field. Indian bowlers need to pick up quick wickets to restrict Australia posting a big total.
---------------------------------------
There are still 66 overs scheduled to be bowled in the day and the Aussies would be, if all goes fine, looking to insert India in for an uncomfortable little stint late on.
Australia have been largely untroubled in the 10 overs that they have faced. They haven't gotten away from India like in the first innings. The reason being Ishant starting off with Shami. He kept it quiet and in the last over Vijay showed encouraging signs, beating Rogers and then producing an edge.
Australia lead India by 105 runs
LUNCH BREAK
Australia 32/0 after 10 overs
Rogers 19 (35), Warner 13 (25)
Karn Sharma was brought into the attack in the 6th over but was pushed away for four by Warner. Ishant on the other end, bowling from round the wicket to both the left handers is bringing back the ball in troubling the batsmen. Rogers and Warner survived a lbw appeal against Ishant after couple of in-swing deliveries. Murali Vijay was introduced to bowl the last over before Lunch conceding runs.
Australia 12/0 after 5 overs
Rogers 7 (18), Warner 5 (12)
Shami and Ishant opened the bowling attack for India in 2nd innings but the start is not exciting as it was in Australia's first innings. Ishant is still coming round the wicket to David Warner while Shami is keeping his line outside off but a bit closer restricting the batsmen to single and couples only in the first five overs.
Rogers takes the guard and Shami coming in with the first over of the 2nd innings.
Australian openers Chris Rogers and David Warner are back in the middle.
--------------------------------
Virat Kohli was the stand out performer for India in the first innings. India trail by 73 and it all went downhill after Rohit got out to a soft dismissal. Karn didn't last long on debut. Saha was wrongly given out. Shami had some fun at the end, but Australia have wrapped up things in the first session. Lyon thoroughly deserved his five-for. He has been their best bowler, troubling all the batsmen with his consistent probing outside off line.
In 19.4 overs played by India this morning they scored 75 runs and lost all the 5 remaining wickets. That would not have happened if Kohli had not given away his wicket last evening.
India 444/10 in 116.4 overs
India all out for 444 in the first innings trailing Australia by 73 runs. Mohammad Shami coming in at no. 9 hit Siddle and Lyon for a SIX and boundary respectively to score a quickfire 34 off just 24 deliveries but went back trying to hit another over mid-on after being caught by Watson at slips.
Mohammad Shami c Watson b Siddle 34
OUT!  That's it for India! Shami trying to hit another biggie on the leg side gets the bottom edge and loops to first slip at Watson who takes third catch of the match.
India 427/9 after 115 overs
Shami 20 (16), Aaron 0(2)
That was a magical spell for Lyon. He picked up 2 wickets in over dimissing Ishant and Saha with the help of turn. The lbw appeal by Siddle against Karn was negated because it pitched outside leg as Hawk-Eye confirms but he sends him back to pavilion after getting him bowled on the very next ball.
Shami who started his innings with a boundary was dropped at deep mid-wicket by Peter Siddle who messed up an easy catch. He tried the reverse cut in the air but the ball hit him on the face and then the hat. The hat saved him from getting hurt, the ball bobbles for a boundary. Thereafter he played a comical shot off Siddle, ducking down and then rolling his arms for 2 runs to midwicket.
Varun Aaron is the last man in for India
India 422/9
Ishant Sharma c Smith b Lyon 0
OUT! Another wicket for Lyon. That's no. 5 for him. Turn and bounce and straight to Steven Smith at short leg.
Ishant Sharma is the next man in.
India 422/8
Wriddhiman Saha c Watson b Lyon 25
OUT! Another batsman who had just settled is a goner. A bit of turn and the ball struck on Saha's pads to Watson at slips. Players made a huge appeal and umpire raises his finger. Lyon continues his magical spell. Meanwhile DRINKS have been taken.
India struggling with lower order woes here with Mohammad Shami coming in at no. 9
India 406/7
Karn Sharma b Siddle 4
OUT! Siddle after the lbw appeal against Karn Sharma bowled him out. Full delivery that catches Karn on the crease and forces him to play across. The closed face misses, the ball crashes into middle stump.
Now with all the batsmen except Saha are back in pavilion, it would be interesting to see how much India's tail can do it for them.
India 406/6 after 110 overs
Saha 24 (60), Karn 3 (5)
Karn gets off the mark in test cricket with a timely drive to long-on for 3 runs but was beaten on a defensive stroke. 
After a testing spell from Harris and Johnson, Saha looks to have gained some confidence seeking runs off Lyon and Siddle. A beautiful and perfectly timed on-drive for 3 runs in Siddle's over was a sign that he wants to score runs now rather than being more defensive. He gets India's score past 400 with a gentle drive behind point for a couple. Rohit too was coming down the pitch on couple of occasions but was caught trying a forward defence back to the bowler. That was well bowled by Lyon as well.
Karn Sharma is in at no. 8
Rohit Sharma c & b Lyon 43
OUT! Another well set batsman gone! He defended it back to the bowler but was in the air and Lyon takes a good sharp low catch.
India 387/5 after 105 overs
Rohit 38 (83), Saha 14 (42)
Lots of dot balls marked by the bowlers and batsmen are getting no chance to score runs as Harris and Johnson are really keeping it tight with two consecutive maidens. Saha is constantly beaten outside off and troubled by Johnson's short pitch deliveries. But two full deliveries outside off was smashed for boundaries through the covers. Both the bowlers are keeping their line mostly outside off stump tempting the batsmen to get an edge. Umpires also had a word for stepping onto the danger area.
India 376/5 after 100 overs
Rohit 36 (70), Saha 5 (25)
Harris kept the ball outside off for Rohit in the first over beating him in couple of occasions but managed to get two while he kept his second over very tight pitching the ball outside off. Johnson in his over to Saha conceded three runs to third man in a cheeky drive getting a lucky outside edge. He is taking time to get settled.
Rohit will be on strike and Ryan Harris will bowl the first over of the day.
Overnight not out batsmen Saha and Rohit Sharma are in the middle.
The weather is clear and bright with very little clouds in the sky.
If India gets bowled out here, Australia will be looking to score again and set the target of 300+ and setup the game on the last day. They cannot lose match in this situation. But if India managed to get the lead of about 100 runs, it would somehow fear Aussies of losing the test.
The pitch is still dry as it was on the first day of match. It is hard, flat and the fast bowlers would hit. Spinners could get the most use of this condition.
India will look up to the Mumbai batsman and Saha to push India closer to Australia's score.
Nathan Lyon, who got alarming extra bounce and good turn, was the most effective of the Australian bowlers with 2 wickets, despite conceding 103. Harris and Mitch were on target in patches while Siddle looked flat and jaded.
Vijay, Pujara and Rahane got to fifties each, but failed to convert it into a big one. Stand-in skipper Virat Kohli scored a brilliant 184 ball 115 in his first test as a captain but what made the highlight was Johnson's bouncer which struck Kohli on his head.
If the first couple of days belonged to the hosts, day 3 was India's, headlined by Captain Kohli's top hundred. The game is still evenly balanced. After Australia declared on their overnight score of 517, India began well with Dhawan scoring a flurry of fours while Vijay was his circumspect self.