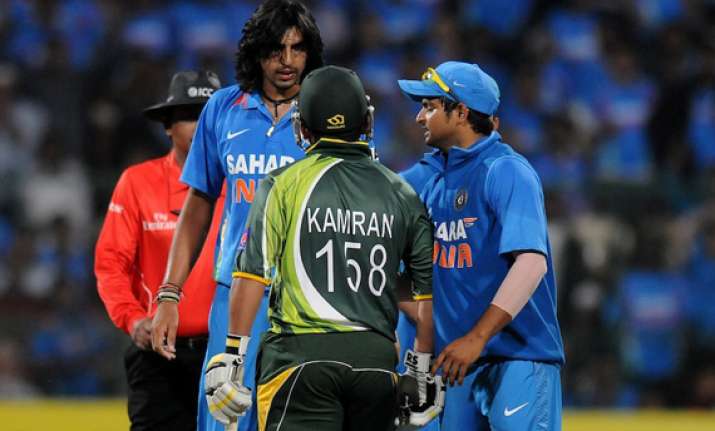 Mumbai, Dec 26: Team India bowler Ishant Sharma and Pakistan wicketkeeper Kamran Akmal have been fined  after being found guilty of  Level 1 breaches of the ICC Code of Code following an altercation between the two on Tuesday in Bangalore.
Kamran Akmal was fined five per cent  of his match fees by Roshan Mahanama, match referee, after he pleaded guilty to breaches of Article 2.1.8 of the ICC Code of Conduct of 'conduct contrary to the spirit of the game' in the 18th over of the Pakistan reply.  
Ishant Sharma also pleaded guilty to the offence and accepted the same charge. 
However, Ishant appealed the penalty and a hearing was held. After reviewing the evidence and the video footage,  Mahamana re-confirmed his view that Sharma initiated this incident which was reported by all four umpires – on-field S Ravi and C Shamsuddin, TV umpire VA Kulkarni and fourth official K Srinath. Therefore a penalty of 15 per cent of the match fee was imposed. 
 Mahanama said: "This is clearly a high profile and high intensity series and the players on both sides have been reminded of their responsibility. Both players recognised their duty to set the right type of example through their on-field behaviour and they have accepted that they fell short of the level of conduct required.  
"The game was played in the true spirit till this incident was initiated by Ishant, who is an experienced cricketer, which led to the umpires and his team mates having to intervene." 
All Level 1 breaches carry a minimum penalty of an official reprimand and a maximum penalty of 50 per cent of a player's match fee.