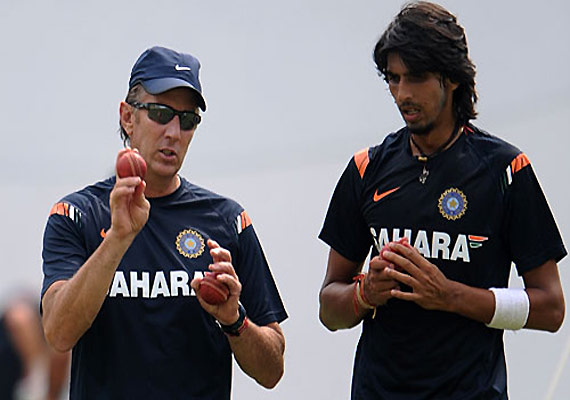 New Delhi, Mar 26: Injured speedster Ishant Sharma may not have lived upto his potential in the past few years but India's former bowling coach Eric Simons feels that team should invest in the lanky speedster as he has the ability to lead the attack once Zaheer Khan retires.
"Ishant Sharma has tremendous potential and has the ability to lead this Indian attack. He can be a bowler in the Glenn McGrath mould. There have been times when he has got those three or four wickets but didn't finish with five or six wickets which is frustrating," Simons said when asked about possible replacement of Zaheer.
The 23-year-old seamer, who has taken 133 wickets in 45 Tests, recently had an ankle surgery and is out of
IPL
5.
Questioned on what exactly has been Ishant's drawback, Simons replied, "He certainly has to check the length he is bowling but India should invest in him as he is a special talent."
Critics have often questioned about Ishant's lack of wicket-taking ability and below mediocre strike-rate (around 66 or a wicket per 11 overs) but Simons defended the bowler.
"I agree (about the strike-rate) but then in India, you don't readily get a fast bowler with 6 feet 4 inches frame. He is unique."
The chief coach of Delhi Daredevils also lavished praise on India's fastest bowler
Umesh Yadav
.
"Umesh has matured a lot in the past few months. He has developed a very good slower delivery. He is not someone who bangs it in but bowls with a good rhythm and that helps him get good pace off the pitch. He has natural ability to bowl a good bouncer."
Simons also didn't endorse the view that with Vinay Kumar, Praveen Kumar and Irfan Pathan in the side, the Indian attack is a tad one-dimensional.
"Fast bowling is more about mental attitude and right frame of mind rather than charging in at the batsmen. Brett Lee and
Dale Steyn
are two perfect examples. But India does have a few tearaway quicks. Against West Indies, we had two guys (Varun Aaron and Umesh) bowling consistently over 140 kmph. Pace bowling is more about control and developing skills which can make someone a complete package," Simons signed off.