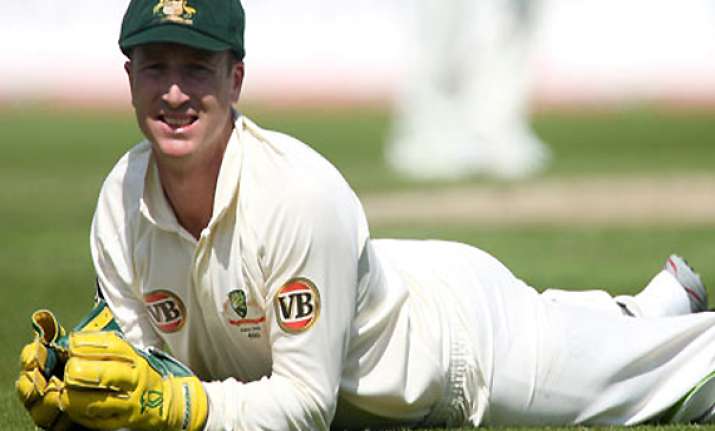 Melbourne, Dec 27: Australian wicketkeeper Brad Haddin today said that India had the slight edge in the first Test here but his side would look to tilt the scale by putting pressure on the visiting batsmen in the first session tomorrow.

"We've about 15 overs to the new ball. If we can build some pressure with some dot balls and put some good overs together, I think we can get into that middle order," said Haddin who dropped Virender Sehwag on 58 and also had a poor day with the bat.

"India might be a little bit in front of us in the game.  But it's evenly poised tomorrow if we start this first session well," he said at the press conference after second day's play at the Melbourne Cricket Ground.

India were 214 for three at close in reply to Australia's 333 and the home side were unlucky not to have got Rahul Dravid's wicket as Peter Siddle bowled a no-ball which cleaned up the veteran batsman.

"He (Siddle) did come through 5kms/hour quicker after that no-ball. His effort late in the day was good. He seems to warm a bit to Bay 13 (the area where bear guzzlers get together and support Victorian cricket)," he said.

"He came back and showed a bit of character coming back after what happened to get Tendulkar late in the day. That was a big blow for us to get him."

Haddin appeared to have gone into his shell and not play his normally aggressive self during his innings of 27 which lasted an hour and a half in the middle.

"Everyone at this level is trying to improve all the time and I'm no different to anyone else. When you stop trying to do that, it's the time you give the game away. But I've got a lot more cricket in me left," said the Australian vice-captain.