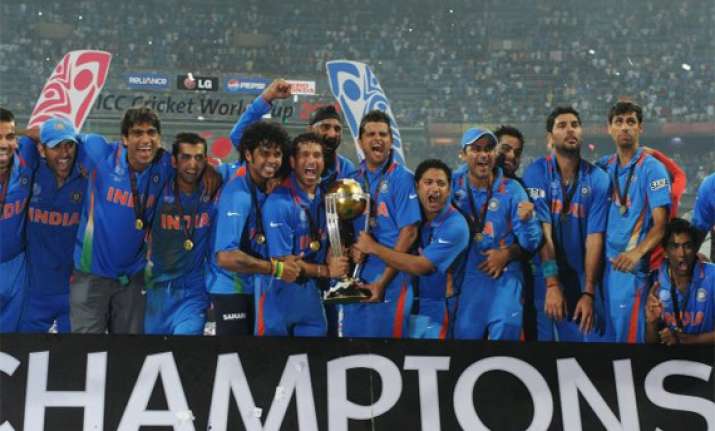 Wellington, Jul 30: World champions India will begin their title defence against traditional rivals Pakistan in Adelaide on Feb 15, according to the ICC Cricket World Cup 2015 fixtures announced today.
New Zealand will face Sri Lanka in Christchurch and Australia will meet England on the opening day of  the tournament on Feb 14. Melbourne  cricket ground will host the final on  March 29.
The tournament will be staged in Australia and New Zealand from Feb 14 till Feb 29.
India, which won the 2011 event when it defeated Sri Lanka by six wickets in the final in Mumbai, will complete its group fixtures against Zimbabwe at Eden Park, Auckland, on 14 March.
In the group, India will also play South Africa (in Melbourne on 22 February), Qualifier 4 (in Perth on 28 February), West Indies (in Perth on 6 March) and Ireland* (in Hamilton on 10 March).
Looking ahead to the tournament, India captain Mahendra Singh Dhoni said: "It only seems like yesterday that we won the ICC Cricket World Cup 2011 in front of a passionate and supportive home crowd.
"World Cup is a very special event for every cricketer because it only takes place every four years. Having tasted success in Mumbai in 2011, we'll be working very hard to retain it.
"I'm keenly looking forward to the tournament and confident that we'll do well. Our recent victory in the ICC Champions Trophy 2013 has provided the team with a lot of confidence, and I am sure this experience will help us in our preparations for the World Cup in 2015."
The tournament opens on 14 February with co-hosts Australia and New Zealand playing their first matches on the opening day of the tournament in front of their home crowds, while the Melbourne Cricket Ground (MCG) will host the final on 29 March.
New Zealand will square off against 1996 champion Sri Lanka in the tournament opener in Christchurch, while later on the same day, under the Melbourne Cricket Ground (MCG) floodlights, four-time former champion Australia will go head-to-head with arch rival England.
New Zealand will also host Australia when the two neighbouring countries lock horns in Auckland on 28 March.
A total of 49 matches will be played in the 44-day tournament across 14 venues in the two countries. Australia will stage 26 matches in Adelaide, Brisbane, Canberra, Hobart, Melbourne, Perth and Sydney, whilst the 23 matches in New Zealand will be held in Auckland, Christchurch, Dunedin, Hamilton, Napier, Nelson and Wellington.
The 14 sides (10 Full Members and four qualifiers), as per their rankings on the Reliance ICC ODI Rankings table on 31 December 2012, have been divided into two pools:
Pool A                                      Pool B
England                                  South Africa
Australia                                   India 
Sri Lanka                                  Pakistan 
Bangladesh                                West Indies 
New Zealand                                 Zimbabwe 
Qualifier 2                                 Ireland* 
Qualifier 3                                Qualifier 4
5 Things to Know about the 2015 Cricket World Cup