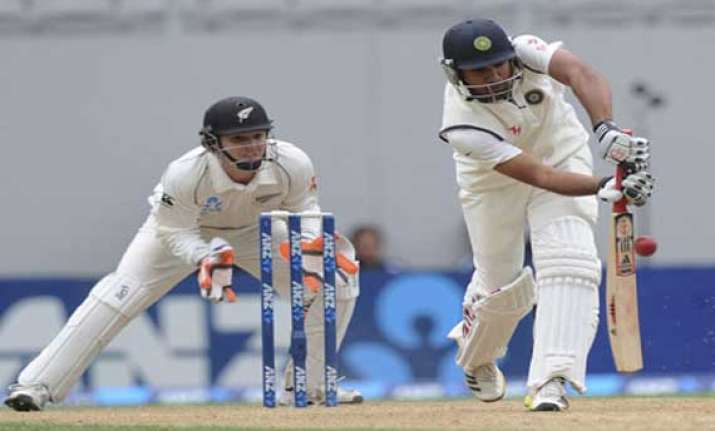 Wellington: Their morale dented after losing the opener, India would be desperate to end their disastroustour on a positive note when they take on a sprightly New Zealand in the second and final Test starting here tomorrow.
The visitors lost the Auckland Test by 40 runs and had previously surrendered the five-match ODI series by an embarrassing margin of 0-4.     
At Basin Reserve then, Mahendra Singh Dhoni and Co would be desperate enough to put in a last gasp salvaging effort. Victory in this Test will lift some of the gloom that has shaded this trip so far.     
The ODI squad was unable to cope with the short-ball strategy deployed by the hosts' bowling attack. That series was labelled as practice for the 2015 World Cup to be hosted here next year, and everything fell apart in spectacular fashion, sending the team think-tank and the selectors back at home to their drawing boards.     
The defeat at Eden Park wasn't as spineless as the ODI form, despite the first Test ending in four days. That match ebbed and flowed in every session as the two teams fought their hearts out.     
New Zealand only misfired once with the bat, but came up trumps with their bowling in both innings. Meanwhile, India finished on the losing side because they had not performed in the first innings either with the bat or ball.     
Put together, the two aforementioned points put great onus on this team, replete with superstars, to raise their level of performance in this last outing on the trip. It has a little to do with the political scenario that is shaping up in world cricket at the moment as well.     
Just when the BCCI is busy flexing its muscles, making India the center-point in a restructuring of the game's administration, its team cannot be seen surrendering meekly in conditions alien to them. Add to it, the misery this travelling bunch suffered in South Africa (in ODIs), that makes for an embarrassing situation.     
The bigger picture, though, is to look at this Test match in isolation, and even then, it becomes a very important marker for Team India. This is a new squad taking shape and as such, every series becomes part of a learning curve.