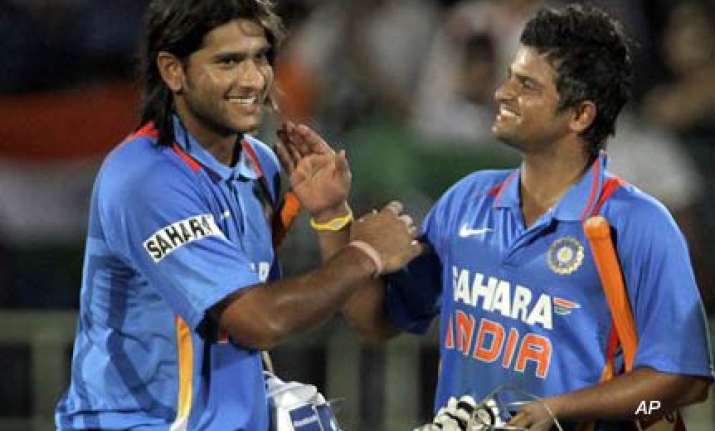 LONDON: The ICC Anti-Corruption and Security Unit is probing why the Indian Board kept quiet about a report of its player Suresh Raina being seen in the company of a woman linked to an associate of an illegal bookmaker, a media report said.
Making it clear that Raina was not suspected of any wrongdoing, The Sunday Times, quoting a senior ICC source, said the incident related to India's tour of Sri Lanka earlier this year.
With the heightened security concerns following the 2009 terrorist attack on the Sri Lankan team in Pakistan, the Sri Lankans deputed a former general to look after the Indian team.
CCTV Cameras installed at the Indian team hotel showed that on more than one night Raina was in the company of a woman known to be an associate of a man allegedly linked to a bookmaker.A report, including the CCTV footage, was submitted by the Sri Lankan Cricket Board to their Indian counterparts.
According to the newspaper report, it is the reaction of the BCCI secretary N Srinivasan that has led to the ICC investigation. Instead of acting on the report, Srinivasan is alleged to have got the Sri Lankans withdraw it.
23-year-old Raina plays for Chennai Super Kings, an
IPL
franchise owned by Indian Cements of which Srinivasan is a vice-chairman and managing director.
The investigation, led by ACSU head Ravi Sawani is believed to be looking into why the Sri Lankans shared the report with the BCCI first when under ICC anti-corruption rules it should have gone straight to the world governing body, the newspaper said.
According to the newspaper, this comes against a background of much talk in India that it was during IPL matches that spot-fixing re-emerged as a major problem.
In August, three Pakistan cricketers -- Salman Butt, Mohammad Asif and Mohammad Aamer -- were suspended following allegations that no balls were bowled during the Lord's Test in return for money.
When asked recently about the speculations of match-fixing in the IPL, ICC chief executive Haroon Lorgat said, "The first two editions were not policed by the ACSU. But they realised later on that they perhaps needed more support. The last one was the first time when they fully engaged the ACSU. And we will be engaged in the next IPL season as well."
An ICC spokesman, asked about the alleged investigation into the inaction of the Indian Cricket Board, said, "We don't comment on any investigation." Srinivasan was not available for comment, the report said.PTI