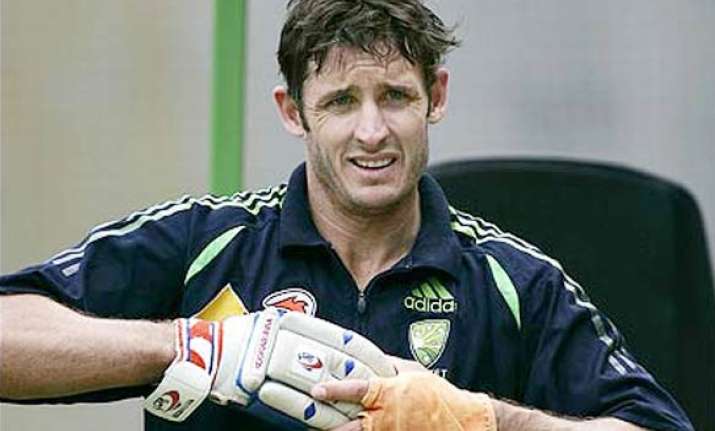 Melbourne, Feb 21: Australian batsman Michael Hussey was so upset by the selectors' decision to drop him from World Cup squad that he wanted to prove his fitness by playing in a Sheffield Shield fixture on Sunday only to be stopped by Cricket Australia, a report claimed.
Hussey was dropped from the Australian World Cup squad as he had a surgery a month back to repair the hamstring tendon that ripped off his knee bone during Australia's first ODI against England following the Ashes series.
He, however, had claimed that he would be fit by the second group match of the World Cup.
The left-handed batsman had a strong training session with Western Australia and he was selected to play against Tasmania but had to be withdrawn when higher powers at Cricket Australia intervened, a report in 'Daily Telegraph' said.
Had Hussey played for WA, it would have been a major embarrassment for CA, the newspaper said.
The report also claimed that Greg Chappell met with Hussey in Perth earlier this month and the national selector had told the latter that his days in international ranks were numbered.
But Chappell denied that he had not told Hussey to consider retirement.
"That's untrue," Chappell said. Chappell said there was nothing sinister in Hussey not playing in the Sheffield Shield and the decision was taken after discussion between CA medical staff and their WA counterparts.
"In the nets yesterday he was pretty excited by the way he pulled up, but in discussions between Cricket Australia medical staff and West Australian medical staff, they decided it was probably imprudent to try and rush it," said the former India coach.
"They decided to stick to the original plan - try and play some club cricket on the weekend and resume on March 3. They jointly agreed to stick to that plan."
Chappell said it was "out of the question" that Hussey could re-join the Australian World Cup squad should a player suffer an injury in India.
"Once he's been withdrawn he can't come in, even if it is to replace someone else," he said. PTI