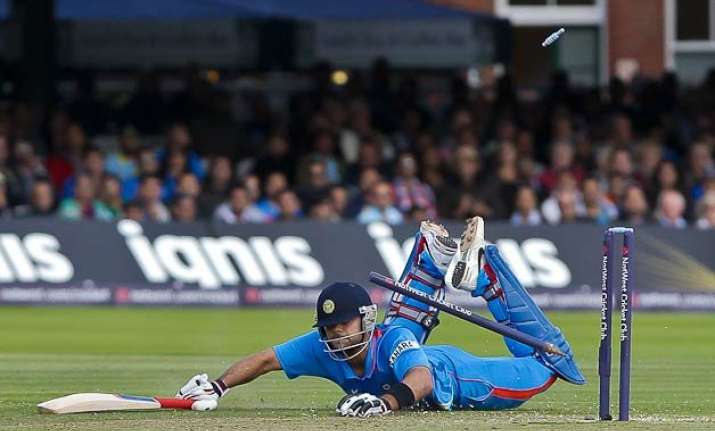 Virat Kohli was run out for the tenth time in ODIs in the second match of the ongoing series against South Africa in Indore.
He has also been run out three times in T20Is, most recently in the 2nd T20 game against South Africa in Cuttack earlier this month. Kohli was run out off the very first ball he faced in that game. His partner was Rohit Sharma, who has had several misunderstandings with Kohli!
Here are some of Kohli's most entertaining mishaps between the wickets. Even if you're a diehard Kohli fan, you'll probably be amused by these!
India vs Ireland, 2011
This one occurred in the 2011 World Cup. Ireland had already stunned England and were eager to slay another giant. India were chasing a modest target of 208 at the Chinnaswamy Stadium in Bangalore. Kohli was batting on 34 in the company of Yuvraj Singh when the mix-up occurred. It left India at a shaky 100/4 but Yuvraj, who was the culprit in this case, took India home in the company of Yusuf Pathan.   
India vs Australia, 2013
The two teams arrived for the 7th and final match of the ODI series tied at 2-2 after two no results. Bangalore was the venue once more and India were motoring along at 113/1 when the misadventure occurred. Yet to score, Kohli pushed his third ball to mid-on and set off for a quick single. He was sent back but it was too late to regain his crease. Rohit more than made up by smashing 209 and India won comfortably in the end by 57 runs to clinch the series.
India vs Sri Lanka, 2014
It was deja vu all over again after India batted first at the Eden Gardens. Rohit and Kohli had already put on 202 runs and were looking good for many more together. Kohli was on 66 when he hit Angelo Mathews towards long on. The two batsmen hesitated over the second and Kohli was well short of his crease when the bails were dislodged. Rohit bludgeoned 264 this time, still the highest score by any batsman in ODIs.
RCB vs CSK, 2015
This was not an international game but it was a memorable dismissal all the same. Kohli played a ball from Dwayne Bravo down the wicket and made a speculative foray out of his crease. Bravo caught the ball with one hand and in a single motion threw down the stumps as Kohli made a desperate dive. It was a wonderful piece of athleticism by the Trinidadian, who showed why he is rated as one of the best fielders in the game.  
India vs South Africa, 2015
The most recent addition to Kohli's collection of bizarre run outs came in the second ODI against South Africa in Indore. Kohli entered the game in the midst of a poor run of form, not having scored a fifty in his previous 11 ODIs. And he fell short of that mark again, departing for just 12 after a mix-up with Ajinkya Rahane. Despite Rahane staying put and raising his hand to say no, Kohli kept running as if in the throes of a death wish.