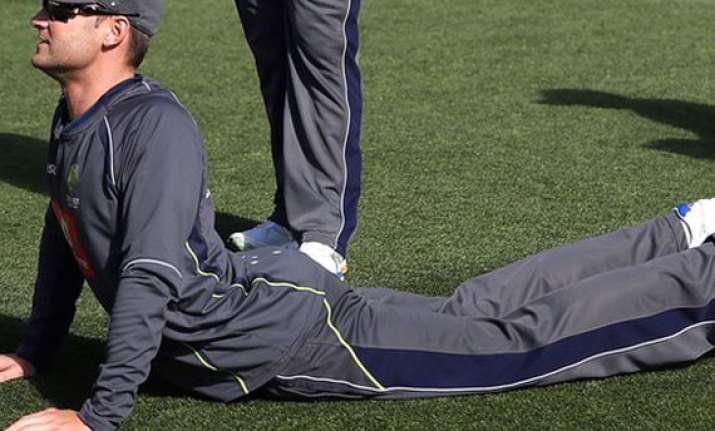 Sydney: Australia captain Michael Clarke says there is no guarantee he will play in the first Ashes test against England in November, while fast bowler James Pattinson says he could miss at least two matches in the five-test series.
Clarke, who withdrew from Australia's limited-overs team for India earlier this week due to continuing back issues, said Thursday he doesn't know if he'll be healthy enough to return for the series-opening Brisbane test beginning Nov. 21.   
"I'm always positive and if they ask me, I'll say I'll be fit in a week's time," Clarke said. "But you ask Alex (Kountouris, the team physiotherapist) who knows me very well, and he'd say there's doubt I won't be right."   
"There's certainly no guarantee at this stage."   
Australia is trying to avoid losing a fourth consecutive Ashes series.   
Pattinson, who has a stress fracture in his back, says the best-case scenario for his return is the third test in Perth beginning Dec. 13. Australia is already without bowlers Mitchell Starc and Pat Cummins for the Ashes due to injuries.   
"I'll know more when I start bowling," Pattinson said. "The last thing I want is for that to happen again and push my body too far."   
Coach Darren Lehmann won't travel with the team to India for the seven-match one-day series this month, keeping an eye on the domestic cricket scene instead. His assistant Steve Rixon will take over in India.   
"I hope he (Clarke) improves his back pretty quickly," Lehmann said. "But it's a long way off so hopefully with all the medicos behind him getting it right he should be right.   
"But only time will tell. I can't worry about that, what I can worry about is making sure all the other players are ready to go as well ... getting the right side for the first test match."