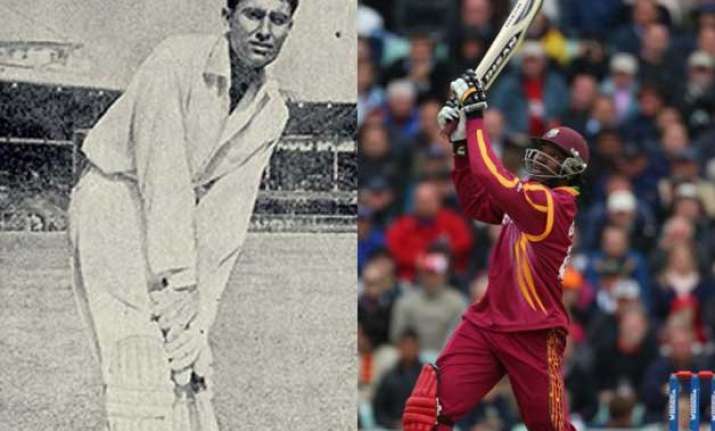 Jamnagar: So ferocious was Gayle storm that it not only reached  this place in western India but also hit Salim Durrani, former flamboyant Indian all-rounder known for hitting big sixes on demands when keeping the ball in the air was considered bad cricket.
While talking to India TV exclusively, Durrani spoke of West Indian opener Chris Gayle's record breaking double ton on Tuesday and said, "Chris Gayle is a Gayle storm and once he gets going, he can not be stopped! His double century was one of the best innings so far in the World Cup and it will go a long way."
"The way he hits sixes he reminds me of my days."
When asked about Team India's chances in the World Cup, Durrani had no doubts about it, "Team India is the most balanced side. We have finest specialist batsmen and bowlers of repute capable of capturing wickets and I see no reason why we should not retain the  world cup."
"We have Dhawan, Rohit, Virat, Rahane, Raina and Dhoni; we can achieve the target and clinch the title."
" India stands better chances because it is the most balanced side but you can not rule out Australia, South Africa.and New Zeland."
Durrani refused to put a finger on one or two players who could be instrumental if India were to retain the title but however he had a special praise for Virat Kohli whom he described as one of the finest middle order batsmen in the world today.
"He is the most determined cricketer and a great fielder too! He is an inspiring team mate,"said Durrani
All rounder Durrani, the only Test cricketer to have been born in Afghanistan, played in 29 Tests from 1960 till 1973.  He was the first cricketer to be honored  with Arjuna  award in 1962, the year award was initiated.
Durrani was the hero of India's series victory against England in 1961-62. He took 8 and 10 wickets in their wins at Calcutta and Madras respectively. Also, a decade later he was instrumental in India's victory against West Indies at Port of Spain, taking the wickets of Clive Lloyd and Gary Sobers.
In his 50 Test innings he made just one century, 104 against the West Indies in 1962. He appeared in a film, Charitra writh Parveen Babi. in 1973.