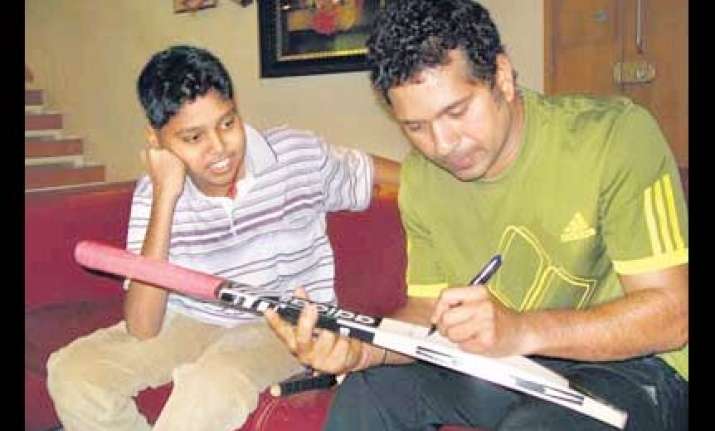 Fifteen-year-old Varun Kumar is a leukaemia patient and his only wish was to meet master blaster Sachin Tendulkar.  With a volley of insightful questions about his career, Varun Kumar impressed Sachin with his knowledge of cricket.
An NGO approached Sachin requesting him to grant Varun  an audience. Touched by the bleak condition of the teenager, Sachin decided to bring cheer tohis life.
Sachin invited Varun to his Bandra residence and patiently answered all the questions that the youngster had.
Impressed by his knowledge, Sachin tweeted, "Even adults haven't asked me such insightful questions. He is one of the brightest kids I have ever met. I pray for his speedy recovery."
Here is the interview of Sachin as taken by Varun and published in today's Mumbai Mirror:
Varun: Which is your dearest score? Your 200 vs South Africa or your international debut match where you scored 15 runs against Pakistan?
Sachin: The 15 runs against Pakistan was more important because from there I got the start. I got the feeling that I can play against any bowler in the world.
Varun: I know that your personal dream is to win the World Cup 2011. What are your preparations?
Sachin: I am doing lot of hard work for it. I am practicing and I am focussed on the World Cup. I and my team members have started planning for that.
Varun: This will be a different kind of World Cup, because you have 3 countries and all have different pitches. In Bangladesh, the pitches will have more moisture and in Sri Lanka, the team batting second will benefit from the wicket. How will your team cope with that?
Sachin: I know the World Cup will be very challenging for us, pitches and grounds also matter a lot. It is a World Cup and you have to play against different teams, so you have to make strategies like that. World Cup is not like a five-match series, where you plan about a particular team, and you know that you have to play five matches against one team.
Varun: How did you feel when you faced Waqar Younis?
Sachin: When I got to the pitch, it looked very different from domestic cricket. I was nervous, scared and had lot of pressure on me. When I got out on 15 runs, I said to God - 'give me one more chance' and in next match I scored 59 runs and from there I knew I can play any bowler in the world. All you need to have is a strong heart. If you have a strong heart you can beat anybody.
Varun: How did you react, when you were hit on the nose by Waqar's delivery? Did you black out?
Sachin: Mujhe bahut gussa aya. Abh tho hum ne soch liya ke isko nahin chhodegey. Agar woh match mein main nahin khelta, tho, hum match har sakte the.
Varun: Why are you not playing T-20 internationals?
Sachin: In 2007 I refused because I had a few injuries, and I knew I would not be able to give 100 per cent to my team. T20 is a form of game where even if one player is not giving his 100 percent, your team will be in trouble.
Sachin asked Varun: Which one do you like the most - T20, 50-over match or Test cricket
Varun: 50-over match, as it requires the mental and physical fitness to be very high to play a 50 over match.
Varun: You are such a big cricketer, why do you need a coach in the team?
Sachin: Although I know about cricket, coaches are needed for youngsters, but at the same time we also need a good friend with whom we share our personal thought and feelings and we have them in the form of a coach.
Varun: Can you give me some batting tips? How should we play? Should we play straight shots or cut or pull shot?
Sachin: Initially you should play straight shots. As you spend more time on the wicket, then you can play the cut or pull or whatever shot you like.
Sadaf Hussain, National Co-ordination Corporate Partnership and Communication Make a wish foundation of India fulfills the inner most wishes of children suffering from life threatening illness.
Mukul Gupte, CEO of Make-A-Wish Foundation India, said that the child had been waiting for months to meet his hero.
"We usually ask a child to give us two options apart from their first wish so that if we can't make one happen we can try for the others.
However this boy's only wish was to meet Sachin and he didn't want anything else," said Gupte, adding that Tendulkar's commitment was brilliant.
"He doesn't just shake a hand or take a picture with the child. He plays with the kids and spends quality time with them. We haven't seen the same levels of dedication from any other celebrity," said Gupte.
Tendulkar has so far helped the foundation with over twenty such wishes.
The Make-A-Wish Foundation is currently hosting a Wishing Well Weekend until Sunday at Phoenix Mills, the proceeds of which will go towards helping other such children.