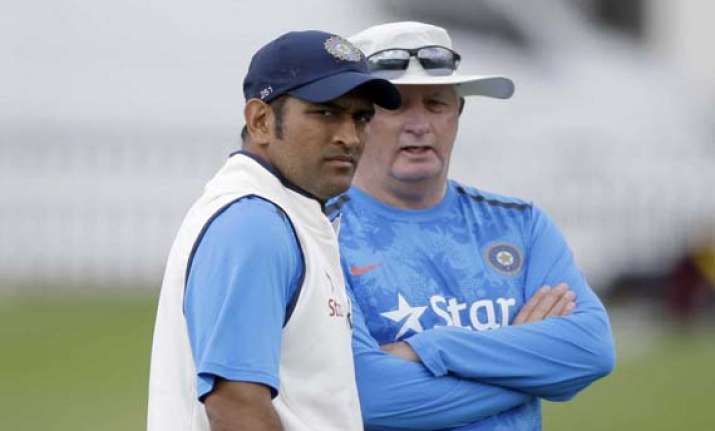 New Delhi: If one reads between the lines, Team India captain MS Dhoni and  BCCI secretary Sanjay Patel are still at war over chief coach Duncan Fletcher ever since Ravi Shasrti was appointed as Director for ODI series after a humiliating defeat in the test series against England.
Duncan Fletcher was squarely blamed for debacle in the test series and many though and wanted his head. Amidst all this when Ravi Shasrti was appointed as Director for the remainder of the tour, speculation s were high Fletcher was on his way out before his contract which expires after world cup 2015.
However another big controversy erupted when Dhoni came out open in support of Fletcher, saying 'he is the boss.' It was quite clear that BCCI's this move wasn't received well by Dhoni.
In Bristol earlier this week, Dhoni told reporters that Fletcher was the team boss and would guide India till the 2015 World Cup. "Definitely he will lead us into the World Cup. Also he is still the boss. We have Ravi (Shastri) who will look into everything, but Duncan Fletcher is the boss. It's not as if his powers or his position have been curtailed," said Dhoni.
The captain's reactions, coming on the back of Shastri's appointment, was met with angry comments from a section of BCCI officials. They wanted to review Dhoni's 'audacious' quotes at the Board's next working committee meeting.
Speaking to ESPNCricinfo, Patel said Dhoni was only stating "facts". Fletcher's contract with BCCI is till the end of the 2015 World Cup.
BCCI secretary Sanjay Patel was among a core group of Board functionaries to appoint Shastri on top of Fletcher. The BCCI also appointed three assistant coaches after sending Fletcher's hand-picked support staff Joe Dawes (bowling coach) and Trevor Penney (fielding coach) on a break.
However Patel, who last week wanted to curb Fletcher's powers as chief coach, snubbed his BCCI teammates by saying: "The issue of discussing Dhoni's statement in a meeting does not arise."
After a spectacular win in the second ODI against England, if Team India repeat the same performance in the remaining three ODI', who knows Dhoni might once again wield the same power he used to before test debacle.