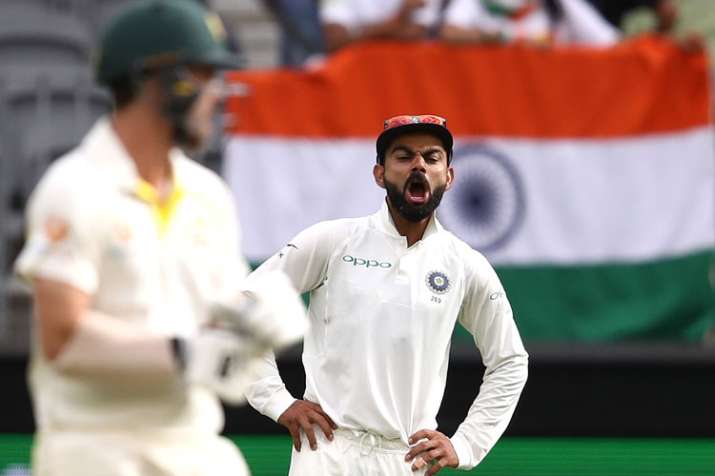 Former Australia batsman Matthew Hayden is completely fine with India captain Virat Kohli's attitude and said that he is passionate and that is okay.
He went a step further and likened Kohli to Australians and said that it is how the Australians like to play their game and Kohli is like them.
"I don't think so. Virat Kohli, I think, is more Australian than Indian in many ways. He has been playing this way. He plays the game in a very competitive spirit. He is very animated, very passionate, and he is very emotional. I think a lot of Australians at all levels of sport play the game like that. 
"They are also very competitive, they enjoy the heat of the battle. As long as there is a line and I don't think Virat has crossed that. No match referee or conjectures off the field. So everything has remained on the field," Hayden told Mumbai Mirror.
However, not many opines the same. Former Australia pacer Mitchell Johnson didn't like Kohli's behaviour during the Perth Test and termed him 'disrespectful' and 'silly'.
"At the end of the match, you should be able to look each other in the eyes, shake hands and say 'great contest'," the former Aussie quick wrote in a column for Fox Sports.
"Virat Kohli could not do that with Tim Paine, shaking the Australian captain's hand but barely making eye contact with him. To me, that is disrespectful.
"Kohli gets away with more than most cricketers simply because he is Virat Kohli and he gets placed on a pedestal but this Test left the Indian captain looking silly," Johnson added.
"Mitch is entitled to his opinion and I have got mine," Hayden replied when asked about Johnson's comments.
The southpaw also backed India to clinch the series because of them being a more balanced side.
"I think India should clinch the series. Why because, they have a balanced side, an extremely settled bowling unit, and depth in spin. It is hard to win away from home and this will prove to be no different. But India should win, they really are the favourites, they need good partnerships, which they have not had," Hayden reasoned.
With the series tied at 1-1, the third Test of the four-match series starts on December 26 at the Melbourne Cricket Ground.