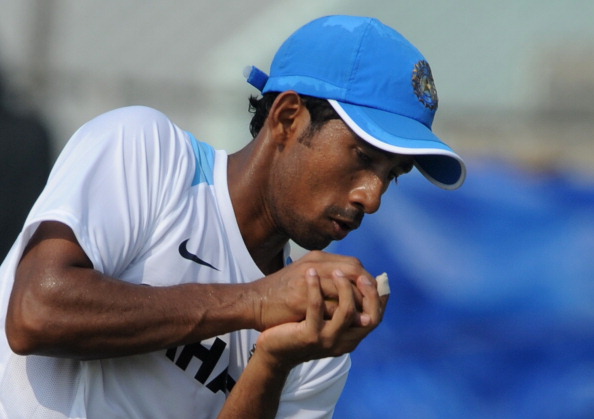 India wicketkeeper-batsman Wriddhiman Saha said he is working hard towards the ICC 2019 World Cup. Saha displayed an impressive show in the Test series against Sri Lanka where India won the series 3-0. Saha who was brought in for the Test series as the wicket-keeper after MS Dhoni retiring from Test cricket is following the footsteps of the Ranchi playmaker, but it has been Saha's wife who wants him to play for India in the World Cup.
"My wife badly wants me to be part of the World Cup team or play in the World Cup," said Saha as media reports suggest.
"She always insists I push harder (for a spot). I am trying myself. Ultimately, the decision lies with the selectors," the 32-year-old Test stumper said.
Saha has so far played 28 Tests for India but has not featured in many One Day Internationals (ODI) with Mahendra Singh Dhoni still going strong at 36. The Bengal wicket-keeper has donned the India jersey in nine One-Day Internationals (ODI) averaging 13.66 runs in five innings with the highest score of 16. Saha's last ODI was back in 2014 against Sri Lanka in Hyderabad.
But the diminutive stumper has impressed with the bat in the Indian Premier League (IPL), his century in the 2014 final for Kings XI Punjab against Kolkata Knight Riders being the highlight.
"Everyone wants to play in every format. But it depends on the selectors. My preparation is to better myself all the time. The rest depends on the selection committee. I don't perform to just play ODIs," Saha maintained.
Asked whether 2018 will be India's toughest year yet under skipper Virat Kohli with tours away to South Africa and England coming up, Saha said: "Yes it will be tough. But the challenge will be to keep the home and away momentum going. We have been winning away as well lately."
On the current Indian ODI team scheduled to play five ODIs and three T20 internationals against Australia to kick off the home stretch, Saha said the plan is to prepare a squad for the 2019 World Cup.
"India's bench strength is very strong. I think the team is preparing for the 2019 World Cup. That's why this rotation of players. India have been performing well with all sets of players which is a good sign."
Ravichandran Ashwin and Ravindra Jadeja have been rested for the Australia series with Kuldeep Yadav, Axar Patel and Yuzvendra Chahal getting the nod.
"Axar, Chahal, Kuldeep playing in place of Ashwin, Jadeja. They are being prepared to strengthen the bench. If need be, they can chip in when needed," Saha said.
Saha does not aspire to play county cricket just yet.
"I don't have aspirations to play county cricket just yet. I want to spend more time with family," Saha said.
On the upcoming Australia challenge, Saha said: "Beating India in India will always be tough. Australia have done well last time but I will put India ahead."
Saha said current coach Ravi Shastri does not have a different style of coaching to predecessor Anil Kumble.
"I have not seen any change in coaching style. At this level, we don't need to be taught how to bat or bowl, so I really don't find a lot of difference between the two coaches," concluded Saha.
(With IANS Inputs).