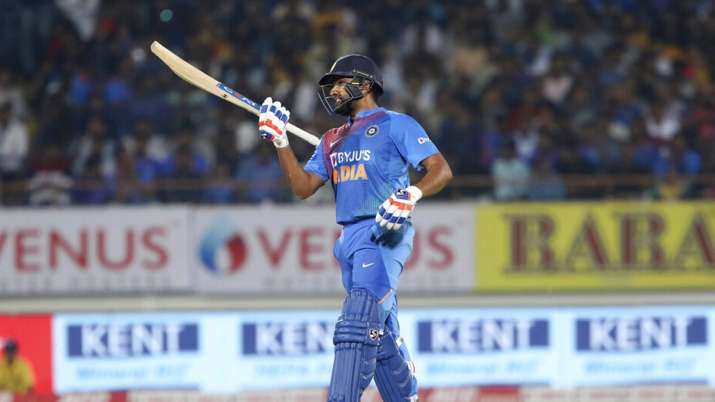 Highlights, India vs Bangladesh 2nd T20I: Hello and welcome to our  coverage of India vs Bangladesh live second T20I match. India opted to field in the second T20 International against Bangladesh here on Thursday. Both teams did not make any changes to their respective playing eleven. Bangladesh lead the three-match series 1-0 following their seven-wicket win in Delhi on Sunday. Rohit Sharma's Team India will look to make a comeback in the 2nd T20I against Bangladesh after a poor outing in the series opener. Spirited Bangla Tigers beat India by 7 wickets in Arun Jaitley Stadium in Delhi to take 1-0 lead. Lack of experience in the middle order is hurting Team India as they missing the service of regular skipper Virat Kohli, who has been rested for the three-match T20I series. Here you can follow live cricket score and updates of India vs Bangladesh 2nd T20I live from Rajkot. ( Stream India vs Bangladesh) (Match Scorecard)
India beat Bangladesh by 8 wickets
22.21 IST: Mustafizur to Iyer, Short delivery outside off, Iyer looks to pull but gets a bottom edge on this one. It goes towards the keeper in bounce. The batsmen take a single. INDIA WIN BY 8 WICKETS AND LEVEL THE SERIES 1-1!
22.14 IST: Hossain to Iyer, FOUR! Elegant shot from Iyer as he just pushes the ball in the gap and it races away towards the rope.
22.12 IST: Hossain to Iyer, FOUR! Another fine shot from Iyer, It was on the pads and he just guides through fine leg for a boundary.
22.08 IST: Mustafizur to Shreyas, FOUR! Beautiful shot from the young man as he was in total control of the upper-cut and just guides the ball for the boundary.
22.02 IST: Aminul to Rohit, OUT! Rohit misses a well deserved century due to a rash shot.
21.53 IST: Aminul to Dhawan, OUT! BOWLED! Dhawan charges down the ground for the big hit and misses the ball completely as Bangladesh get first breakthrough.
21.47 IST: Mosaddek to Rohit, SIX! Hattrick of SIXES, Hitman on rampage now as he is eyeing his 5th T20I ton.
21.46 IST: Mosaddek to Rohit, SIX! Back to Back sixes for the hitman, he is now in his zone.
21.46 IST: Mosaddek to Rohit, SIX! The Indian captain has dispatched it towards the midwicket. He makes six-hitting look easy!
21.37 IST: Hossain to Rohit, SIX! FIFTY! IN JUST 23 BALLS! This has been an exhibition in big - and smart - hitting from the Indian captain.
21,34 IST: Aminul to Dhawan, FOUR! This time towards the deep mid-wicket. Dhawan pulls the length ball where the fielder hopelessly gives a chase. Another expensive over, and India are cruising to victory here.
21.33 IST: Aminul to Dhawan, FOUR! It took him time, but Shikhar finally joins the party. He decides enough is enough and charges down like Rohit. Dismisses the ball from his presence over the mid-on boundary.
21.29 IST: Shafiul to Rohit, SIX! Oh what an absolute joy it is to watch Rohit Sharma at his best! The Indian skipper charges down the track and lofts a half-volley over the mid-off. The ball hits the cushions of the boundary line.
21.26 IST: Shafiul to Rohit, FOUR! Different bowlers, same story. This was full, however - almost as if asking the batsman to hit. Rohit's timing and placements have been top-class today, though. This time, towards the backward point.
21.24 IST: A different story for both the batsmen. Rohit 32 (16), Dhawan 12 (14)
21.23 IST: Al-Amin to Rohit, FOUR! Toying with the bowlers here, the Indian captain. Almost the same length, but this time, Al-Amin targets his body. No worries, says Rohit, who places the ball to the third man this time. The ball races towards the boundary.
21.22 IST: Al-Amin to Rohit, FOUR! This is brilliant batting from Rohit. Al-Amin provides width on the delivery and keeps it short, and Rohit simply cuts it towards point.
21.20 IST: Mustafizur to Rohit, SIX! MONSTROUS! A length ball from Rohit and it goes as straight as a line! Right over the bowler's head and Mustafizur seems to know there's no point looking up in hope for a catch. The ball hits the sight-screen.
21.18 IST: Mustafizur to Rohit, FOUR! Fuller than the previous one, almost a half-volley this time. A gift for Rohit this time. The width was more or less the same as the previous one and the Indian captain guides it left of cover.
21.17 IST: Mustafizur to Rohit, FOUR! Slightly full and width, Rohit goes inside out and lofts it over the cover. Fielder gives it the chase but the outfield has been too quick tonight.
21.07 IST: Islam to Rohit, FOUR! Poor bowling from Bangladesh's bowler as he bowls a direction-less short ball to a top batsman like Rohit Sharma.
21.04 IST: Mustafizur to Dhawan, FOUR! Back to back boundaries, this time misfield cost some crucial runs.
21.02 IST: Mustafizur to Dhawan, BANG, FOUR! Excellent drive through the off side and there was no chance for fielders to move.
* Indian openers arrives at the crease for the chase
* Yuzvendra Chahal led India's comeback with a double strike in an over, as a result, India restrict Bangladesh on just 153/6
20.49 IST: Khaleel to Hossain, DOUBLE! Bangladesh score 153/6 in 20 overs against India in Rajkot. Naim 36, Chahal 2/28
20.45 IST: Khaleel to Aminul, FOUR! Paddle Sweep from the tailender and ball races away for boundary.
* Khaleel Ahmed to bowl the final over
20.39 IST: Deepak to Mahmudullah, OUT! Street Smart bowling from Deepak Chahar as he checks the bowl when he looks the bowler stepping out of crease.
20.28 IST: Khaleel to Afif, OUT! This time the short ball worked for Khaleel as Bangladesh lose half their side.
20.26 IST: Khaleel to Mahmudullah, FOUR! Khaleel's misery with short balls continues and as he went for another boundary here on a slower bouncer. 
20.24 IST: Chahar to Afif, FOUR! Afif charges down the ground the drives the ball through covers for a boundary.
* Deepak Chahar returns to attack
20.10 IST: Chahal to Sarkar, OUT! Irresponsible stuff from Soumya as he gifts his wicket and this time Pant makes no mistake to destroy his stumps.
20.03 IST: Chahal to Rahim, OUT! The most experienced bowlers in Indian line-up does his thing to send the last match's hero back to the pavilion.
20.00 IST: Krunal to Sarkar, SIX! The batsman dances down the ground and lofts the ball to send it for the maximum.
19.54 IST: Sundar to Naim, IN THE AIR AND OUT! Shreyas takes an easy catch as Naim departs for 36 after a bright start
19.52 IST: Sundar to Sarkar, FOUR! Reverse Sweep and ball races away for a boundary.
19.48 IST: Dube to Sarkar, FOUR! Glorious shot from Soumya as he just slammed the ball with total ease to send the ball for a boundary.
* Shivam Dube introduced into attack
19.46 IST: Good tight over from Sundar as only 6 runs from it.
* Soumya Sarkar is the new man in
19.40 IST: Chahal to Liton, RUNOUT! Liton Das luck finally ran him out as Pant takes sweet revenge to send him back to pavilion.
19.30 IST: Sundar to Liton, DROPPED! It was in the air for a long time but skipper Rohit Sharma couldn't control the ball in the end.
19.29 IST: Chahal to Das, BIG BIG BLUNDER FROM RISHABH PANT! The wicketkeeper continues to show his maturity as he picked the ball from above the bails before stumping the batsman. Umpire signals NO BALL!
* Yuzvendra Chahal into the attack
19.20 IST: Khaleel to Naim, FOUR! Excellent shot, it was not easy to drag the ball from there but Naim is taking the charge on Khaleel.
19.18 IST: Sundar to Liton, FOUR! Full toss and it gets the perfect treatment from Liton
* Washinton Sundar into the attack
19.13 IST: Excellent over from Deepak Chahar, only four runs from it. 
19.08 IST: Khaleel to Liton, Excellent shot from Das but stopped at boundary rope. Big over for Bangladesh, 14 runs from it.
19.06 IST: Khaleel to Naim, FOUR! Back to back boundaries, young Khaleel is not learning from his mistakes.
19.04 IST: Deepak to Naim, FOUR! Excellent timing from Naim as he just clips the ball for a boundary to end the over on a high.
19.01 IST: Deepak to Naim, On point from the bowler as Naim just taps it for a dot ball
19.00 IST: Bangladesh openers are on the field as Deepak Chahar will start the proceedings for India
18.50 IST: Read | Rohit Sharma becomes second Indian to play 100 T20Is
18.33 IST: Playing XI of both the teams are out as Rohit and Mahmudullah stuck with the same XI.
Bangladesh (Playing XI): Liton Das, Mohammad Naim, Soumya Sarkar, Mushfiqur Rahim(w), Mahmudullah(c), Afif Hossain, Mosaddek Hossain, Aminul Islam, Shafiul Islam, Mustafizur Rahman, Al-Amin Hossain
India (Playing XI): Rohit Sharma(c), Shikhar Dhawan, Lokesh Rahul, Shreyas Iyer, Rishabh Pant(w), Shivam Dube, Krunal Pandya, Washington Sundar, Deepak Chahar, Yuzvendra Chahal, K Khaleel Ahmed
18.32 IST: Rohit Sharma win the toss and opt to bowl against Bangladesh.
17.10 IST: Stand-in skipper Rohit Sharma is all set to play his 100th T20I