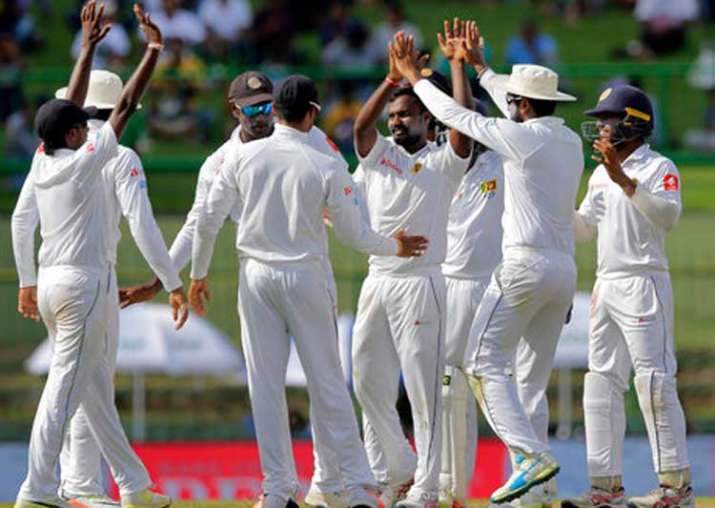 A good day of Test cricket comes to an end. 34 overs, 94 runs and 3 wickets in the final session shows that it was an even session for both India and Sri Lanka on day one of Pallekele Test. This was the first time in the series when Sri Lanka actually turned up, it seemed. Their bowlers, led by Pushpakumara (3/40), tested the Indian batsmen and kept them in check. Bad balls were few and far between today from the hosts. Runs were hard to come by and most of the catches offered today were held on to, unlike earlier in the series. Fernando was also largely impressive, especially towards the end.
The Indians, on the other hand, have a right to be disappointed today. The scoreboard tells a story and their batting card says that batsmen did get starts but didn't bat to get a big score. What the scorecard doesn't say, is that most of them departed by playing shots that they could have done without. Rahul (85) and Dhawan (119) did give the others a good platform with a 188-run opening stand, but the others didn't capitalize on that. They still have batsmen in the hut in the form of the unbeaten Saha, Pandya and Kuldeep Yadav, who can also be handy with the bat. Do join us tomorrow at 1000 local time (0430 GMT) for what can be another riveting day of cricket. Till then, take care. Adios! (SCORECARD)
HIGHLIGHTS FROM INDIA VS SRI LANKA, 3RD TEST, DAY 1 at PALLEKELE
17.25 IST: A good day of Test cricket comes to an end. 34 overs, 94 runs and 3 wickets in the final session shows that it was an even session for both sides. This was the first time in the series when Sri Lanka actually turned up, it seemed.
17.22 IST: 2 runs came off Fernando's over. IND 329/6 in 90 overs STUMPS ON DAY 1!
Vishwa Fernando to bowl the last over of the day
17.13 IST: FOUR! Now Saha survives! Has no idea what's going with this. Length ball which just kicks off the deck takes the little man by surprise as he just hangs his bat out. It goes off his gloves and over the slip cordon for a boundary. IND 326/4
The hard hitting Indian all-rounder Hardik Pandya strides out at the fall of the 6th wicket.
17.10 IST: OUT! This time Vishwa Fernando strikes for the hosts as India lose Ravichandran Ashwin (31). EDGED AND TAKEN! Went fetching for a wide one and paid the price for it. Well outside off on a back of a length, Ashwin fishes for it and gets an edge. Flies behind where Dickwella dives full stretch to his right and takes a sensational catch. Sri Lanka with a much-needed wicket towards the end of day's play. Good stuff from them. IND 322/6 in 88 overs
17.06 IST: Full ball just outside off, Ashwin moves across a touch to drive but gets it off the inner half through mid-wicket for a couple of runs. IND 319/5 in 87 overs
Lahiru Kumara brought back to bowl from the other end.
17.00 IST: MAIDEN! Pushpakumara bowls a tight over gave nothing away. IND 315/5 in 86 overs
16.57 IST: NOT OUT! Clearly. Length delivery shaping back in, Ashwin defends it onto his pads and the ball dies down safely near him. Chandimal reviews and replays show the batsman is safe. Waste of a review, really.
16.56 IST: A review taken by the hosts! For an lbw appeal against Ravichandran Ashwin. Not sure why though, it's clear there's bat involved. Going to be a poor review.
16.55 IST: FOUR! Easy as they come. It's sprayed on the pads and all Ashwin has to do is tickle it fine down the leg side. He does so and sends it across the fine leg fence.  IND 313/5 
Vishwa Fernando to bowl a spell with the second new ball.
16.51 IST: An analysis of Pushpakumara reveals that he had a forgettable debut because he was bowling way shorter.
Sri Lanka have taken the second new ball.
16.48 IST:  2 runs from Sandakan's over, another tidy one from Sri Lankan bowlers. IND 308/5 in 83 overs
16.42 IST: Could have almost been run out. Quite easily too, lucky to survive. Ashwin adjusts his body and clips it towards short fine leg. Saha without even looking is halfway down the track. Is sent back, fortunate that Dickwella couldn't collect cleanly.  IND 304/5
16.39 IST: Saha drives it wide of mid-off into the gap to pick up a double that brings 300 for India.  IND 300/5 in 80.3 overs
16.34 IST: NOT OUT! SAHA SURVIVES! Good decision by the TV umpire in all honesty. Flighted right up there, outside off, Saha attempts to drive it through the covers. IND 296/5 in 79 overs
16.32 IST: And instantaneously, Saha is in the midst of all the drama. There is a caught behind appeal against him and it has been reviewed by Sri Lanka.
Wriddhiman Saha is the new man in for India.
16.30 IST: OUT! KOHLI DEPARTS!  This is a big, big wicket for the hosts. The Indian skipper has been sent back and at a crucial juncture too. Tossed up well outside off, the googly and Kohli is seen going after this. Attempts to play his whippy cover drive and ends up getting a thick edge behind to Karunaratne at first slip, who takes a very good catch.  IND 296/5 in 78.2 overs
16.23 IST: Good use of the feet from Ashwin to get to the pitch of the ball. Flicks it well through mid-wicket and comes back for the second. IND 289/4 in 76 overs
16.15 IST: 3 runs from the over.  IND 282/4
Malinda Pushpakumara to continue after the drinks break.
Drinks have been called for one final time today. Both sides have put up an even show till this point in the session. While the Lankans have succeeded in stemming the run flow, Kohli and Ashwin are battling it out after the fall of Rahane.
16.09 IST: Both Kohli and Ashwin are biding their time at the crease as India look for another big partnership to claw their way back into the game. IND 279/4 in 73 overs
16.02 IST: Just 2 runs from Kumara's over.  IND 277/4 in 71 overs  
15.58 IST: Pacer Lahiru Kumara brought back for another spell.
15.52 IST: 6 runs from Sandakan's over, a decent one for India. IND 274/4 in 69 overs
15.41 IST: 3 runs and a wicket from Malinda's over. IND 264/4 in 66 overs
Ravichandran Ashwin comes in to bat at no. 6. 
15.39 IST: OUT! Once again it's Malinda Pushpakumara who breaks the growing partnership. Pushpakumara is doing the wicket-taking stuff today! Ajinkya Rahane (17) plays a shot that he could have done without. Loopy ball around off and middle, Rahane looks to flick it towards the on side. He missed the ball completely only to find the wood work disturbed. The ball stayed a tad low and also he played for the turn that wasn't there. Another Indian wicket falls to spin in Pallekele. IND 264/4
15.33 IST: Just a single from his over. IND 260/3
Malinda Pushpakumara comes on for Lanka.
15.29 IST: FOUR! BANGED AWAY! Short wrong 'un on middle, Rahane rocks back and pulls it away through mid-wicket for a boundary. IND 259/3 in 63 overs 
15.27 IST: A review has been taken by Sri Lanka for an lbw decision against Ajinkya Rahane.  NOT OUT! Tosses it outside off and spinning in to Rahane. He strides forward in defense, but the ball misses his bat and strikes him on his pad. The Lankans appeal, which the umpire turns down and after some thoughts they decide to review. There is no bat involved and the ball-tracker shows that even though the pitching and impact are in line, the ball would go on to miss the stumps. The onfield decision stays, owing to which Sri Lanka lose a review. Rahane bats on.
15.25 IST: FOUR! Lovely shot. Full ball outside off, inviting the drive from Kohli. He is too good to miss out on his favourite stroke, he plays it to perfection and collects a boundary. That was one you could have watched on loop. IND 255/3 in 62 overs  
15.21 IST: Tossed up on his pads, Rahane tuckes away past square leg for a couple. 250 comes up for India. IND 251/3 in 61 overs
15.19 IST: The Indians are playing cautiously at the moment, just a single from Fernando's over. IND 249/3 in 60 overs 
15.10 IST: FOUR! CRISP KOHLI SPECIAL COVER DRIVE! Fuller ball outside off, Virat leans forward and plays it through the cover region. The sweeper cover in the deep didn't have any chance as the ball raced away. IND 247/3 in 58 overs
Vishwa Fernando to bowl from the other end.
15.06 IST: 6 runs from Sandakan's over. IND 241/3 in 57 overs
The umpires and the players walk to what could be an exciting passage of play. Kohli and Rahane will resume their innings for India, while Sri Lanka start with Sandakan.
15.02 IST: The Indian batsmen and the Sri Lankan fielders walk on back to the field as we resume with Day 1. IND 235/3 in 56 overs.
DAY ONE, SESSION THREE
14.56 IST: 
The @SDhawan25 moment through the lensman's eyes #TeamIndia #SLvIND pic.twitter.com/q9Ik3NdM40

— BCCI (@BCCI) August 12, 2017
14.45 IST: 29 overs, 101 runs and 3 wickets - This surmises the story of this session. The runs have come, but Sri Lanka will be the happier lot having sent back the set batsmen and picking up Pujara's wicket as well. Malinda Pushpakumara has been the pick of the bowlers, sending both the openers back. Sandakan has kept things tight at one end and even scalped a wicket of his own. It's set up now for an exciting final session. It'll begin shortly, so don't go anywhere...
14.43 IST: MAIDEN from Fernando! Similar ball, similar shot/lack of shot. That will be it, TEA ON DAY 1! IND 235/3 in 56 overs
14.38 IST: Another tight over from Sandakan, just once came off it.  IND 235/3 in 55 overs
14.31 IST: BEATEN! The Indians are having a difficult time picking up Sandakan. Googly on off, spins away sharply and beats the outside edge of Ajinkya Rahane's bat. IND 232/3
14.29 IST: No bounce at all on this occasion. Fired way across, the Indian skipper doesn't play at it. Dickwella bends low to take it as it falls short of him and gets a bit of a sting on his fingers. Just 2 runs from Fernando's over. IND 231/3 in 52 overs
Vishwa Fernando (10-1-42-0) is back on for another spell.
Ajinkya Rahane comes in to bat.
14.21 IST: OUT! Sandakan got his man, Cheteshwar Pujara (8) departs. India have lost their third wicket. Sri Lanka have made their way back into this game in some fashion. Expecting the ball to turn in, Pujara goes back to cut but the ball holds its line. Takes the outside edge and brushes off Dickwella's gloves, before eventually settling into Angelo Mathews' safe hands. IND 229/3 in 50.1 overs
14.17 IST: FOUR! Drifting in on middle and leg, Kohli gets his front leg out of the way and blasts a straight drive across the boundary line. Super shot. IND 227/2 
Virat Kohli walks in at No.4.
14.10 IST: OUT! Pushpakumara gets the big fish, Shikhar Dhawan (119) departs after scoring an excellent hundred. Malinda picks up his second of the match. He's been superb since he's come on and has dismissed the two dangerous, set openers. Tossed up delivery, Dhawan kneels and sweeps it hard. This time, however, he doesn't keep it down and it flies towards Chandimal at square leg. He moves to his left and takes a good, sharp catch. Sri Lanka rejoice, but both the Indian wickets to fall have been rather sloppy. Can be argued that they threw it away. The Lankans won't mid, this is their chance to make further inroads. IND 219/2 in 47.1 overs
14.07 IST: 6 runs from Sandakan's over, a good one for India. IND 219/1 in 47 overs
13.57 IST: FOUR! Shot! The timing is excellent on this one. Short of a length around off, Dhawan drags the pull through mid-wicket and gets one more boundary to his name.  IND 210/1
Shikhar Dhawan is the first Indian opener to score two centuries in an away series since 2011.
13.47 IST: Use of the feet again from Shikhar, knocks it down to long on and takes one. 200 comes up for India. IND 200/1 in 42 overs
13.45 IST: FOUR! Not sure when will the Sri Lankan's learn. You don't bowl that to anybody, especially to somebody like Shikhar Dhawan. Short and wide, Dhawan smashes it through point and sends it across the rope.  IND 199/1
6th Test ton for Shikhar Dhawan!
13.44 IST: HUNDRED for Shikhar Dhawan! There it is, hundred for Dhawan! What a knock, what a man. Scores so freely whenever he plays. Was given a life early in the morning, but he hasn't looked back since. Dances down and drives it through the right of mid off for a boundary.  IND 195/1 
13.39 IST: Just a single and a wicket for Pushpakumara, IND 188/1 in 40 overs
The new-age wall, Cheteshwar Pujara is the next man walking in.
13.35 IST: OUT! Rahul throws away yet another start! That's bowled flatter around middle, he tries to go big over mid on. All he manages to do is find the leaping Karunaratne there to perfection. He is distraught and why not! He had a 100 for the taking yet he's thrown it away. IND 188/1, Rahul departs for 85
Malinda Pushpakumara will bowl for the first time today.
13.32 IST: Both Dhawan and Rahul looking solid at the moment. 3 runs from Lahiru Kumara's over. IND 187/0 in 39 overs
13.21 IST: Glorious shot from Rahul once again results in something less than what it deserved. The duo ran three. IND 180/0 in 37 overs  
Lahiru Kumara is back on for another spell.
13.15 IST: FOUR! The boundary from Dhawan brings up the highest opening stand versus Sri Lanka in Sri Lanka. That's some achievement from the Indian pair . Another ball where Dhawan churns run off Sandakan! Floated around leg, Dhawan sweeps fine, the ball passes the keeper and rolls away to the fine leg fence. Replays show that it came off the back of his bat. IND 175/0
13.13 IST: FOUR! Aaah, those small margins in cricket! That's just a fraction short and wide of off, Dhawan wristily cuts it to the right of the backward point. The ball races away to the fence in a jiffy!  IND 170/0 in 35 overs
13.07 IST: FOUR! Back-to-back boundaries for the Delhi Dasher! Tossed up around off, Dhawan gets down and slogs it through mid-wicket yet again for another boundary. He's just toying with Sandakan at the moment.  IND 165/0
13.06 IST: FOUR! Rank short delivery is dealt in the manner it should be! That was pitched way short, giving ample time for a well set Dhawan to rock back and pull it with disdain through mid-wicket to increase the boundary count..  IND 161/0
13.01 IST: FOUR! Full ball outside off, Dhawan drives it exquisitely through covers to increase his tally of runs and boundaries. IND 156/0
13.00 IST: Just a single from Sandakan's over. IND 152/0 in 32 overs
12.55 IST: Length ball on his pads, Rahul flicks it away to fine leg for a run. That brings up the 150-run opening stand. IND 150/0 in 30.4 overs
12.52 IST: FOUR! Length ball outside off, punched away through covers. Rahul's timing and placement is just getting better and better. The ball teased the fielder at sweeper cover briefly, before rolling away to the ropes.  IND 148/0 in 30.1 overs
12.48 IST: 2 runs from Fernando's over. IND 141/0 in 29 overs
Vishwa Fernando to bowl from the other end.
12.43 IST: FOUR! Another chance gone begging! Short and quicker ball outside off, this one didn't turn. Rahul went back to cut and got a thick outside edge that flew from the left of Mathews at slip and raced away to the boundary. IND 139/0 in 28 overs
The men who matter are making their way out in the middle. Dhawan and Rahul to resume their innings with the bat, while it will be spin in the form of Lakshan Sandakan to start for Sri Lanka.
12.40 IST: 
Back to work! #TeamIndia #SLvIND pic.twitter.com/kcYcLGXIdz

— BCCI (@BCCI) August 12, 2017
DAY ONE, SESSION TWO
12.06 IST: India, India, India! That's how this session panned out, all the visitors' way. It seemed that the Indians continued the battering of the Lankans from the previous game. Both the openers got to their respective half centuries, and seem unstoppable at the moment. The Sri Lankans missed some chances that came their way - more glaring being the dropped catch of Rahul - and the Indian openers made them pay for it. The home side would hope for some magic potion in their lunch, which would make things go their way come the second session. Join us in a while.
12.01 IST: FOUR! Easy. Just too easy. The Lankan bowlers are just giving the runs away here. Full outside off, Rahul takes half a step forward and with a crisp drive finds the cover fence.  IND 134/0 in 27 overs. That will be LUNCH ON DAY 1!
12.00 IST: FOUR! Beautiful shot from Rahul, he makes room and punches it in front of square on the off-side. IND 130/0
11.57 IST: FOUR! Loopy full toss and it's dispatched. Shikhar Dhawan gets low and sweeps it off the top edge over backward square for a boundary. IND 124/0 
11.56 IST: Wonderful partnership this for India. The tweet by Rohan Abeysinghe drives home the point - This is the 1st time an opening pair has a century stand at Pallekele in 6 tests. The previous best 81 vs Aus in 2011 by Dilshan & Para.
11.51 IST: 4 runs from Sandakan's first over.  IND 118/0 in 24 overs
One of the two Chinamen in this game involved in the action now.  Lakshan Sandakan is brought into the bowling attack. A wicket would be nice for the Sri Lankans at this point in time.
11.48 IST: MAIDEN! Good over from Dilruwan Perera. IND 114/0
11.45 IST: Just a single from Lahiru Kumara's over. IND 114/0 in 22 overs
11.34 IST: HALF-CENTURY FOR KL RAHUL! Classy flick to get to his fifty. Full on middle and leg, Rahul plays it wide of mid on for a brace. He's been getting those runs on a regular basis, now he needs to get a bigger score. This is his 9th Test fifty. IND 107/0 in 19.4 overs
11.27 IST: Dhawan gets a change of bat. The previous defensive shot resulted in the chunk of the bat coming off.
11.26 IST: FIFTY! Shikhar Dhawan brings up his half-century in style with a cracking boundary. 4th Test fifty for Dhawan. Another boundary ball from Kumara results in INDIA GETTING TO 100! Full and outside off, Dhawan powerfully cover-drives it for a well-timed boundary. IND 100/0 
11.22 IST: FOUR! Kumara comes back, a boundary welcomes him! Spears it full and wide outside off, Rahul dishes out a glorious cover drive. This shot is so well timed, that even the outfield couldn't play a role in helping Sri Lanka here.  IND 95/0
Lahiru Kumara comes back on for another spell. He's been costly in his first spell.
11.21 IST: Indian openers rotating the strike with supreme ease at the moment, Lankan bowlers are still trying to find their first wicket of the match. IND 91/0 in 17 overs
This is the highest opening partnership on this ground
11.14 IST: FOUR! SHORT AND SMASHED! Perera bowls a half tracker, Dhawan rocks back and pulls it powerfully through mid-wicket for another boundary. That's not great bowling, to be honest.  IND 83/0 in 15 overs
11.11 IST: FOUR! Dhawan dances down the track and plays it over mid-off for a boundary. IND 77/0 in 14.1 overs
Drinks break! The first hour has clearly belonged to the Indians yet again, but not before the generous Lankans let off a couple of chances. Hope this drinks interval would spur the home side to get refreshed and make a few inroads into the Indian batting line-up.
11.03 IST: 2 runs from the over. INd 69/0
Spin in the form of Dilruwan Perera is brought on.
10.58 IST: FOUR! Bad ball, punished! Full and straight on his pads, Dhawan flicks it powerfully through mid-wicket for a boundary.  IND 67/0 in 12 overs
10.56 IST: DROPPED! How costly would this prove? Fuller ball Rahul tries to go over the top on this slow paced wicket and almost pays the price. The batsman picks up a couple.  IND 60/0
10.51 IST: The commentators on air feel that the slips are slightly deeper, as there isn't much carry available. Karunaratne wasn't happy with the shape of the ball and hence took it to the umpire. The umpire checked it with the help of the 8-shaped gauge and are happy with it, and play resumes.
10.48 IST: 4 runs from the over, IND 53/0 in 10 overs
10.45 IST: 50 comes up for India, once again Dhawan and Rahul provide India a solid start at the top. IND 50.0 in 9.1 overs
10.40 IST: FOUR! Glorious! Short ball outside off, Dhawan times his cut wonderfully through backward point for a boundary. IND 48/0
Medium pacer Dimuth Karunaratne is brought in to bowl. We're going to see quite a lot of him with the ball in the match. He dismissed Cheteshwar Pujara in the previous game, can he provide a breakthrough here as well?
10.34 IST: 5 runs from the over, IND 42/0 in 7 overs
10.28 IST: FOUR! Back-to-back boundaries for KL! Short ball on off, Rahul goes for the pull instinctively and gets a top edge. The ball goes on the bounce to the square leg boundary.  IND 36/0 in 5.4 overs
10.26 IST: FOUR! Classy Rahul! Kumara steams in from over the wicket to the righty and spears it full on middle at 144 kph. Rahul just times it brilliantly past mid on for another boundary. IND 32/0 in 5.3 overs
10.25 IST: FOUR! CLUBBED! Kumara runs in from round the wicket and bowls it short and wide of off. Dhawan stays on the back foot through cover-point for another glorious boundary.  IND 25/0
10.23 IST: MAIDEN from Fernando! IND 21/0 in 5 overs
10.18 IST: FOUR! Cuts it hard and gets the desired result. Short ball outside off, Dhawan gets the room that he wants. He collects a boundary by playing it through point.  IND 21/0 in 4 overs
10.14 IST: FOUR! Good shot! Very full outside off, an attempted yorker converted into a low full toss by Rahul, who guides it through the gully region and into the third man fence for a boundary. IND 14/0 in 3.1 overs
10.12 IST: EDGED BUT FOUR! A tad fuller ball moving just a bit, draws Dhawan forward who looks to drive. Gets a thick edge that dies down towards the second slip and past a diving third slip. The ball races away to the third man fence for a boundary. IND 10/0 in 3 overs
10.09 IST: MAIDEN! IND 6/0 in 2 overs
Lahiru Kumara to share the new ball from the other end.
10.04 IST: 6 runs from the first over, a good one to start with. IND 6/0 in 1 over
10.00 IST: Shikhar Dhawan and India gets off the mark with a single, IND 1/0
09.59 IST: The players are out in the middle. It's relatively dark out there with chances of rain through the day. The Lankans have taken their positions out in the field. Shikhar Dhawan and KL Rahul to open, with the former taking strike. Vishwa Fernando to kick things off with the new ball. Three slips and a gully in place. Let's roll...
09.57 IST: 
And...we are off #TeamIndia #SLvIND pic.twitter.com/mPZLZwmLp6

— BCCI (@BCCI) August 12, 2017
09.51 IST: Dinesh Chandimal says they would have batted first as well. Mentions you can't control the toss so now just have to restrict the Indians as well as possible. Continues saying India played some good cricket in the last two games, so his side just has to keep its spirits up and do its best. Lets everyone know there are three changes - Rangana Herath, Nuwan Pradeep and Dhananjaya de Silva are out for Lahiru Kumara, Vishwa Fernando and Lakshan Sandakan.
.@imkuldeep18 seems all set and ready for the Kandy Test! #TeamIndia #SLvIND pic.twitter.com/4w61K25UGI

— BCCI (@BCCI) August 12, 2017
09.45 IST: Virat Kohli reckons that the wicket looks similar to the second game but not as dry. Feels that it will break down from the end of day 2. Says they expect resilience from sides in Tests and it was a challenge in the previous match that they expect from their oppositions. Admits that he knows that he hasn't played the same side in consecutive games, and those are due to circumstances and not some pattern followed consciously. Confirms the one change in the side that of Ravindra Jadeja being replaced by Kuldeep Yadav.
09.40 IST:  Pitch Report - Russel Arnold says it's a nice hard wicket with a good covering of grass. Adds cracks are there but it won't really affect things much till the 4th or 5th day. States the first session or first hour in particular, will be torrid for the batsmen with the ball moving about and hitting through the line will be difficult at first, but will get easier as the game goes on. Ends saying that all in all, the wicket has something for everybody and it makes for a good game of cricket.
Toss done. #TeamIndia win the toss and will bat first. Just one change - @imkuldeep18 in place of Jadeja #SLvIND pic.twitter.com/yHDr1J7nR0

— BCCI (@BCCI) August 12, 2017
09.35 IST: Toss - Virat Kohli wins yet another toss and INDIA WILL BAT FIRST.
09.25 IST: 
Three cheers to the silent but smiling @Wriddhipops on his 100th First class appearance #TeamIndia #SLvIND pic.twitter.com/Ww9DghFOHj

— BCCI (@BCCI) August 12, 2017
09.10 IST: 
Well. Hello gorgeous! We are here in Kandy to begin prep for the final Test #TeamIndia #SLvIND pic.twitter.com/1J75M5tQRa

— BCCI (@BCCI) August 9, 2017
09.00 IST: 
How's that for batting symphony #TeamIndia #SLvIND pic.twitter.com/KDEUjEfs67

— BCCI (@BCCI) August 9, 2017
Brief Preview:
When Virat Kohli and his men take the field against Sri Lanka in the third and final Test on Saturday, they will aim to become the first Indian team to complete a whitewash in an overseas three-Test series. India have won the first two Tests by comprehensive margins against a below-par Sri Lankan team - by 304 runs in Galle and by an innings and 53 runs in Colombo - and the final Test will be played at Pallekele. 
The hosts, who are going through a transition phase for quite some time, have decided to roll-out a green top with an aim to salvage some pride from the inconsequential game. 
Their saving grace could be inclement weather after a spell of showers led to India's practice session being cancelled on Friday. By including pacers Dushmantha Chameera and Lahiru Gamage in their squad, replacing the injured duo of Nuwan Pradeep and Rangana Herath, the Lankans are aiming to strike back with pace. (Read Full Preview of 3rd Test)
Sri Lanka (Playing XI): Upul Tharanga, Dimuth Karunaratne, Kusal Mendis, Dinesh Chandimal(C), Angelo Mathews, Niroshan Dickwella(WK), Dilruwan Perera, Malinda Pushpakumara, Lakshan Sandakan, Vishwa Fernando, Lahiru Kumara
India (Playing XI): Shikhar Dhawan, Lokesh Rahul, Cheteshwar Pujara, Virat Kohli(C), Ajinkya Rahane, Ravichandran Ashwin, Wriddhiman Saha(WK), Hardik Pandya, Kuldeep Yadav, Mohammed Shami, Umesh Yadav