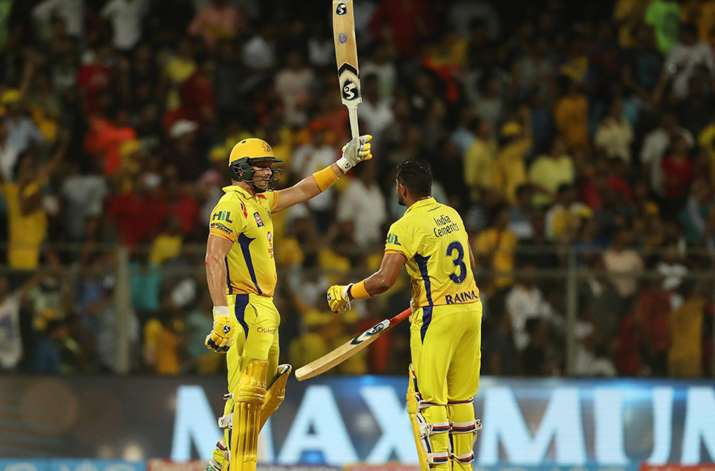 IPL 2018 final Highlights, CSK vs SRH at Wankhede
The yellow-clad players rush to the middle to hug two of their mates in the middle. Joyous scenes. Hush! Just
Chennai Super Kings
things, isn't it? Or well, Dhoni things? This guy's love for chases is no secret and here is one, a memorable one at the
Wankhede Stadium
, Mumbai. A rate of close to 9 an over isn't always easy. These days nothing is regarded safe enough to be defended. Yet, having a score in front of you in the finals is something. With the kind of end that
Sunrisers Hyderabad
 had got with the bat, the momentum and all those talks rested with them at the halfway mark in the 
Indian Premier League
 2018. Also, their bowling had done all the defending et al on numerous occasions. But not tonight. The defence started well for Hyderabad. They managed to squeeze the flow of runs in the beginning, with both the Kumar's - Bhuvneshwar and Sandeep - strangling the openers and eking out
Faf du Plessis
' wicket in the process. But then 'Chinna Thala' as he is known,
Suresh Raina
combined forces with Shane Watson in the middle. The duo kept the bowlers from the Orange team away for 117 runs. Even Raina's fall didn't give the other side the opening they would've liked.
It is said that once you hit the wall, nothing is possible. Be it your thoughts, career, life, whatever it may be. Shane Watson turned out to be that wall for Hyderabad. At the start, it seemed as if it was not to be his night. He played out 10 balls on 0 and got his first run of the 11th one that he faced. But post the end of the Powerplay, there was nothing stopping him. It shaped to be a chanceless knock which eventually proved to be match-winning. Let's have a glance at the runners-up's bowling. Actually there's hardly anything to write home about. Most of them took a beating. The initial phase in the run-chase only belonged to them. Even Rashid Khan's effect was negated with the way Watson-Raina went about with their job. 4-0-25-0 from the Afghani talisman is so unlike what he was about, post that heroic outing against Kolkata a day before. Once wickets didn't come by for the Orange Army, the writing was well on the wall. (CRICKET STREAMING - CSK vs SRH) (SCORECARD) (IPL FULL COVERAGE)
HIGHLIGHTS, CHENNAI SUPER KINGS vs SUNRISERS HYDERABAD, IPL 2018, FINAL FROM MUMBAI
22.45 IST: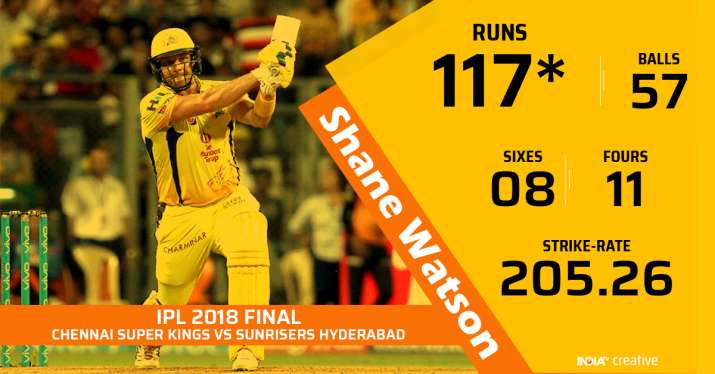 22.42 IST: 
#WhistlePodu #Champ18ns 💛🦁 pic.twitter.com/5D8DVIipAU

— Chennai Super Kings (@ChennaiIPL) May 27, 2018
22.40 IST: FOUR! There it is! Those are the winning runs. CHENNAI ARE THE INDIAN PREMIER LEAGUE CHAMPIONS FOR 2018! And aptly, Ambati Rayudu hits the winning boundary. He gets room outside off, smashes it through covers for the boundary. He has been the leading run-scorer for Chennai and has done the job most times in this season and hence, it's a sweet way to clinch the title. Out come the Chennai players, they charge to the middle and are jumping up and down in celebration. What great scenes! Emotions pouring. Thrilling moment for the Yellow army, not so for the Orange one. Chennai Super Kings (181/2) beat Sunrisers Hyderabad (178/6) by 8 wickets at Wankhede to lift third IPL trophy. Watson 117*
Carlos Brathwaite to bowl.
22.38 IST: FOUR! Back-to-back boundaries! This is the highest score in the final in the league. Another overpitched delivery on the stumps, Shane smashes it back down the ground. The ball wastes minimum time in racing to the fence.  IPL Live Score - CSK 177/2 in 18 overs
22.37 IST: FOUR! Almost takes Kaul with it! Full in line of the stumps, Watson just makes room and blasts it right back. Thankfully, Kaul moved away in time for the ball to go to the fence.  CSK 173/2 in 17.4 overs
Kaul is back for another spell.
22.35 IST: Chennai Super Kings warhorse Shane Watson deflates Sunrisers Hyderabad to slam 4th IPL ton
22.33 IST: FOUR! Just short of the fielder at deep square leg. Watson uses his might to swipe this one to the on side. Hooda gets quickly to his right but fails to get a hand to it.  IPL Live Score - CSK 166/2 in 17 overs
22.32 IST: 
💯!!! Watto, you beauty!!

Boss innings from @ShaneRWatson33. This is his second century in #VIVOIPL 2018. pic.twitter.com/ih7vijZTjh

— IndianPremierLeague (@IPL) May 27, 2018
22.30 IST: HUNDRED! Shane Watson slams second ton this season and 4th in the Indian Premier League! He lets the loopy delivery come on before tapping it in front of point for one. He removes his helmet and soaks in all the adulation. He deserves it, the veteran. On the night of the finals, he has decided to not leave it out to anybody else - the job of finishing it. Also, this is the fourth ton in this season by a player AGAINST Hyderabad. Talk about this being the best bowling line up...  Chennai Super Kings (157/2 in 16.3 overs), chasing 179 to win vs Sunrisers Hyderabad ​
22.28 IST: SIX! Whatta strike! On a length outside off, Rayudu charges down the track and smokes it well over wide long off for six runs less than a dozen.  IPL Live Score - CSK 152/1 in 15.3 overs
Bhuvi is back.
22.24 IST: Final strategic break of the season. Chennai are just 33 runs away from what could be their third league title. Watson is just three short of his second ton this season. Does this game still have a final twist?
22.23 IST: SAFE! Impact is well outside off. Rayudu goes across to this one and attempts to defend it. But since it's a googly, the ball missed the bat and made contact with the front pad. This made Hyderabad go up in appeal, only for it to be turned down. Now, Williamson, after having a chat with his bowler and keeper, takes it upstairs. Hawk-Eye says, impact WELL OUTSIDE off. Matter over, review lost.  IPL Live Score - CSK 146/2 in 15 overs
22.22 IST: Review time now! Not much confidence exuberated by Hyderabad, though.
Rashid Khan is brought back into the attack. Can he change the tide in his side's favour?
22.19 IST: SIX! Watto goes big again! Length delivery on the stumps, Watson thumps it over deep mid-wicket.  CSK 145/2 in 14 overs
22.18 IST: FOUR! Sloppy. Watson guides this one towards short third man. But the fielder there dives over the ball and lets it through. IPL Live Score - CSK 138/2 in 13.5 overs
Ambati Rayudu is in next.
22.15 IST: OUT! That's the end of this rollicking 117-run stand. Brathwaite comes from round the wicket and bangs it short. Raina gets into a tangle as he moves inside the line and looks to work it away. Seemed to have missed the ball as the keeper and the bowler go up in unison. The umpire stays unmoved. But there's a signal for the TV umpire to have a look. Meanwhile, Raina is seen walking back. The Snicko shows why. There's a spike as the ball passes the glove. Is this the break that Hyderabad need? Chennai Super Kings 133/2 in 13.3 overs against Sunrisers Hyderabad (178/6)
22.13 IST: FOUR! Previous three deliveries were about power, this one is about timing and placement. Watson guides the length delivery just past short third man for a boundary. There ends the 27-run over.  CSK 131/1 in 13 overs
22.11 IST: SIX! Troika of biggies! Watto wants to get done with it soon! This is full outside off, Watson smites it high and long over long on. Such is his batting that even the spectator couldn't get a hand to it after he tried stretching two rows in front of him.  IPL Live Score - CSK 126/1 in 12.5 overs
22.10 IST: SIX! Sensational Shane! Gets a full delivery in his arc, removes his front leg and smashes it over deep mid-wicket for half a dozen. CSK 120/1 in 12.4 overs
22.09 IST: SIX! Don't tell me it's going the distance, exclaims my colleague here! The disbelief in his eyes after that is just inexplicable. It's a knuckle ball on a length outside off. Watson seemed to have mistimed the drag to the on side. The contact was such that long on was cleared easily.  IPL Live Score - CSK 114/1 in 12.3 overs
Sandeep Sharma is back for one final burst.
22.05 IST: FOUR! Now runs are coming quite quickly for Watson and Chennai. Brathwaite tries a slower delivery and lands it on a length. This gives Watson enough time to play the pull. Executes it well enough in front of square on the leg side, to beat the man rushing to his left in the deep. Brings up the 100 for the Dad's Army!  IPL Live Score - CSK 103/1 in 11.5 overs
Carlos Brathwaite is brought into the attack.
22.02 IST: SIX! What a hit! Floated full around off and middle, Raina clears his front leg and lifts it over the bowler's head. It has enough to clear the fence behind. Expensive beginning for Shakib, 15 off it.  IPL Live Score - CSK 95/1 in 11 overs
22.01 IST: 
👏👏 @ShaneRWatson33. pic.twitter.com/lVQXKSb6NJ

— IndianPremierLeague (@IPL) May 27, 2018
21.59 IST: FIFTY! 17th fifty in the Indian Premier League for Shane Watson! He welcomes Shakib into the attack with a massive strike. The bowler begins from over the wicket and drops it short in length. Watto hangs deep in his crease and hammers the pull deep into the backward square leg stand.  Chennai Super Kings 86/1 in 10.1 overs against Sunrisers Hyderabad (178/6)
Shakib Al Hasan introduced into the attack.
21.57 IST: FOUR! IPL Live Score - CSK 80/1 in 10 overs
21.54 IST: 
And, that's a 50-run partnership between @ShaneRWatson33 and @ImRaina.#VIVOIPL #Final #CSKvSRH pic.twitter.com/ZxFQT1xXtg

— IndianPremierLeague (@IPL) May 27, 2018
21.53 IST: FOUR! Huge pressure on Kaul! Delivers a slower one but it's on the shorter side outside off, Watson gets enough time to pick the variation and he slaps it over mid off. The fielder is inside the ring and hence a boundary results.  CSK 70/1 in 8.5 overs
21.51 IST: SIX! High and handsome! Seems Kaul is a marked man. They are going after him. His slower one is easily picked by Watson who has smoked this one over long on. The crowd is going Chennai! Chennai!  IPL Live Score - CSK 64/1 in 8.3 overs
21.46 IST: Strategic break! Just 8 overs into the chase and we have seen most of the things. Great spell of swing bowling, misfields, cracking shots and a wicket. Chennai would like to feel that they are off to a good start and the current pair is looking quite settled. 123 needed off 72 balls, out of which 18 balls will be bowled by Rashid Khan. How much impact they will have on this final will probably decide the future of this final...
21.45 IST: Turning back into the batsman from around off, Watson pushes it towards covers and takes a single. 5 from Rashid's first over.  CSK 56/1 in 8 overs
Here comes the Afghan, Rashid Khan! A slip is in place.
21.41 IST: FOUR! Sliding down the leg side, on a good length, Raina picks it up and pulls it fine down the leg side for a boundary. 16 off the over, they have suddenly upped the ante straight after the field restriction was relaxed.  IPL Live Score - Chennai Super Kings 51/1 in 7 overs vs Sunrisers Hyderabad
21.39 IST: FOUR! Nicely done! Short and angling down the leg side, Raina stands back and deflects it neatly down to fine leg for a boundary. That was a real gift by Kaul.  CSK 47/1 in 6.4 overs
21.37 IST: SIX! What a shot! Great pick up by the Aussie. It's on his pads and he just flicks it nonchalantly over mid-wicket for a biggie. Effortless. Minimum effort, maximum result.  IPL Live Score - CSK 42/1 in 6.2 overs
21.36 IST: Siddarth Kaul is into the attack now.
21.32 IST: FOUR! Shot! That went like a tracer bullet. Fuller in length around off, Shane rockets it off drive straight down the ground for a powerful boundary.
21.31 IST: SIX! Thumped! Sandeep is too straight in line this time, the length is on the shorter side which allows the Aussie the room to swing his arm. He does so with great power and dispatches it over square leg for a biggie.
21.30 IST: Sandeep Sharma to Shane Watson, 1 run. First look of Rashid Khan in the field and it was a brilliant view. The Afghan just plucked the ball out of the thin air.
21.25 IST: Suresh Raina is the number 3 batsman. 163 needed off 96 balls.
21.24 IST: OUT! Sandeep Sharma removes du Plessis for 10. Sandeep strikes and draws first blood! Change in pace has done the trick and it's the famous knuckle delivery which wasn't picked by Faf. Sandeep smartly follows the batsman down the leg side, du Plessis walks down the track, aiming for a lofted shot over the bowler's head probably but ends up miscuing it badly in the air. Sandeep calls for it and takes the catch safely by moving across to his left. The hero of the last game is gone and it's a big blow to Chennai. Chennai Super Kings 16/1 in 4 overs against Sunrisers Hyderabad (178/6) at Wankhede Stadium.
21.22 IST: FOUR! Gets off the mark with a brutal shot down the ground. Fuller and on off, Watson drills it straight back past the bowler at mid off for a boundary.
21.17 IST: Bhuvneshwar Kumar to Faf du Plessis, Five runs! Oh dear, bonus runs. Faf taps a length ball wide of the first slip fielder and crosses for a run. The backward point fielder quickly gets to the ball but has an unnecessary shy at the striker's end. Misses and there is no one backing it up. The ball races away to the fence. Kumar is furious with the bowler and Williamson isn't too impressed. Deepak Hooda, the culprit. These things hand the momentum to the opposing side.
21.12 IST: FOUR! CSK 4/0 in 1.2 overs. Just before this delivery Sunil Gavaskar mentioned that Chennai didn't get enough swing going as the lengths of their bowlers were quite on the shorter side. And... Sandeep serves one just behind length outside off, du Plessis cracks it through cover-point and gets a boundary.
21.08 IST: Bhuvneshwar Kumar to Shane Watson, No run. Watson would be considering himself fortunate to have not nicked that. Kumar lets it out again around off, just around the full length area. Watson is forced to play at it yet again, only for the ball to wink and teasingly move away past the outside edge. A terrific maiden over from Bhuvneshwar to start. A maiden over to start with. Bhuvneshwar, you beauty! 
21.04 IST: We are back for the chase! Faf du Plessis and Shane Watson are out to open the innings for Chennai. Remember, it might be a stiff run chase. The latter will face Bhuvneshwar Kumar first up. Here we go...
20.51 IST: 
Innings Break!

After being put to bat first, the @SunRisers post a total of 178/6.

The @ChennaiIPL need 179 to win #VIVOIPL #Final #CSKvSRH pic.twitter.com/pTVdkd42jS

— IndianPremierLeague (@IPL) May 27, 2018
20.49 IST: OUT! A wicket off the final over. Thakur takes the pace off this length ball outside off, Brathwaite latches onto it with the intention to clear long on but fails to get enough meat behind his shot. Rayudu moves across to his right from long on and takes an easy catch. Hyderabad end on 178/6!  Sunrisers Hyderabad score 178/6 in 20 overs against Chennai Super Kings at Wankhede. Yusuf 45*, Williamson 47
20.48 IST: SIX! That's all power! Thakur digs in a short ball around off, Brathwaite ain't in very good position to play at it but still manages to power it over long on. He hit a similar kind of tennis-forehand shot in the previous game at the Wankhede which sailed over long off. This time he chose the same shot but went crosscourt, I mean over long on.  SRH 178/5 in 19.5 overs
Shardul Thakur to bowl the last over.
20.43 IST: SIX! Spoils a good over. Gets one in the slot outside off, he clears his front leg and launches it over long on for a biggie. Still, only 8 from the over.  IPL Live Score - SRH 168/5 in 19 overs
20.38 IST: FOUR! Big bottom hand of Pathan comes into play this time as he has completely dismissed a shortish delivery down to long on. No chance for the fielder in the deep. 16 from this one.  SRH 160/5 in 18 overs
20.35 IST: SIX! HUGE! That's clean and long, screams Manjrekar on air. Bravo resorts to the slower one and bowls it on a length outside off. Brathwaite stays back inside the crease and muscles it over long off. Deep into the stands.  IPL Live Score - SRH 153/5 in 17.3 overs
Carlos Brathwaite arrives. He played a handy cameo the other night at the Wankhede and his team would be hoping for the same from the big fella.
20.32 IST: OUT! As I mentioned earlier, runs are coming but so are the wickets. Ngidi with a slow off cutter outside off, on a fuller length, Hooda reaches out and tries to swing it over mid-wicket. But it flies off the inner half of the bat and the fielder at deep square leg makes no mistake. Dhruv Shorey is the sub who took that catch.  Sunrisers Hyderabad 144/5 in 17 overs vs Chennai Super Kings
20.30 IST: SIX! Pathan has cleared the straighter boundary with ease. Rocks back to a shortish ball outside off and clubs it over long on. His presence is very important for Hyderabad as he is well-capable of lifting their score to 175-plus.  IPL Live Score - SRH 143/4 in 16.4 overs
20.24 IST: Strategic time-out! Runs are coming for Hyderabad but they are also losing wickets in the process. The pitch has looked to be on the slower side and they will hope that their power-hitters take them close to 170. Chennai would like to limit the damage towards the end. Meanwhile, Deepak Hooda has joined Pathan in the deep.
20.23 IST: OUT! Straight to the fielder! It is a low full toss around off, Shakib unwinds to blast it over covers. All he does it smash it straight into the safe hands of Suresh Raina on the ring. He takes it and falls, writhing in pain. Shows the power behind that shot, futile though. Another promising stand ends at a fortunate time. Sunrisers Hyderabad 133/4 in 15.5 overs vs Chennai Super Kings
20.20 IST: FOUR! Excellent start to the over for Hyderabad! Bravo bowls it short and wide outside off, Pathan camps back and whacks it through extra cover. Once it goes past the fielder inside the circle, the sweeper had a very little chance to cut it off. He rushes to his right but to no avail. Add four more to Bravo's tally, he already has got an unwanted record of conceding the most number of runs in a season.  IPL Live Score - SRH 130/3 in 15.1 overs
Dwayne Bravo comes into the attack 
20.17 IST: SIX! Boooommmm.... Pathan attacks this full ball wide outside off and smacks it with the spin. Takes the aerial route and sends it sailing over covers and into the crowd.  SRH 123/3 in 14.2 overs
20.15 IST: Delhi Daredevils star batsman Rishabh Pant makes debut in commentary box!
20.13 IST: FOUR! Brutal! A little bit on the shorter side outside off, Pathan rocks back and slaps it through cover-point. The sweeper in the deep moves across to his left but can't do anything. Went like a tracer bullet. That's Pathan power for you.  IPL Live Score - SRH 114/3 in 13.3 overs
Shardul Thakur returns into the attack.
20.09 IST: FOUR! Well played! Extra room on this occasion, wide outside off, Pathan delays his shot a bit and then runs it down past first slip. The fielder from point gives it the chase but fails to pull it back. Pathan is off the mark!  SRH 106/3 in 12.3 overs
Karn Sharma does the trick for @ChennaiIPL. Captain Kane departs for a well made 47 runs. pic.twitter.com/WdRW6eSYwn

— IndianPremierLeague (@IPL) May 27, 2018
Yusuf Pathan is in next. Big responsibility on the experienced campaigner.
20.07 IST: OUT! Stumped! Karn strikes gold, removes Hyderabad's best batsman. Probably sensed the charge from the batsman and hence smartly serves a full ball wide outside off. Williamson scoots down the track, swings his bat at it but the ball spins away further to beat him. Dhoni is quick to dislodge the bails and it's a big blow to the Orange team. Kane falls three short of a fifty! Sunrisers Hyderabad 101/3 in 12.1 overs vs Chennai Super Kings
20.03 IST: FOUR! The boundaries are coming thick and fast for Hyderabad now. Poor length this time by Bravo. Drops it short and around leg, Williamson pulls it and finds the gap at mid-wicket. The fielder in the deep runs across to his left but fails to cut it off.  IPL Live Score - SRH 98/2 in 11.3 overs
Dwayne Bravo is back on.
20.00 IST: FOUR! The Bangladeshi star has decided to take on Jadeja in. Quicker and fuller around middle and leg, Shakib attacks it with all his might and whips it through mid-wicket. No chance for the fielders in the deep. 17 from the over, the best of the final so far.  SRH 90/2 in 11 overs
19.59 IST: SIX! This is what Dhawan wanted to do but got bowled. Shakib has pulled off his slog sweep with aplomb. Jadeja continues to dart it in and puts it around middle. Shakib kneels and nails it over mid-wicket for a maximum.  SRH 86/2 in 10.5 overs
19.58 IST: FOUR! In the air... just short of short third man! Jadeja gives this one flight and serves it full around off, Williamson tries going inside out over covers but it spins away to take the outside edge. It flies towards Ngidi who rushes across to his right and puts in a little slide but fails to reach it. It races past him and reaches the fence. IPL Live Score - SRH 79/2 in 10.3 overs
19.56 IST: Brilliant over from the young seamer, just three runs from it. Fuller on middle and leg, whipped away towards wide long on. Jadeja gets to his right quickly and keeps it down to one. 4-0-25-0 are the figures in the night of the final for Deepak Chahar. Wonderful. SRH - 73/2 in 10 overs
Deepak Chahar to bowl out now.
19.51 IST: 
Cleaned him up! SIR sends Gabbar back to the dugout! #WhistlePodu #Yellove #YelloveFinals #CSKvSRH 💛🦁 pic.twitter.com/8Dm0nD9UzE

— Chennai Super Kings (@ChennaiIPL) May 27, 2018
19.50 IST: FOUR! Fired on a shortish length outside off, Al Hasan camps back and cuts it fiercely through backward point for a boundary. Watson dived to stop it from short third man but failed to harm the ball. Nice way to get going.  IPL Live Score - SRH 68/2 in 8.4 overs
Shakib Al Hasan comes to the crease for SRH.
A slightly quicker and fuller delivery from @imjadeja results in a huge breakthrough.

Dhawan departs.#CSKvSRH pic.twitter.com/xfANQQGIeE

— IndianPremierLeague (@IPL) May 27, 2018
19.48 IST: OUT! Castled! Not a word that you use to describe a wicket by a spinner but a 101.3 kph delivery deserves that expression. Fired full around middle, Dhawan gets down to play the slog sweep. Misses the ball and the ball goes off his back leg and onto the stumps. Timely break for Chennai as the 51-run stand culminates.  Sunrisers Hyderabad 64/2 in 8.3 overs vs Chennai Super Kings
19.46 IST: Time for Ravindra Jadeja to have a go with the ball now.
Strategic break! Hyderabad have come back well after the first four overs belonged to Chennai. 45 runs have been plundered off the previous four. Thus the word 'momentum' rests with whom now, isn't needed to be specified. Will the Yellow Brigade pull things back or is the Dhawan-Williamson combo going to take it the Orange Army's way?
19.43 IST: SIX! The last two deliveries spoil what could have been a decent over from Bravo. Williamson walks across to this low full toss and plays the paddle. Makes good connection as the ball goes the distance over fine leg.  IPL Live Score - SRH 62/1 in 8 overs
19.42 IST: FOUR! Captain Kane reads the slower one early and plays a brilliant inside-out shot over cover. Fuller and slower one outside off, Williamson waits for the ball to come before bashing it over covers for a boundary. Seemed as if the sweeper would get to the ball but not to be. SRH 56/1 in 7.5 overs
Dwayne Bravo introduced into the attack in as soon as the 8th over.
19.37 IST: FOUR! And this time Dhawan slashes hard to deep backward square for a boundary. Good shot. Floated on the stumps, Dhawan kneels and executes the sweep shot. The ball races through square leg, leaving no chance for the fine leg fielder, who ran to his right. SRH 51/1 in 7 overs
Karn Sharma to roll his arm now.
19.33 IST: This delivery is glided down to third man for one. 12 runs off this one, 25 off the past two. A good end for the Powerplay for Hyderabad, 42/1. IPL Live Score - SRH 42/1 in 6 overs
19.30 IST: SIX! GABBAR STRIKE! Full and around middle and leg, Dhawan gets his front leg out of the way and smokes it high and handsome over deep mid-wicket.  SRH 38/1 in 5.3 overs
Shardul Thakur to bowl the final over of the Powerplay.
19.27 IST: Slower on around off from Chahar, Kane dances down and pushes it towards covers for one. 13 runs off the over.  IPL Live Score - SRH 30/1 in 5 overs
19.24 IST: FOUR! This time captain Kane plays a pull to perfection and gets a boundary. Next gear from Kane! Another short length ball, he gets on top of the bounce and pulls it through square leg for a boundary. The skipper crosses 700 runs in this edition.  SRH 28/1 in 4.4 overs 
19.23 IST: SIX! Relief for Williamson! Doesn't matter in this format how runs come. Short in length, he looks to pull it. Ends up getting a top edge taking the ball high in the evening sky. But the ground dimensions are pretty small and as a result, it clears the fence easily. 63 metre hit says the reading.  IPL Live Score - SRH 24/1 in 4.2 overs
19.21 IST: MAIDEN! Brilliant stuff from Ngidi! This is full outside off, Williamson can only drive it on the bounce to Faf at covers. Good from the side in Yellow to keep the Orange guys quiet.  Sunrisers Hyderabad 17/1 in 4 overs vs Chennai Super Kings
19.17 IST: Brilliant over from Chahar, just three runs from it. IPL Live Score - SRH 17/1 in 3 overs
Kane Williamson, the skipper, makes his way out to the middle. He is currently the leading run-getter of the competition but is having a tame time for the past couple of games.
19.11 IST: OUT! Reckless running and Hyderabad lose one early in the piece on the big night. Length ball on leg, Goswami tucks it away through square leg. He always wanted two and went for it, being unmindful of Karn getting to the ball. The fielder fires a good flat throw to Dhoni who does the rest. Goswami's body language isn't promising. It is taken upstairs and one look is enough to find the southpaw well short. Sunrisers Hyderabad 13/1 in 1.5 overs vs Chennai Super Kings
19.08 IST: First boundary of the evening! Valiant effort in the deep but in vain. Dhawan flicks this delivery off his pads towards fine leg. Karn Sharma rushes to his left there and puts in a dive to stop it. The umpires aren't sure as the batters run two. Taken upstairs and it is then seen that at one point, Karn was in contact with the ball and the ropes simultaneously.  SRH 11/0 in 1.2 overs
Lungi Ngidi to run in from the other end.
19.06 IST: A hint of swing in around off from Chahar. Dhawan stays back and ends up guiding it to backward point. Shouts NO after that. Good start from young Deepak after that not-so-good first ball, just 6 off the over.  IPL Live Score - SRH 6/0 in 1 over
19.01 IST: The Free Hit doesn't prove costly. Chahar comes in from round the wicket and bowls it full around off. Dhawan hits it aerially towards wide long on for one to get going.
19.00 IST: No ball to start! Chahar runs in from over the wicket and lets out a high full toss outside off. Immediately the umpire's arm is seen coming out. Goswami is caught by surprise and ends up directing it past backward point for one.
19.00 IST: 
The occasion #VIVOIPL #Final #CSKvSRH pic.twitter.com/KjVhYRC9v3

— IndianPremierLeague (@IPL) May 27, 2018
18.59 IST: It's 5 hours before the end of the day. This signals time for the sport to take centre stage. Out walk the umpires for the night, clad in different shades of blue. The Chennai players follow them and jog to the field. Shikhar Dhawan and Shreevats Goswami make their way to the middle now, shadow-practising their batting. Deepak Chahar is all ready to deliver the first ball of the finale. A wide slip in place.
18.56 IST: Both the teams walk out on the red carpets laid down for both of them. When both sides walk out together, it means that it's time for the national anthem.
18.51 IST: 
.@ChennaiIPL Captain @msdhoni wins the toss and elects to bowl first against @SunRisers.#CSKvSRH #VIVOIPL pic.twitter.com/GS3OYwKgzq

— IndianPremierLeague (@IPL) May 27, 2018
18.45 IST: Message from the Hon'ble PM - 
#HumFitTohIndiaFit

My best wishes to both teams, @ChennaiIPL and @SunRisers for the finals. Have a wonderful game! May the spirit of sportsmanship be furthered in our society – Hon'ble Prime Minister Shri @narendramodi.
@PMOIndia @Ra_THORe @imVkohli pic.twitter.com/OOnEdTdw2i

— IndianPremierLeague (@IPL) May 27, 2018
18.41 IST: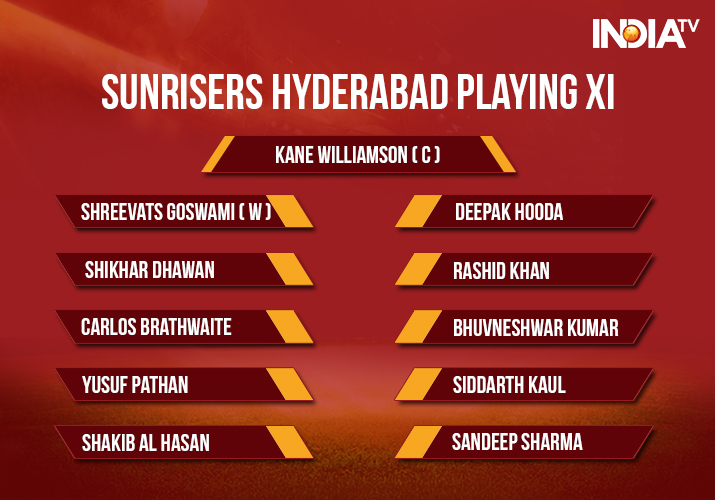 18.40 IST: Kane Williamson says that although he is happy to bat first, they also would have liked to bowled first. Reckons that the surface looks good and they would want to defend whatever they put on board. Talks about the occasion being a good one and something that they are looking forward to. About team changes, he informs the couple of changes that they have made - Sandeep Sharma comes in for Khaleel Ahmed and since Wriddhiman Saha is injured, Shreevats Goswami takes his place as the gloveman.
18.37 IST: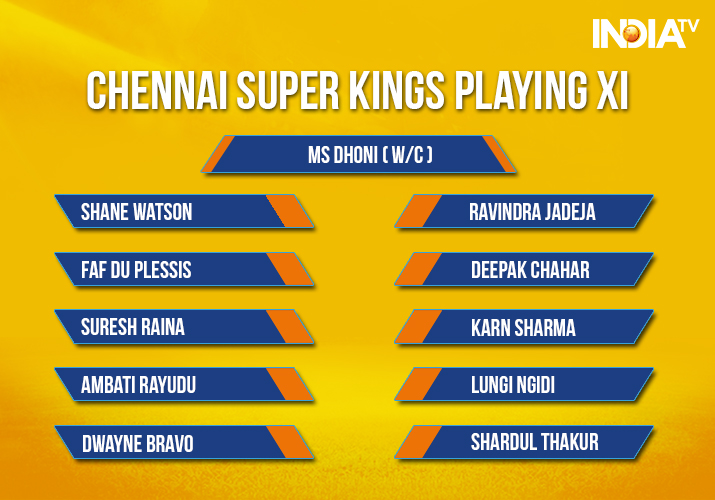 18.35 IST: MS Dhoni says they will bowl first and feels that their batsman have to take the extra pressure and responsibility. Reckons that runs on the board is always good in a final but looking at the conditions he has chosen to bowl. Further adds that the journey has been good for them but it's been a challenging one. Also believes that they had the core group with a few new faces and it helped. Informs about the only change, Harbhajan Singh makes way for Karn Sharma.
18.30 IST: TOSS - Chennai Super Kings win toss, opt to bowl against Sunrisers Hyderabad at Wankhede
18.25 IST: Pitch Report - The track, Michael Clarke observes, seems to be tacky on top but dry underneath. He expects assistance for the bowlers as well. The average score batting first is 171. The Aussie reckons that if he wins the toss as a captain on this surface, he would send the opposition in.
18.15 IST: The players are here for one final time - 
It's time for the big #Final as the two teams are here at the Wankhede.#VIVOIPL #Final #CSKvSRH pic.twitter.com/I6MgDfV94t

— IndianPremierLeague (@IPL) May 27, 2018
18.10 IST: Quick Stat - CSK have lost their last three IPL finals. Can they break the jynx this year?
18.00 IST: 
Is Wankhede #Yellove enough yet? #WhistlePodu #CSKvSRH #YelloveFinals pic.twitter.com/W6rF9YDuYG

— Chennai Super Kings (@ChennaiIPL) May 27, 2018
17.56 IST: Make your choice - 
Winner of tonight?

MSD: C'YES'K
KANE: 'YES'RH#VIVOIPL #Final #CSKvSRH pic.twitter.com/t3xbboZbBA

— IndianPremierLeague (@IPL) May 27, 2018
17.51 IST: The key man for the Orange Army - 
After yesterday's stellar play on field, @rashidkhan_19 is now just 3 wickets away from getting the Purple Cap this #IPL2018
We wish him All the Best for the #IPL2018Final tomorrow#IPL2018Playoffs pic.twitter.com/GUuAxw22io

— SunRisers Hyderabad (@SunRisers) May 26, 2018
17.45 IST: The trophy two teams will be fighting for - 
One more sleep until we find out which team will have its hands on THIS glistening silverware.#VIVOIPL #Final #CSKvSRH pic.twitter.com/cJUPVmM5an

— IndianPremierLeague (@IPL) May 26, 2018
17.35 IST: Words of gold from 'Thala' - 
It was a bit emotional at the start, but once tournament starts you have to be professional than emotional. @ChennaiIPL fans have waited and wanted us to do well. @msdhoni #VIVOIPL #FInal #CSKvSRH pic.twitter.com/6MDZTcv5WP

— IndianPremierLeague (@IPL) May 26, 2018
17.30 IST: 
The two Captains - @msdhoni and Kane Williamson pose with the silverware on the eve of #VIVOIPL Final.#CSKvSRH pic.twitter.com/juYi8DOWxx

— IndianPremierLeague (@IPL) May 26, 2018
17.25 IST: 
Just a few hours more for the #YelloveFinals! The Lions are ready! #WhistlePodu #Yellove #CSKvSRH 🦁💛 pic.twitter.com/1FsMCipiDI

— Chennai Super Kings (@ChennaiIPL) May 27, 2018
Brief Preview: Nerves will play a big role as two title-hungry outfits, Chennai Super Kings and Sunrisers Hyderabad look to outdo each other and regain the coveted Indian Premier League (IPL) crown when they square off in what promises to be a humdinger of a summit contest at the Wankhede Stadium in Mumbai on Sunday. The winners-take-all T20 final, in front of a capacity crowd at the Wankhede Stadium, will see Chennai Super Kings, who are gunning for their third IPL crown, take on 2016 winners Sunrisers Hyderabad five days after their first playoff game at the same neutral venue.
These two southern rivals met at the bull-ring on May 22 in Qualifier 1 in which the Super Kings, champions in 2010 and 2011, just about managed to ward off their rivals in a low-scoring thriller after looking down in the dumps at one stage during the run-chase. That victory, by 2 wickets, enabled the Super Kings to enter their seventh final in nine attempts directly, while dumping their Hyderabad rivals to their third successive defeat in head-to-head contests this season. (Read Full Match Preview)