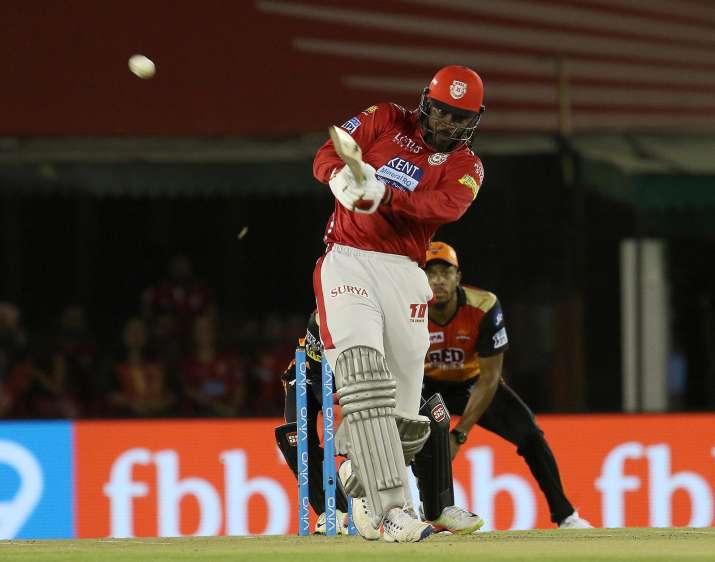 Proving the critics wrong with back-to-back performances in the ongoing edition of Indian Premier League (IPL) 2018, Christopher Henry Gayle has once again stamped his dominance in cricket's shortest format. Playing for his new franchise Kings XI Punjab, Gayle has made a brilliant start to the eleventh season of IPL. He has scored 252 runs in four matches at an astonishing strike rate of 161.53 that includes two half-centuries and one hundred. 
Gayle has also been touted a T20 legend who boasts off mind-boggling numbers and stats particularly in the shorter format of the game. Across 10 seasons of IPL, the Jamaican marauder has amassed 3,878 runs at a strike rate of over 150, which includes six centuries and 23 fifties. 
However, Gayle had the greatest time of his IPL career with his former team Royal Challengers Bangalore where he spent seven successful seasons. His belligerent hitting and brute force helped RCB became one of the most followed IPL sides. But Gayle's batting numbers dipped drastically in 2017 which resulted in RCB cutting off all the ties with the explosive opener. The franchise opted to retain youngster Sarfaraz Khan instead, ignoring their biggest match-winner.
Disappointed after being rejected from RCB team management, Gayle expressed his thoughts about the IPL Player Auction where he was purchased by Kings XI in the third and final round. "I was RCB's biggest draw. It was disappointing from that end because they had called me. They wanted me in the team and I was told that I will be retained. But they never called back after that. So that gave me the impression that they didn't want me and it's fine. As I said, I can't fight with anyone. I think I had a wonderful CPL and BPL - where I scored two centuries for my side Rangpur Riders. The stats don't lie: 21 centuries, most number of sixes. If that doesn't put a stamp on brand Chris Gayle, I don't know what will," says the 38-year old in an interview with timesofindia.com.
Speaking about his critics who have written him off ahead of the IPL 2018 because of his growing age and ordinary form with the bat, he said "I don't know if I've actually proved them wrong. There are always going to be doubters but at the same time, I didn't have anything to prove. My records speak for themselves. Even though I was selected in the very last round of the auction, I wasn't really worried about it. Even if it was the end of it, there is life... a life beyond cricket, beyond the IPL. At some stage, you are going to walk away from the IPL and other forms of cricket. So I was never too intrigued. This is how I've always been, living in the present. But given the sense that I was picked up and playing for a new franchise, it was very pleasing. And the way I have played in the first three games, I think it has been fantastic. I'm very happy with where I'm at."
Surprised after not being picked up by any IPL franchise in the earlier rounds of Player Auction, Gayle says he has moved on from the past and is looking to make the most of his time with Kings XI in the current season. "Not in particular but I'll be honest in admitting that it was very surprising for me to not get picked by any team. I don't know what went behind closed doors but I also understand that these things happen. It's just the way it is. But it's fine. I've moved on from it. Like I said, it's a great opportunity to be playing for King XI Punjab and so far I've had a great time. Perhaps it was supposed to happen, you know. King Gayle; destined to be playing for Kings XI Punjab."
The veteran batsman was bought by Kings XI Punjab at his base price of Rs 2 crore in the third round of the IPL Player Auction in January.