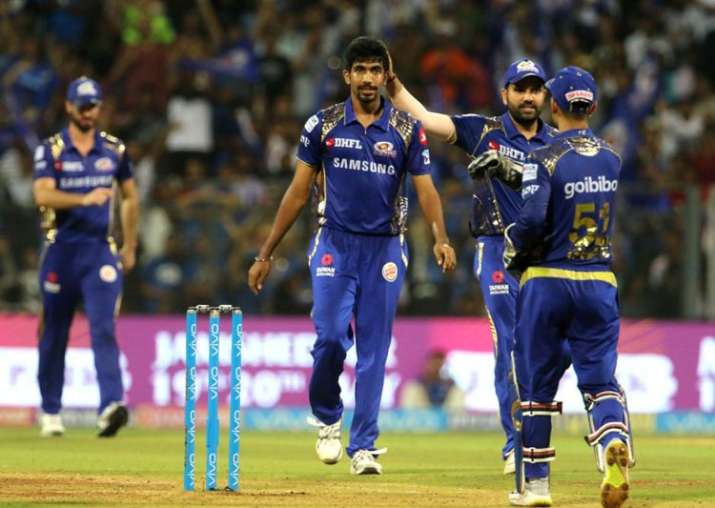 HIGHLIGHTS, MI vs KXIP:
Seamer
Jasprit Bumrah
snapped up three crucial wickets as defending champions Mumbai Indians kept their play-off hopes alive by notching up a thrilling three-run win over Kings XI Punjab in a crucial Indian Premier League (
IPL
) match. Chasing 187 to win, Rahul blasted 10 fours and three sixes in his 60-ball 94-run innings and shared a 111-run second wicket partnership with Aaron Finch (46) to take Punjab to the brink of a successful runchase but Bumrah scalped three wickets in his second spell to derail the chase. Mumbai Indians thus registered their sixth win to joined Kings XI and Rajasthan Royals at 12 points in the table. Kings XI were comfortably placed at 145/1 in 16 overs when Bumrah came back to bowl his second spell and the Mumbaikar removed Finch and Marcus Stoinis (1) before dimissing Rahul in the 19th over. Earlier, Australian seamer Tye returned with figures of 4-0-16-4 and skipper Ravichandran Ashwin (2/18) took two wickets to restrict Mumbai Indians to 186/8. (
SCORECARD
)
MUMBAI INDIANS VS KINGS XI PUNJAB HIGHLIGHTS FROM WANKHEDE
00.08 IST: Mumbai Indians (186/8) beat Kings XI Punjab (183/5) by 3 runs at Wankhede Stadium. Bumrah 3/15, Rahul 94, Finch 46. Mitchell McClenaghan to Manoj Tiwary, FOUR! Tiwary scores a boundary off the final ball but it doesn't matter. He swivels across and pulls it across the deep backward square leg fence. MUMBAI WIN BY 3 RUNS!
00.02 IST: OUT! McClenaghan removes Yuvraj for 1. Yuvraj holes out! McClenaghan gets the breakthrough! Angles across a full ball outside off, Yuvraj lofts it over covers but doesn't get the desired connection. Off the outer half and it's straight into the safe hands of Evin Lewis in the deep. 15 needed off 3 balls. Kings XI Punjab 172/5 in 19.3 overs vs Mumbai Indians (186/8) at Wankhede Stadium.
23.56 IST: Yuvraj Singh is next in.
23.55 IST: OUT! Bumrah removes Rahul for 94. Is that the match? Is this where Mumbai clinch it? Oh, boy! So sad for Rahul, misses out on a ton yet again. Wasn't to be. Full outside off, it's the cutter which becomes his undoing as he lofts it without perfect timing. Straight into the hands of Ben Cutting at long off who makes no mistake in taking it. Kings XI Punjab 167/4 in 18.3 overs vs Mumbai Indians (186/8) at Wankhede Stadium.
23.50 IST: FOUR! Three in a row! Moves to 92 with that. This is unreal stuff from the opener. Slower and a touch shorter outside off, Rahul gets into position quickly again, brings out the reverse paddle and clears the keeper's head. It runs away to the fence behind.
23.48 IST: FOUR! Magnificent batting! Superb. But it's aided by some poor bowling from Cutting. Hurls it well outside off, Rahul positions himself early and reverse paddles it over short third man for a boundary.
23.47 IST: FOUR! Rahul keeps the fight going on! Short ball on middle and leg, he swivels and pulls it powerfully over backward square leg for a boundary.
23.45 IST: Axar Patel to walk into the middle next.
23.44 IST: OUT! Bumrah removes Stoinis for 1. GONE! Second of the over from Jasprit Bumrah! This was a game-changing over and it certainly has done that. Bumrah brings out the short ball and takes Stoinis by surprise a bit. He looks to pull, but the ball is too quick for him. He gloves it behind where Kishan takes a good catch moving to his left. Kings XI Punjab 149/3 in 16.5 overs vs Mumbai Indians (186/8) at Wankhede Stadium.
23.39 IST: Marcus Stoinis is the new man in.
23.38 IST: OUT! Bumrah removes Finch for 46. Bumrah comes and Bumrah strikes! Oh, what a moment in the game! This is huge. The dangerous Aaron Finch is back in the dugout. Fuller length ball attacking the stumps, Finch throws his front foot out of the way and attempts to clear the leg side. He skies this in the mid-wicket area, where Hardik comes running from long on. Settles himself under it and takes a superb catch. Kings XI Punjab 145/2 in 16.1 overs vs Mumbai Indians (186/8) at Wankhede Stadium.
23.36 IST: SIX! Two in two for Rahul! 18 runs from it. Could be the game-changer. 42 needed off 24. Rahul once again skips down and clears long on. Game on at the Wankhede!
23.35 IST: SIX! Smoked! Too predictable from Markande, just loops it up, Rahul comes down the track and lifts it over long on for a maximum. The 100-run stand is up with this. KXIP 139/1 in 15.5 overs.
23.31 IST: Hardik Pandya to Lokesh Rahul, 1 run. Extremely full, Rahul drills it down the ground to long off for a run. Just 6 off the over, a good one from Hardik.  KXIP 127/1 in 15 overs.
23.23 IST: FOUR! BANG! Straight as an arrow! No chance for Krunal to stop that. Glad he didn't get his hands to it, maybe would have broken a few fingers if he did. Was hit that hard. Full on the stumps, Finch backs away and smashes it back over the bowler's head for a boundary.
23.17 IST: FOUR! The change of angle doesn't work for Mitch. He comes from around the wicket and angles in a length ball on off, Finch backs away and slaps it over mid off. Beats the chasing fielder to the boundary line.
23.15 IST: FOUR! Poor delivery. Fine leg is up inside the ring, it's bowled on the pads. Rahul just works it fine down the leg side for a boundary. Punjab need 83 more to win off 46.
23.09 IST: FIFTY! KL Rahul scores his 10th IPL half-century. Krunal Pandya to Lokesh Rahul, 1 run. 10th fifty in the Indian T20 League for Rahul, his second vs Mumbai and first at this venue. He has been in some serious form this season. Coming to the ball - A faster one from Krunal and Rahul punches to long on for a single. Kings XI Punjab 95/1 in 11 overs vs Mumbai Indians (186/8) at Wankhede Stadium.
23.08 IST: FOUR! Swept with utter disdain! Fires it full on the middle and leg stump line, Finch gets down on one and gets inside the line of the delivery as he sweeps. Makes good contact and the ball races to the backward square leg boundary. KXIP 93/1 in 10.4 overs.
22.58 IST: Finch looks to deposit it over the fence with a slog sweep, but the ball goes off the inner half to deep square leg. They take a run.
22.54 IST: FOUR! Cut and Rahul does that once again. Short and wide, spinning away, Rahul crouches a bit and then fiercely cuts it past backward point to fine the fence. KXIP 70/1 in 7.1 overs
22.50 IST: FOUR! The timing for the cut on Markande's delivery was perfect. Through the gaps and Rahul instantly knows its a boundary. KXIP 62/1 in 6.1 overs
22.49 IST: FOUR! Lovely innovation from the KL Rahul. Sees the ball landed full on leg, he moves across his sticks and paddle scoops it over short fine leg's head for a boundary. KXIP 57.1 in 6 overs
22.46 IST: FOUR! The 50 comes up for Punjab and in some style too. Rahul welcomes Krunal with a charge down the track and lofts it over mid on. On the bounce and it's across the fence.
22.44 IST: Krunal Pandya called on to bowl.
22.43 IST: SIX! What a wonderful way to end the over. That's outta here! This is what he can do. Maybe tonight he finally comes to the party. Full and in his arc, Finch plants his front foot forward, gives it the full swing of his bat and launches it deep into the wide long on stands. 12 off the over. KXIP 46/1 in 5 overs.
22.39 IST: Aaron Finch walks in at no.3.
22.38 IST: OUT! McClenaghan removes Gayle for 18. Gayle's gone! McClenaghan strikes just at the right time. Gayle was looking dangerous and was cutting loose, this is a big blow for Punjab. Short ball, fast in pace and it climbs on the batsman quickly. He looks to pull but gets a big top edge in the mid-wicket area. Cutting out in the deep moves to his right and takes a well-judged catch. Kings XI Punjab 34/1 in 3.5 overs vs Mumbai Indians (186/8) at Wankhede Stadium.
22.35 IST: FOUR! Gayle looks to be in the mood tonight! It's full and right in the slot for him, the big Jamaican stays deep in the crease and hammers it over mid on for a one bounce boundary.
22.33 IST: FOUR! Oh, that's a lovely shot. Superb. Full and outside off, Rahul leans into the drive and elegantly places it through the covers for a boundary.
22.32 IST: FOUR! Gets it finer this time. Rahul waits for the length ball to come and then plays it late down to third man for a boundary.
22.30 IST: FOUR! Back of a length outside off, Gayle expects it to be on the shorter side so he hangs back and ramps it over short third man for a boundary.
22.29 IST: SIX! Gayle welcomes Hardik Pandya with a SIX! BANG! Right off the meat and that's out of here! Short of a good length on middle and off, Gayle shifts onto the back foot in a jiffy and muscles the pull over mid-wicket for a maximum. KXIP 15/0 in 2.1 overs.
22.21 IST: SIX! Biggie! It is no where to be convincing. Short of a length ball on the leg stump line, Rahul moves across and looks to play the horizontal bat stroke. He gets a top edge right back over the keeper and the ball flies over the fence for a maximum. KXIP 8/0 in 0.3 overs.
22.19 IST: We are back for the chase. 187 to win and it'll be Chris Gayle along with KL Rahul to open the Punjab innings. Mitchell McClenaghan to take the new ball first up. A slip in place. 
22.04 IST: Mumbai Indians score 186/8 in 20 overs against Kings XI Punjab at Wankhede Stadium. Pollard 50, Tye 4/16. Mohit Sharma to Mayank Markande, 1 run. So not much damage from the resulting no ball in the end, but still, the hosts have managed to get three extra runs. Could be all the difference when it comes down to it. Markande works this off his pads on the leg side and takes a single. MUMBAI FINISH ON 186/8!
Innings Break!

The @mipaltan post a formidable total of 186/8 in 20 overs.

Chase coming up in a bit. Stay tuned #MIvKXIP pic.twitter.com/0BtMTaaR4K

— IndianPremierLeague (@IPL) May 16, 2018
21.58 IST: FOUR! Short and wide outside off, Markande reaches out to it and lofts it well over backward point. Nobody out there in the deep, so the ball will race away. Good start to the over for Mumbai.
21.55 IST: FOUR! Low full outside off stump, the batsman opens the face of the bat and slices it smartly over backward point. No one out in the deep to stop it and the ball races away to the boundary.
21.53 IST: Mayank Markande is the new man in.
21.52 IST: OUT! Andrew Tye removes Hardik Pandya for 9. Fourth wicket for Tye, he has been exceptional with the ball tonight. Can he get the fifer? He still has four balls to get it. Short of a length ball, it is once again the knuckle ball which the Mumbai all-rounder fails to pick. Hardik goes hard at it, plays with the horizontal bat and tries to cut it but gets a fat outside edge to short third man. Ashwin takes a simple catch. Mumbai Indians 170/8 in 18.2 overs vs Kings XI Punjab at Wankhede Stadium.
21.49 IST: Mitchell McClenaghan is the next man in.
21.48 IST: OUT! Ashwin removes Cutting for 4. Ashwin picks up another important wicket, he is doing an excellent job with the ball and is leading from the front. Disappointment for the Mumbai fans. Floated carom ball outside off, Cutting sits down on one knee trying to sweep that one against the angle of the ball which is going away from him. He gets a top edge to deep mid-wicket and Axar in the deep runs in a few steps and completes a safe catch. Mumbai Indians 160/7 in 17.4 overs vs Kings XI Punjab at Wankhede Stadium
21.40 IST: Ben Cutting walks out to bat.
21.39 IST: OUT! Ashwin removes Pollard. MI 152/6 in 15.3 overs. Taken in the deep by Finch! So, the gamble of bringing himself into the attack has worked for Ashwin. The big hitting West Indian departs straight after reaching the milestone. A loopy delivery wide outside off from the Punjab skipper, he makes Pollard reach out for it who toe ends the big shot to long off. Finch near the rope stretches a little and holds on to a sharp chance.
21.34 IST: FIFTY! Kieron Pollard hits his 13th IPL half-century. SIX! Biggie! Fifty to Pollard, his 13th in the Indian T20 League! Fuller length ball right in the slot for the big man who smokes it hard and flat over the long off boundary. 17 runs from the over and Mumbai have reached the 150-mark.  Mumbai Indians 151/5 in 15 overs vs Kings XI Punjab at Wankhede Stadium.
21.30 IST: Hardik Pandya walks out to bat.
21.29 IST: OUT! Stoinis removes Krunal Pandya for 32. Stoinis strikes! So, it's the slower ball again that does the trick. That ends the 65-run partnership. Bumper from Stoinis and it is an off pace delivery, Krunal had to delay his shot but still ends up top edging it to short fine leg. Ankit Rajpoot inside the circle takes a dolly. Punjab desperately needed this breakthrough to stem the flow of runs. Mumbai have lost half their side and still there is still 34 balls to go. Mumbai Indians 136/5 in 14.2 overs vs Kings XI Punjab at Wankhede Stadium.
21.25 IST: FOUR! Whipped away with immense power. Low full toss on middle and leg stump line, Pollard uses his strong wrists and flicks it away to the square leg boundary.
21.23 IST: FOUR! More runs, bowls a half volley outside off and the batsman smashes it to the right of the man at long off who had no chance of stopping it.
21.22 IST: SIX! Pollard on fire! FLAT HIT! That's the 50-run partnership between Pollard and Krunal, this has been a terrific stand for Mumbai which has brought the home team back in the game. Short of a length ball, sits up to be hit and the West Indian tonks it flat over long on for a big hit. MI 123/4 in 13.2 overs.
21.19 IST: SIX! SMASHED IT! Pollard hits it with disdain as if he wants to say don't bowl me there. Drops it short on the middle and leg stump line, the big man rocks back and whacks it over wide long on for a biggie.
21.15 IST: FOUR! Runs coming thick and fast for Mumbai in this over. An Over pitched delivery from Stoinis outside off, Krunal gets on the front foot and blasts it through the covers for a boundary.
21.13 IST: SIX! Back-to-back sixes by Krunal Pandya! Pulled away, 12 off 2 balls from Krunal. Is he the man for Mumbai? Seems like. He gets a shortish delivery on the stumps, the right-hander sits back and mauls it over wide long on for half a dozen. MI 98/4 in 11.3 overs.
21.11 IST: SIX! Just over Rajpoot at deep backward square leg. Heart-in-mouth stuff for Krunal. He sits on the back foot and pulls but doesn't get the timing right. He generates just enough power and clears the rope.
21.06 IST: GOOD NEWS! The lights have come back on and the players are walking out, we are good to resume.
20.58 IST: Two of the light towers have gone down and there is a stoppage in play. Meanwhile, Brad Hodge is on the ground utilizing the opportunity to have a word with the Punjab skipper.
20.56 IST: Marcus Stoinis to Kieron Pollard, 1 run. Uses his wrists and works it in front of square on the leg side for a single. First half of the innings has belonged to Punjab. Mumbai are on at mat with a score of 79 for four. After 10 overs, MI are 79/4.
20.54 IST: FOUR! Welcome runs for Mumbai! Is it Pollard's night? Maybe. Short of a length ball outside off, the big man stands tall and punches it firmly through the covers. The ball races away to the boundary.
20.48 IST: Kieron Pollard is the next man in.
20.46 IST: OUT! Rajpoot removes Rohit for 6. Uppish...and taken by Yuvraj Singh at wide mid-on! This is a vital moment in the game, Rohit goes for just six, he fails to deliver when his team needed him the most. He departs with leaving his side in some serious trouble. Punjab pacers are doing the trick in this game and all they would hope of the spinners to come to the fore to further dominate this game. Short of a length ball, skids through at pace and Rohit is rushed by that one. He attempts a pull shot but top edges it to wide mid on. Yuvraj settles under the high ball and pouches it safely. Mumbai Indians 71/4 in 8.2 overs vs Kings XI Punjab at Wankhede Stadium.
20.43 IST: Ravichandran Ashwin to Rohit Sharma, 1 run. Faster one from Ashwin to end the over, Rohit tucks it to mid-wicket for a single.  MI 71/3 in 8 overs.
20.35 IST: Krunal Pandya is the new man.
20.34 IST: OUT! Andrew Tye to Suryakumar Yadav for 27. Gone, two in two for Tye. He is now on a hat-trick. He is single-handedly pulling this game back for Punjab. Bowls a seam up delivery on a good length outside off, SKY stays back and plays the pull but he gets an under edge on the front leg. Unluckily for Mumbai, the balloons straight to the keeper. Rahul takes it and appeals, the umpire is quick to make his decision. Mumbai Indians 59/3 in 5.4 overs vs Kings XI Punjab at Wankhede Stadium.
20.33 IST: Rohit Sharma is the next batsman.
20.32 IST: OUT! Andrew Tye to Ishan Kishan for 20. One shot too many from Kishan. He started really well but fails to convert. Slower ball from Tye once again does the trick. He is making important breakthroughs despite not getting enough support from the other end. Off pace delivery on a length outside off, Kishan looks to heave that across the line but he gets a top edge to mid on. Stoinis backtracks a little and judges the catch to perfection. Mumbai Indians 59/2 in 5.3 overs vs Kings XI Punjab at Wankhede Stadium.
20.26 IST: SIX! Magnificent strike! That's into the second tier, Kishan has deposited it into the stands. Short of a length ball, angling into him. He goes across and whacks it over deep backward square leg. 50 up for Mumbai inside five overs.
20.25 IST: FOUR! FOUR! Streaky but they all count! Fuller length ball, angling in from outside off, Kishan looks to play the drive on the rise but he gets a thick outside edge which races away past the first slip fielder to third man fence. MI 44/1 in 4.2 overs.
20.19 IST: Ishan Kishan is the new man in.
20.18 IST: OUT! Andrew Tye removes Lewis for 9. Bowling change works straightaway for Punjab! Tye delivers a telling blow off his fight ball. He starts with the knuckle ball, which is the last thing Lewis expected off him. The southpaw sits on the back foot to a relatively fuller delivery and looks to punch it. He is years early into the shot and misses it. The ball sneaks through the gap and hits the top of off peg. Mumbai Indians 37/1 in 3.1 overs vs Kings XI Punjab at Wankhede Stadium.
20.16 IST: FOUR! Clever! He is just playing with the mind of Rajpoot. The bowler is forced to pull his length back after getting lofted. Yadav stays back this time and delicately chops it past the keeper. Collects four more. Big over for Mumbai, 21 runs came off it.
20.14 IST: SIX! Wonderful strike! This is excellent from SKY, he attacked the short ball and was expecting a full delivery from Rajpoot. He gets one and lofts it nonchalantly over mid off.
20.12 IST: SIX! High, but is it long enough? You bet. Lewis mistimes the lofted drive but the power of the man takes the ball well over the fence. It is a full delivery which he dispatches over long off. MI 15/0 in 1.5 overs.
20.06 IST: Mohit Sharma to share the new ball.
20.03 IST: FOUR! Edged but runs! Flashes and flashes hard! Fullish delivery outside off, swings away at pace, seeing width Surya decides to throw bat at that one but he gets a thick outside edge. The ball flies wide of the man at 1st slip and races to the third man fence. MI 7/0 in 0.4 overs.
20.00 IST: The umpires are making their way into the middle. Suryakumar Yadav and Evin Lewis to open for Mumbai, the latter will be on strike. For Punjab, Ankit Rajpoot will open the attack with the new ball.
19.54 IST: Rohit Sharma, the Mumbai skipper, says he has been in this position many times in last few years but he is confident despite that. Adds the team has responded well to such situations better and they have given themselves a good chance after what happened in the first half of the season. Informs they are not worrying about what will happen in Delhi. Finishes saying they have made one change to their side, Kieron Pollard comes in for JP Duminy.
19.50 IST: Ravichandran Ashwin, the Punjab skipper, starts saying he wants to bowl first and exploit dampness if there is any in the wicket. Adds he wants to control them down to a manageable total and chase it later in the evening. Admits he was expecting a dip in performance after the good start to the season. Informs about team changes, Yuvraj Singh and Manoj Tiwary are in for Mayank Agarwal and Karun Nair.
19.40 IST: Mumbai Indians Playing XI: Suryakumar Yadav, Evin Lewis, Rohit Sharma (c), Ishan Kishan (w), Hardik Pandya, Krunal Pandya, Kieron Pollard, Ben Cutting, Mitchell McClenaghan, Mayank Markande, Jasprit Bumrah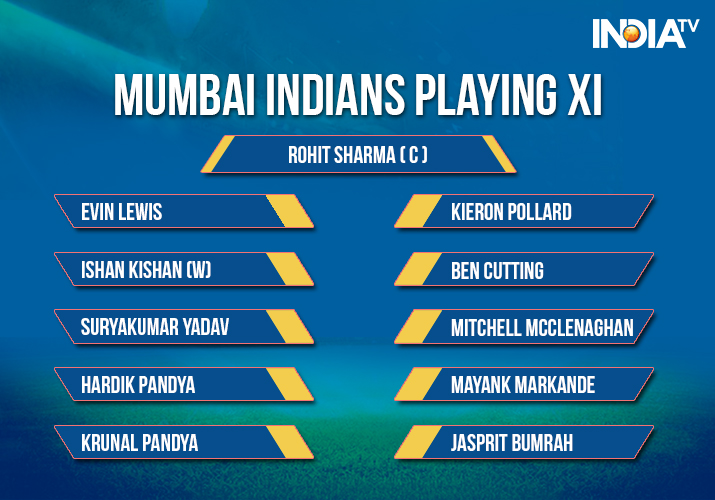 19.35 IST: Kings XI Punjab Playing XI: Lokesh Rahul (w), Chris Gayle, Aaron Finch, Yuvraj Singh, Manoj Tiwary, Marcus Stoinis, Axar Patel, Ravichandran Ashwin (c), Andrew Tye, Mohit Sharma, Ankit Rajpoot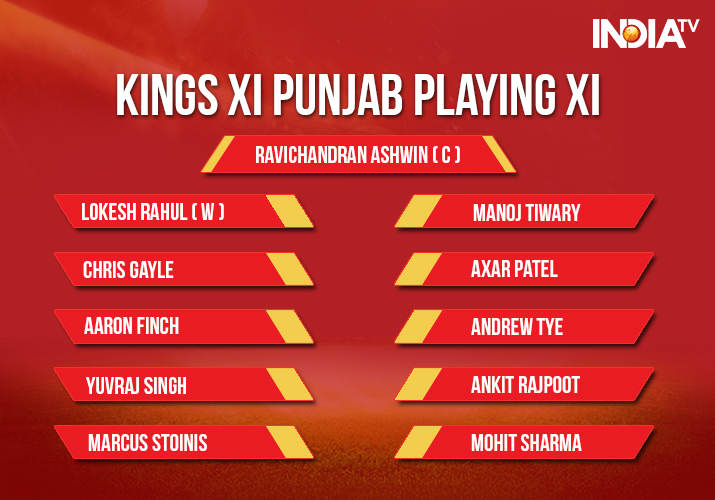 19.30 IST: IPL Toss! Kings XI Punjab win toss, opt to bowl against Mumbai Indians at Wankhede Stadium .
19.28 IST: Wankhede is set for a cracker of a contest. 
Wankhede is set for a cracker of a contest! 💙

Paltan, cheer for the team using #MumbaiIndians and #CricketMeriJaan#MIvKXIP pic.twitter.com/rBTB3goKVW

— Mumbai Indians (@mipaltan) May 16, 2018
19.15 IST: Chennai Super King' star batsman Suresh Raina have credited captain MS Dhoni for the team success.  "There are a lot of X-factors in the Chennai Super Kings team. By God's grace, we have qualified for the playoffs every single year we have played in the IPL. One factor I would say is MS Dhoni... he is the number one finisher in the world. He is definitely one of the top leaders in the world," Raina told IndiaTV during the show "Cricket Ki Baat". (Read full story)
19.00 IST: Meanwhile, Mumbai Indians reserve wicket-keeper Aditya Tare has words of praise for young Jharkhand stumper Ishan Kishan saying the stumper has enormous talent and that's the reason why the IPL defending champions have backed him. (Read full story)
18.50 IST: 
Kings hold the edge over Mumbai Indians at the Wankhede stadium, getting 4⃣️ wins so far.#LivePunjabiPlayPunjabi #MIvKXIP pic.twitter.com/YuKvHP3J3M

— Kings XI Punjab (@lionsdenkxip) May 16, 2018
18.40 IST: 
Ahead of #MIvKXIP, our last home game of the league stage, skipper @ImRo45 shares his fond memories of playing at the Wankhede Stadium.#CricketMeriJaan #MumbaiIndians pic.twitter.com/uzKs0JkJJP

— Mumbai Indians (@mipaltan) May 16, 2018
18.30 IST: 
Kings have arrived in Mumbai ahead of tonight's game against Mumbai Indians.#LivePunjabiPlayPunjabi #MIvKXIP pic.twitter.com/JfqZ0XxmT3

— Kings XI Punjab (@lionsdenkxip) May 16, 2018
Brief preview: Hosts Mumbai Indians will fancy beating a floundering Kings XI Punjab when both sides face-off in a must-win match in the Indian Premier League encounter at Wankhede Stadium on Wednesday. After a string of losses initially, Mumbai's hopes of making it to the last four were revived after three straight wins, but their eight-wicket defeat against Rajasthan Royals on Sunday has again put them on the back foot.
While Mumbai are in the sixth position with five wins from 12 games, a stuttering KXIP have slumped to the fifth spot with 12 points having suffered their fourth defeat yesterday in five games.
Mumbai, with an excellent net run-rate, need to put behind the humiliation by the Royals and come out with all guns blazing against an equally jittery KXIP, who have lost their way in the second half of the tournament after starting strongly. (Read Full Match Preview)