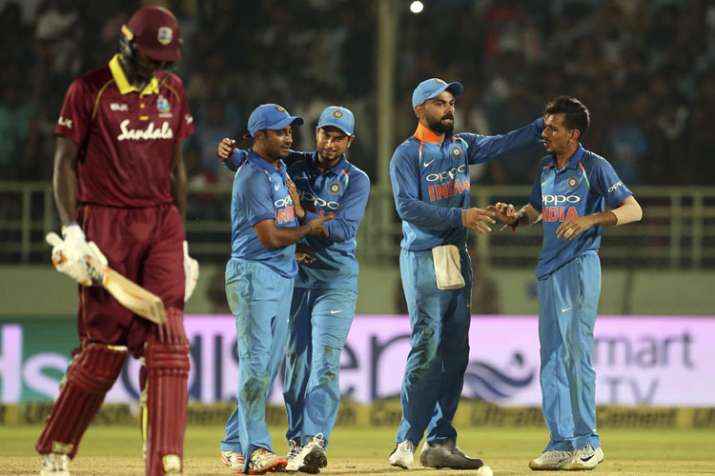 Even as the Indian and West Indies players arrived in the city to a rousing welcome from fans and supporters on Tuesday afternoon for the fifth and final One-Day International (ODI), the Kerala Cricket Association (KCA) is in an upbeat mood as ticket sales have by now crossed Rs three crore.
KCA officials are confident that the last ticket will be sold before the first ball is bowled on Thursday afternoon. In the over 45,000 capacity stadium, the KCA has decided to provide tickets for students at 50 per cent discount.
"Close to 30,000 tickets have been sold and in the remaining two days, we are confident that the last ticket also would be sold. Students need to bring their identity card and can get Rs 1000 worth ticket for Rs 500," a KCA official told IANS.
The teams are put up at the Leela Raviz Hotel, Kovalam, built by world-renowned architect Charles Correa, providing a breathtaking view of the Arabian sea.
Senior manager R. Sreejith at Raviz said that even though there is a set cuisine as prescribed by the BCCI, the teams will be given a real good taste of Kerala cuisine in all its richness.
"We have got a huge collection of a variety of seafood which includes prawns, crabs and fish, especially, pearl spot- a traditional delicacy of our state, that has been sourced from a few places," said Sreejith and added that there is a special one for Indian captain Virat Kohli, that has been done up by them.
The scoreline now reads 2-1 in favour of India with one match tied and hence the visitors would go all out and so would India, who will like to win the series outright.
And with a strip which is expected to be easy for batting, the team that wins the toss would like to put up a big total and then try to defend it.
But, with the retreating monsoon in full cry, if the weather gods fail to behave it could well end up with a shortened game as the weathermen predict a brief thunderstorm in the afternoon and late evening on match day.
The last international match, which incidentally was the first international cricket match to be staged at the Greenfield Stadium on November 7 last year when the hosts defeated New Zealand in a T20 match that was shortened due to inclement weather, India won by six runs.