India vs Australia, 1st Test, Day 1:End of an outstanding day of Test cricket. It all started with the Aussie speedsters derailing the Indian innings in the morning. Mitchell Starc, Josh Hazlewood and Pat Cummins were stupendous with their efforts as they brought the visiting team on the mat. All of them picked up a couple of wickets apiece and Nathan Lyon also contributed to the cause by hunting down the dangerous looking Rohit Sharma and Rishabh Pant. For India, it looks like a sorry scorecard. The top order got blown away in no time and they were reeling at 41/4 at one stage. But it was Pujara who hung on, slowly but steadily anchoring India's innings all the way and the hard work, patience eventually paid off. He scored his maiden ton on Australian soil to lead India to 250/9 at stumps on Day 1. 
Highlights, India vs Australia, 1st Test, Day 1 from Adelaide: 
And, that's Stumps on Day 1 of the 1st Test.#TeamIndia 250/9 (Pujara 123)

Updates - https://t.co/bkvbHcROrY #AUSvIND pic.twitter.com/RsafEwR9BF

— BCCI (@BCCI) December 6, 2018
13.02 IST: 1st Test, Day 1: India 250/9 at stumps against Australia in Adelaide. Pujara 123, Starc 2/63
13.01 IST: OUT! Pujara is well short! Take a bow, Pat Cummins. They needed something magical to dismiss Pujara and it has come through an inspiration piece of fielding by Pat. A fuller length ball on middle, Pujara gently pushes it towards mid on and wants to retain strike for the next over. Hence he takes a chance as calls his partner through.
12.54 IST: SIX! Bang! What a knock this is turning out to be! Starc digs in a short delivery outside off, Pujara exercises his arms and slams it over backward point for a biggie. Vital runs. IND 243/8 in 86.5 overs
12.53 IST: FOUR! What a shot! Finds the gap with perfection. A length ball on middle and leg, Pujara uses his wrists and flicks it beautifully behind square leg. He pierces the gap between fine leg and square leg with precision. IND 237/8 in 86.4 overs
Pujara scores his 16th Test century! He also completes 5000 runs in Test cricket! 👏

A supreme, defiant knock, even as the rest of the Indian batsmen struggled, and he has kept the team's hopes alive here. #AUSvIND LIVE ⬇️https://t.co/sCMk42Mboc pic.twitter.com/T29wQax7Hk

— ICC (@ICC) December 6, 2018
12.49 IST: Short and angling away from the batsman, Pujara rocks back and cuts it through point for a couple of runs.
Pujara 👏🏻👏🏻👏🏻👏🏻👏🏻👏🏻👏🏻 💯 brilliant innings!

— Michael Clarke (@MClarke23) December 6, 2018
Terrific innings from Pujara or "Steve" as the Yorkshire men called him as they couldn't pronounce his first name Cheteshwar ! Congrats on a great 💯 👍

— Shane Warne (@ShaneWarne) December 6, 2018
12.44 IST: Here it is, 16th Test ton for Cheteshwar Pujara, third against Australia, first in Australia! A big moment for him and what a knock he has played in crisis. Wickets were tumbling around him but he never lost hope and has dragged India's total close to 250 now. Reaches the milestone with a gentle nudge in front of square leg for a couple. The crowd applauds the effort from the Indian number 3. IND 227/8 in 84.2 overs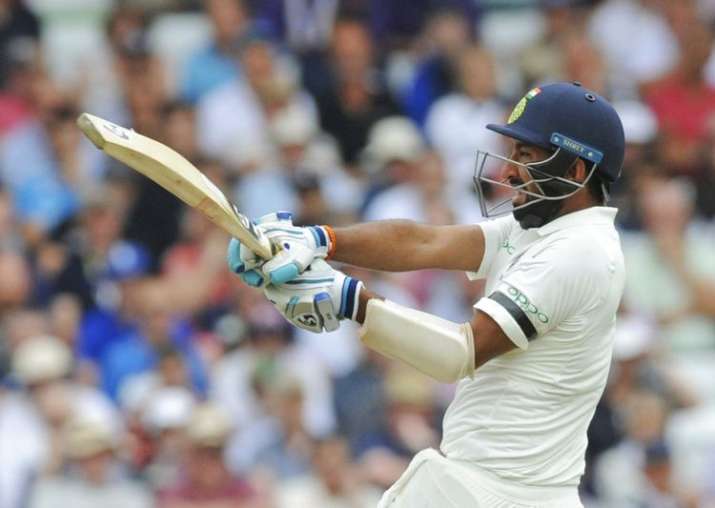 12.35 IST: FOUR! Starc eyes a yorker but ends up slipping a low full toss outside off, Shami reaches out for it and squeezes it through point for a boundary. IND 214/8 in 82.5 overs
12.33 IST: OUT! Bowled 'em! It was only a matter of time. Starc was trying to do this on the previous ball as well but the line wasn't good. Bu this time, he is right on the money. Full and sharp and straight, Ishant is beaten for pace as he is late in bringing his bat down. It goes right through his defense, brushes his pads and then cannons onto the stumps. Starc gets his second wicket. India 210/8 in 82.4 overs
12.30 IST: Full and around off, Pujara flicks it with soft hands through mid-wicket and straightaway shouts two. Completes it with ease.
12.27 IST: Good length ball around off, angling in and straightening a bit. Right on the button. Pujara defends it off his front foot.
12.20 IST: Second new ball has been taken immediately by Australia. Mitchell Starc is back on to make first use of the nut.
12.14 IST: A touch short and around off, Pujara allows it to spin back in and deflects it through backward point for a couple. Doing it nicely, Che. IND 206/7 in 79 overs
* Physio is out. Cheteshwar Pujara seems to have pulled his hamstrings while turning for the second run. Hopefully, he is fine. He has batted for 208 balls in this tough hot conditions. Brave batting, showing a lot of character.
12.10 IST: 200 up for India! This has been a great fight from the lower order, with Pujara leading this time. He still hangs on and seems comfortable out there with Ishant Sharma. 
12.01 IST: FOUR! The sweep shot played by Ishant! That's a fine sweep shot from India's number 9. He goes down on one knee to a full ball and uses his long reach to his advantage. Connects well and sends it whistling to the square leg boundary. IND 196/7 in 76.2 overs
11.59 IST: Peach! Through the gate. Ishant looks to block this but the back leg of Sharma has saved him. Kisses his pads and goes to the keeper.
11.51 IST: OUT! The 62-run stand has been broken by a jaffa of a delivery. Pat roars in delight. He dishes in a length delivery on middle and gets it to straighten off the seam after landing. Ashwin's intention is to play on the leg side but doesn't close the face of the bat in time. It takes the outside half of his bat and flies straight into the hands of Handscomb at second slip. Cummins removes Ashwin for 25. India 189/7 in 73.5 overs
11.49 IST: FOUR! Shot! Lovely hands of Ashwin on display. A length delivery outside off, there is room on offer and Ashwin steers it through point for his first boundary. He has been very patient.
11.46 IST: Drinks break. Finally, a wicket-less hour for India as Ashwin and Pujara are amidst a superb partnership. Both batsmen offered a chance each but the Aussie fielders failed to grab those chances. No doubt, they were tough ones.
11.34 IST: Good piece of running between Pujara and Ashwin. They are not known for this. Quicker one down the leg side, Ashwin tries flicking but probably gets a faint inside edge. It goes past leg gully and they take three.
11.25 IST: A little shimmy down the track by Pujara as he caresses his on drive. The mid on fielder makes a half stop probably as the ball slows down before the fence. They take three runs and bring up the first 50-run stand for India. A crucial partnership, this.
11.17 IST: As soon as Ashwin finds the line to be straighter and the length to be fuller, he takes his front foot forward and flicks it behind square leg for a run.
11.09 IST: The ease with which Ash bats is simply outstanding. Has a sound technique really. Short delivery this time on off, Ashwin is nicely on top of the bounce as he plays it in front of square leg for a run.
11.01 IST: DROPPED AND FOUR! Fuller ball outside off, Pujara who has been there for 168 balls goes for one outside the off stump. He gets a fat edge which flies just over Khawaja at gully for a boundary. The replays show that Usman got fingertips to this and the ball trickles down to the third man fence. Will go down as a dropped catch but it was Khawaja's brilliance to get something on the ball. He has already taken a blinder in this innings. IND 161/6 in 62.5 overs
10.59 IST: Shout for an lbw, not given. Flighted on off, turning in, Pujara tries defending but misses. He is hit on the pads, they appeal but impact is outside off. Paine thinks of reviewing it but Lyon tells him that he was playing the shot and also the impact is outside the line.
10.56 IST: An overpitched delivery on middle, Pujara gets forward to work it off his pads towards wide mid on. The mid-wicket fielder gets around it but lets it through for the fielder to his left. One run added to the total.
10.49 IST: Uses his wrists again and this time flicks it with the spin past backward square leg. A couple added to the total. IND 154/6 in 60.5 overs
10.42 IST: FIFTY for Cheteshwar Pujara, his 20th in this format! A knock of grit and determination. Another delivery on his pads and he works it away to deep square leg for single. Fine innings by India's reliable number 3. He now needs to continue and add valuable runs with the lower half. India 148/6 in 58.5 overs
10.37 IST: Tossed up ball landing outside off and spinning back in, Ashwin stays back and defends it with an angled bat. IND 144/6 in 57.4 overs
10.32 IST: We're back for the last session. The men concerned are also back on the field. 34 overs left in the day's play. Mitchell Starc to kick off proceedings.
Day 1, Session 3
* India have limped their way into the Tea break. They lost two wickets in this session as once again their batsmen were quite ordinary with the shot selection. Nathan Lyon was the best bowler on show in the afternoon. He picked up both the wickets and was bowling in good areas. Cheteshwar Pujara is fighting a lone battle but is running out of partners. Currently, Australia are in the driver's seat and they will look to wrap up the innings as quickly as possible. For India, they will be relying on the current partnership to bail them out. Who will succeed? Join us for the last session of the day to find out.
10.13 IST: 1st Test, Day 1: India 143/6 at Tea against Australia in Adelaide. Pujara 46*,  Lyon 2/51
10.12 IST: Quicker this time, a touch short and down the leg side, Ashwin tries flicking but misses. That will be Tea on Day 1!
10.06 IST: Travis Head into the attack and he will bowl his off-spinners.
10.00 IST: FOUR! Hazlewood bowls one short and Pujara is quick to cut it over point fir a boundary. He moves into the 40s. IND 137/6 in 52.3  overs
09.47 IST: OUT! A long delay but the finger is eventually raised. Lyon has been bowling great and gets another reward to this name. Lyon removes Pant for 25. India 127/6 in 49.1 overs
09.42 IST: On middle and leg, tucked away off the back foot towards square leg for one. Playing Lyon off the back foot is the key.
09.35 IST: FOUR! Good cover drive by Pant to deep extra cover. Low full toss around off, Pant drives it in the gap through the cover region. The ball rolls away to the fence. Good batting. IND 122/5 in 46.5 overs
09.29 IST: Inside edge! Loopy ball on middle and off, Pant looks to block it out but gets an inside onto his pads. Had he missed that, he was a goner.
09.24 IST: Tossed up ball around middle, Pujara comes down the track but then is hit on the pads as he fails to meet the ball.
09.19 IST: Long appeal but only from Lyon. Loopy ball around off, Che looks to bunt it but gets hit on his pads outside off. Lyon appeals but the impact was not in line.
09.15 IST: Leading edge again. Fuller ball around off. Once again Pant looks to go on the on side but gets a leading edge through to covers. Two more runs collected.
09.12 IST: FOUR! Edge but safe! That's the way he plays. Attack. Attack and attack. Full and outside off, Pant looks to flick it away but gets a leading edge wide of the slip cordon. The ball rolls towards third man for a boundary. IND 106/5 in 41 overs
09.10 IST: SIX! Lovely! Just flick of a wrists. Full and on the legs, Pant just flicks it over square leg for a biggie. 
09.09 IST: FOUR! The odd ball that is short and Che makes full use of it. Goes on his back foot and punches the ball square of the point fielder for a boundary.
09.06 IST: Even better. Perfect from Starc. 150.8 kph. Nips back in from around off. Pant gets across to play at it but is beaten again.
* Rishabh Pant is the new batsman out in the middle.
08.57 IST: OUT! Oh dear! What was Rohit thinking? Brain fade! Really. He played a similar shot in the previous ball and just managed to get it over the ropes but this time falls right in the trap. A bit flat this time for Lyon on middle and off, Rohit thought it was going to be fuller, but it wasn't. Still goes for the swipe. Gets a top edge on it and the ball flies towards square leg. Harris runs in and takes a simple catch. India have half their side back in the hut and after some resistance Rohit walks back. IND 86/5 in 37.4 overs
08.55 IST: SIX! Not the most convincing of ways but another maximum to Rohit's name. Loopy ball on middle, Rohit gets low and sweeps it aerially towards square leg. he gets just enough bat on it. Harris on the square leg rope takes the catch but then just steps outside the boundary line. He throws the ball back in play but was too late in doing so. The umpires check it up and six signalled by the umpire.
08.44 IST: Gets carried away this time and miscues his shot. Starc goes full and lands it around off, Pujara tries to blast it through covers but it takes the inside edge and rolls to short mid-wicket.
08.41 IST: FOUR! Brilliant shot by Pujara. He's finally picking up pace. He has been defending everything coming his way. Spots the shorter delivery wide outside off, senses the opportunity to free his arms and smashes it over the slip cordon. IND 76/4 in 34.2 overs
08.37 IST: SIX! What a shot! Didn't expect that but it is Rohit Sharma the Aussies are dealing with. This one comes out of nowhere! All timing, no power. He has just caressed his cover drive all the way over the fence. He is a special batsman. Unstoppable in the limited overs and trying to find his feet in Tests as well. IND 72/4 in 33.4 overs
08.27 IST: Shortish and on off, Rohit stays back footed and plays it down with an angled bat to backward point.
08.15 IST: Goes full this time and lands it on middle. Rohit tries defending with a straight willow but it takes the inside edge and rolls behind square leg for a single.
08.12 IST: FOUR! Overpitched and duly punished. This is how Rohit Sharma bats. He will always punish the bad balls. It's full and outside off, Rohit leans forward and caresses it through covers. IND 60/4 in 27.2 overs
08.11 IST: We are back after Lunch. If you're in India, then breakfast. whatever, as long as you are not hungry. The players have made their way out. Cheteshwar Pujara and Rohit Sharma walk out to take center stage. Pat Cummins will bowl the first over post the break. Let's get started. 
Day 1, Session 2
* The surface offered good assistance to the seamers early on and credit should be given to the Aussie speedsters for hitting accurate lines and lengths. They kept asking difficult questions to the batsmen and succeeded in creating good pressure. Nathan Lyon has also got good purchase from the pitch as he kept it tidy and was unlucky not to get the wicket of Rahane when he was on 2. Plenty of work needed to be done by the Indian middle-lower order. Do join us in a short while for more action.
* Excellent morning session for Australia! They lost the toss but then their pacers provided them with the best start possible. Mitchell Starc and Josh Hazlewood got into the act immediately and removed the Indian openers cheaply. Pat Cummins hunted down the big fish, Virat Kohli and then after offering a brief resistance, Ajinkya Rahane was dismissed.
That will be Lunch on Day 1. Four wickets in the bag for Australia. #TeamIndia 56/4 - Rohit Sharma 15*, Cheteshwar Pujara 11* #AUSvIND pic.twitter.com/BOC9FATwYF

— BCCI (@BCCI) December 6, 2018
07.34 IST: Hurls in a length delivery outside off, Pujara has nothing to do with it. That will be Lunch on Day 1!
07.25 IST: SIX! That comes of Rohit's bat! It has gone all the way! Kohli loves playing pull shots and this one is a shot of authority. Cummins digs it in, on middle and sits up nicely for the batsman. Rohit rides the bounce and pulls it in front of square leg for a biggie. Pat smiles and shares a few words with Sharma. It has begun.. IND 56/4 in 25.4 overs
07.23 IST: Digs in a short ball around leg, Rohit moves inside the line of the delivery and helps his pull shot down to fine leg for a run. Didn't look entirely in control. 50 up for India!
07.17 IST: FOUR! Loopy off spinner outside off, Rohit takes his front leg forward and drives it crisply on the up through covers. Finds the gap and fetches his first boundary. IND 48/4 in 23.4 overs
07.12 IST: Edged but safe! Full length ball around off, shaping away a bit, Pujara tries defending it with a straight bat but gets a soft outside edge behind. Luckily for him, it doesn't carry to the slip cordon. IND 44/4 in 23.2 overs
* Rohit Sharma arrives in the middle with India in tatters. Can he transform his shorter version form in Tests?
07.04 IST: OUT! Add another one to the tally for Australia. Like his teammates, Rahane has also gone chasing a wide delivery. Hazlewood just lands it on a length and wide outside off. Gets a hint of away movement as well. Rahane could have left it easily but goes after it away from his body. Tries driving without his front foot entirely forward and gets a big outside edge behind. Peter Handscomb makes no mistake at second slip. Good bowling change by Paine. India's misery continues. Their batsmen seem to be in love with driving but they should be doing that on the roads of India, not here. India 41/4 in 20.2 overs
07.01 IST: Skidding off the surface after landing on a good length around off. Pujara once again defends it from the crease to the on side.
06.56 IST: Uppish but wide of short leg this time! Tossed up ball on middle, an off spinner, Rahane tries working it around but it takes the inside edge and flies past the outstretched left hand of short leg. Rahane is living dangerously.
* A look at how Kohli was dismissed! 
06.46 IST: SIX! Woah! Where did that come from! Rahane goes big on Lyon's delivery.  This is what they have been trying to do. They don't want Nathan Lyon to settle down and hence using their feet a lot. Once again Rahane shimmies down the track to a full ball and swings it with the spin over mid-wicket. Interestingly, Jinx doesn't hit a lot of sixes in T20 cricket but has done so on the first morning of a Test match.  IND 36/3 in 15.5 overs
06.41 IST: In the air... DROPPED! Rahane gets an early reprieve. Keaton Jennings of late has made these catches look easy. Another off spinner, turning back in with extra bounce, Rahane is well forward in defense but it takes the inside edge and loops up towards short leg. The debutant Marcus Harris fails to hold onto the catch and they cross.
* Drinks! What an hour of play for the Aussies. Couldn't have asked for a better start. 3 wickets which includes the big fish, Virat Kohli. India, need to be patient. Too many loose shots has caused their downfall.
06.33 IST: Crowd catch! Fuller ball outside off. Rahane puts his bat down and plays at it and it goes straight to point but on the bounce. IND 25/3 in 13 overs
What a start for the boys! Test cricket at its finest!! @Uz_Khawaja 2.0 taking the best catch ever! #mayo @cricketcomau

— Matt Renshaw (@MattRenshaw449) December 6, 2018
06.27 IST: FOUR! On the backfoot, Pujara pushes that to deep backward point. India need a few boundaries here and then to release some pressure. IND 25/3 in 11.5 overs
06.25 IST: A real gift to Rahane first up. A low full toss, Rahane drives it through covers for a couple of runs. IND 21/3 in 11.2 overs
* Ajinkya Rahane is in next.
06.21 IST: OUT! What a Catch by Khawaja! And Cummins gets Kohli! A huge blow for the visitors and a poor start for them. The pacers are rallying through and it's just been 10 overs! You need something incredible to dismiss Virat Kohli. Australia are ecstatic, they know the value of this wicket. India in deep trouble. Once again an Indian batsman is caught playing away from the body. Cummins serves this one on a good length and outside off, Kohli goes for a drive and gets a big fat outside at backward point. Now, the real action begins. Khawaja is stationed there. It's to his stronger side. So, he throws himself in the air and takes a one-handed stunner. Superman! IND 19/3 in 10.3 overs
* Pat Cummins handed the ball. 
06.15 IST: Good length delivery in the zone outside off, Kohli strides forward to cover the line and shoulders arms.
* A look at how Hazlewood got Rahul's number. 
The first wicket of the Test summer! https://t.co/lTUqyqRMzW #AUSvIND pic.twitter.com/qAIm6k6Uw0

— cricket.com.au (@cricketcomau) December 6, 2018
06.10 IST: Off the mark is the Indian skipper. Just tucks a shortish delivery on the leg side, finds the gap and runs across to the other end.
* In walks India's talisman who just loves playing at the Adelaide Oval - Virat Kohli.
06.06 IST: OUT! It's edged behind! Murali Vijay is gone. Starc jumps in joy. India have lost both their openers, cheaply. Mitch has been mixing up his length quite nicely. He follows up the previous one by serving a juicy full delivery outside off. Vijay is lured into the drive but the ball doesn't come back in enough, takes the outside edge and goes into the gloves of Paine. He was nowhere near to the delivery, his front foot went missing. Vijay is on his way back. Best possible chance for Australia after losing the toss. IND 15/1 in 7 overs
05.58 IST: FOUR! First boundary of this Test match! A loose one though. Vijay is caught playing away from his body. It's full and wide outside off, Murali chases it and slices his drive off the outside half. Luckily for him it goes aerially but safely through backward point for a boundary.
05.57 IST: Delightful drive. Hazlewood bowls it full and around off, Vijay strokes it through extra cover for a couple of runs. Australia won't mind a batsman driving at this stage with the ball moving around.
05.54 IST: That's a good patient leave. Hazlewood lands it on a length outside off and it holds its line after pitching, Vijay has nothing to do with it. IND 8/1 in 5.4 overs
05.46 IST: Inswinger, pitching full and on middle, Pujara flicks it across the line behind square leg. The fine leg fielder cuts it off and Che is off the mark with a single.
05.45 IST: Beaten! Angling away from the batsman, on a length and leaving the batsman, Vijay has a tentative push inside the line and misses.
* Cheteshwar Pujara is the number 3 batsman.
05.40 IST: OUT! Rahul is caught at third slip! Early blow to India. This is beautiful bowling by Hazlewood. He's getting the ball to move both ways and hunts down one of the Indian openers. Serves it full enough outside off to entice a drive from Rahul. But it's an away swinger which takes a thick outside edge and settles into the big hands of Finch. KL's poor form continues. Hazlewood removes KL Rahul for 1. India 3/1 in 2.0 overs 
05.39 IST: India are off the mark! Starc spears in a full length delivery on middle at 144.5 kph, Rahul flicks it off his pads through mid-wicket for a couple of runs.
05.30 IST: Out come the Australian players on the field. Murali Vijay and KL Rahul are the Indian openers. Mitchell Starc has the brand new cherry in his hand. Three slips and a gully in place along with a short leg. It's show time...
05.14 IST: Virat Kohli says that they will bat first. Mentions that the pitch is nice and hard with good covering of grass. Adds saying that adding runs on the board is always handy. Reckons that this is a difficult challenge to play in Australia. Mentions that they are not taking anything for granted and lightly. On him playing in Adelaide, he says that he loves coming here and getting runs. Ends by saying that Rohit Sharma gets the nod as he can play aggressive cricket towards the end and can bat well with the tail.
05.05 IST: The Playing XI's for the 1st Test! 
India Playing XI: Murali Vijay, Lokesh Rahul, Cheteshwar Pujara, Virat Kohli(c), Ajinkya Rahane, Rohit Sharma, Rishabh Pant(w), Ravichandran Ashwin, Jasprit Bumrah, Ishant Sharma, Mohammed Shami
Australia Playing XI: Marcus Harris, Aaron Finch, Usman Khawaja, Shaun Marsh, Peter Handscomb, Travis Head, Tim Paine(w/c), Pat Cummins, Mitchell Starc, Josh Hazlewood, Nathan Lyon
05.03 IST: INDIA WIN THE TOSS, OPT TO BAT! 
05.02 IST: Pitch report - Brendon Julian is near the playing area giving his thoughts about the surface. Starts by informing that the drop-in pitch has been used in Adelaide for the last 5 years. Adds that there is a good covering of grass and it will seam a little bit at the start but it will be slow on the first day. Mentions that the surface will quicken up as the Test progresses. Advises that as a batsman, if you get through the first hour, sessions 2 and 3, followed by the next two days will be a batting paradise.
Toss time: #TeamIndia win the toss and bat first #AUSvIND pic.twitter.com/HqUQKGn6G1

— BCCI (@BCCI) December 5, 2018
05.01 IST: Marcus Harris makes his debut for Australia. What a day and in what a match! 
Welcome to the club, Marcus Harris #AUSvIND pic.twitter.com/mSihxGoPh9

— cricket.com.au (@cricketcomau) December 5, 2018
04.48 IST: The skipper is ready to smash at Adelaide. 
Getting into the groove be like 👑 @imVkohli #TeamIndia #AUSvIND pic.twitter.com/g4aOPd1WkF

— BCCI (@BCCI) December 5, 2018
04.45 IST: The Indian men are ready. Are you?
Let's do this Lads 💪🏻💪🏻 #TeamIndia #AUSvIND pic.twitter.com/oqFUs8HjQ1

— BCCI (@BCCI) December 5, 2018
04.30 IST: Hello and welcome to our live coverage of the Day 1 of the 1st Test between India and Australia being played at the Adelaide Oval. The match is scheduled to start at 05.30 IST. Do join us then as we bring you live updates from the highly anticipated rubber.
Brief Preview: An Indian team brimming with confidence will aim to finally shed the poor travellers' tag when it takes on a circumspect Australia in what is being perceived as the tourists' best opportunity to win a Test series Down Under in 70 years. While the narrative remained same during the earlier tours of South Africa (1-2) and England (1-4), Virat Kohli and his men will like to walk the talk as India's tough cycle of away assignment ends with this four-Test series beginning at the Adelaide Oval on Thursday. The series is even more important for Kohli as it would also define his legacy as a leader having already established himself as the world's premier batsman. (Read full preview here)