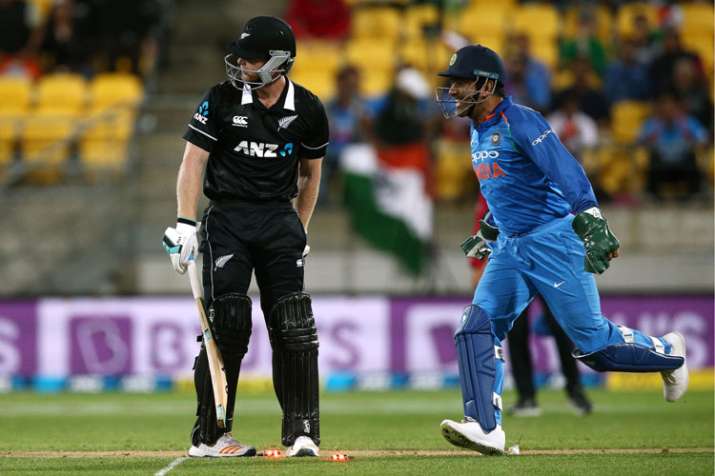 MS Dhoni showed the world yet again why he is so dangerous behind the stumps on Sunday with Jimmy Neesham on the recieving end this time.
Dhoni, who is lightning quick with his hands generally, showed this time how astute a reader of the game he is.
The former India captain's presence of mind sent Neesham back to the crease after he threatened to take the game away from the visitors in Wellington during the last and final ODI of the five-match series.
During the 37th over of the New Zealand innings, Yuzvendra Chahal bowled a flighted ball, which landed outside off and skidded back in. Neesham tried to sweep but missed and is hit on the pads. India appealed but the umpire shook his head as he felt the impact was outside off. 
The ball then deflected behind the stumps and Neesham came out of the crease, having no idea where the ball is. Dhoni was quick to react to the situation and immediately picked up the ball and flicked it onto the stumps. The square leg umpire referred it to the third umpire and the replays showed that the striker wsa well short of the crease.
Much to India's and Dhoni's delight, Neesham was back into the pavillian and the Kiwis despite a good fight went down by 35 runs and lost the series 1-4 to India.
No one better than him when its come to 'Presense of mind'.... cleverest mind on cricket field. #Thala #Dhoni #NZvIND pic.twitter.com/Qy835cBxq9

— Sagar pawar (@pawarsagar07) February 3, 2019
And, following Dhoni's quick glovework, ICC had some advice for the batsmen.
Never leave your crease with MS Dhoni behind the stumps! https://t.co/RoUp4iMpX6

— ICC (@ICC) February 3, 2019
Incidentally, during the pre-match press conference, Neesham had said that the game is never over until MSD is out there with the bat while chasing and this time around, he got a first hand experience that it is the same while he is on the field as well.
"His [Dhoni's] records speak for itself. I mean, he is a fantastic player. Some noise was made especially from Indian media about whether he should be there in their World Cup squad or not. But as I said, his record speaks for itself," Neesham said on Saturday.
"He's got that calm demeanour in the middle order. And when you're bowling to him, you know you haven't won the game till you've got him out. Hopefully, we can do that tomorrow and run them through," Neesham said on the eve of the match on Saturday.
The Kiwis did manage to get him early on Sunday but Ambati Rayudu, Vijay Shankar, Kedar Jadhav responded in fine fashion to take India to 252 from 49.5 overs -- which was just enough for India to seal the deal at the Westpac Stadium.