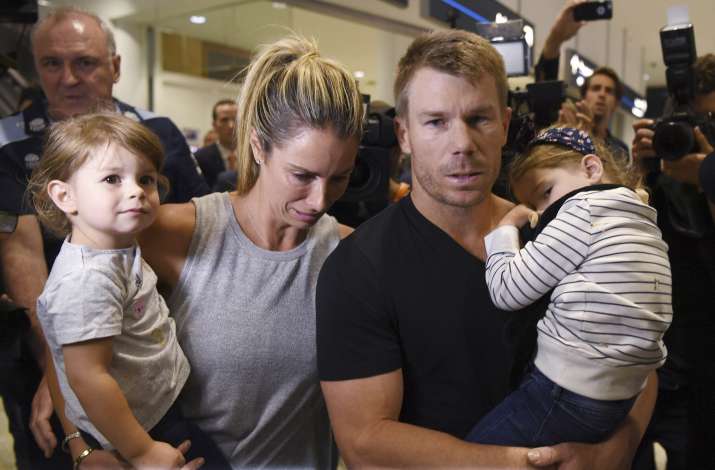 Australian opener David Warner issued a tearful apology on Saturday for his part in the ball-tampering scandal during the third cricket test against South Africa last weekend, but left a lot of questions unanswered as to his actual role in the episode. (Also Read: Hurt after watching Smith and Bancroft cry, teary-eyed Darren Lehmann quits as Australia head coach)
Warner was one of three players banned for their involvement in the ball-tampering controversy on the third day of the test at Cape Town. Steve Smith, who also lost his captaincy, received a 12-month ban, as did Warner. Opening batsman Cameron Bancroft was suspended for nine months. (Also Read: Steve Smith breaks down while addressing media in Sydney)
Warner has been barred by Cricket Australia from ever holding a leadership position again. He did not say Saturday whether he would appeal. He repeatedly apologized as he made his first public comments since the scandal broke, but did not address questions about his involvement, detail the roles of other teammates in the plot to cheat, or whether there'd been any previous attempts at ball tampering. (Also Read: Teary-eyed Cameron Bancroft asks for forgiveness)
"To all Australians, whether you're a cricket fan or not, I apologize for the impact those actions have had on our country's reputation. I've only ever wanted to bring glory to my country through playing cricket.
"I failed in my responsibilities as vice captain of the Australian cricket team."
Warner was accused of developing the plan to use sandpaper to scuff the ball on the third day of the Cape Town test against South Africa. Cricket Australia investigators also alleged he advised Bancroft how to scuff the ball and failed to voluntarily report of his knowledge of the plan after the match.
Warner cut short the news conference after being asked if he was being singled out as the instigator of the plan.
He later posted three tweets to follow up the news conference, acknowledging there were unanswered questions "and lots of them" but saying he was bound by a formal Cricket Australia process.
"I am taking advice to make sure I properly comply with that process and answer all the questions in the proper place and at the proper time," he posted. "I should have mentioned that in my press conference I'm sorry for not making it clearer. With so much at stake for my family and cricket I have to follow this process properly. I think that's fair."
While a contrite Bancroft and tearful Smith each faced news conferences soon after their arrivals on Thursday, Warner waited two days to front the media.
On Saturday, he made a special point of apologizing to cricket fans and players in South Africa, saying "I have brought the game into disrepute on your soil, and I apologize 100 percent."
He said he still hopes to return to play for Australia after his 12-month ban.
"In the back of my mind I suppose there is a tiny ray of hope that I may one day be given the privilege of playing for my country again, but I am resigned to the fact that that may never happen," Warner said. "In the coming weeks and months, I'm going to look at how this happened and who I am as a man. I will seek out advice and expertise to help me make serious changes."
(With AP inputs)