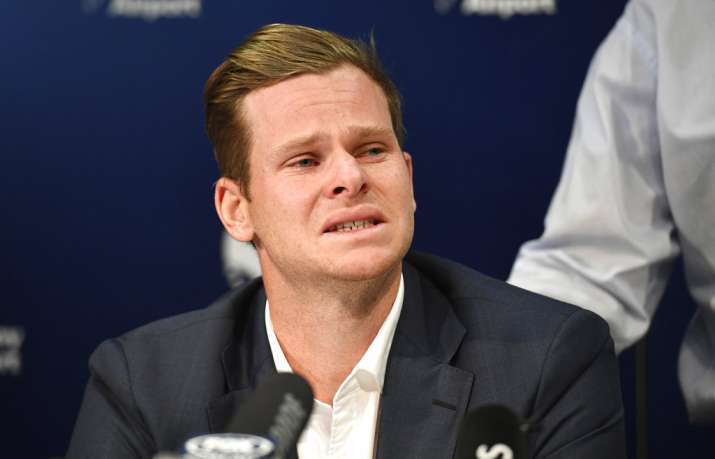 Disgraced former Australia captain Steve Smith broke down while speaking to the media in Sydney after returning home midway from ongoing Australia's tour of South Africa. Earlier on Wednesday, Smith and former vice-captain David Warner were banned for 12 months by Cricket Australia for masterminding the ball-tampering scandal during the Test series against South Africa. 
Devastated for his on-field actions and his involvement in the controversial ball-tampering saga, Smith said: "I am sorry. Want to make it clear that as captain of the Australia Cricket team I take full responsibility. I made a serious error of judgment and I now understand the consequences."
After a detailed investigation into the Australian cricket team's cheating scandal identified Warner as the instigator of the ball tampering plan that unravelled in South Africa during the third Test in Cape Town. Cricket Australia said Warner "instructed" young batsman Cameron Bancroft to carry out the tampering on the field with a piece of sandpaper - even showed Bancroft how to do it - then misled match officials and tried to cover up his role in the cheating.  (Also Read: David Warner apologises)
#BallTamperingScandal #SteveSmith breaks down while addressing the media in Sydney.

Read Story: https://t.co/Ni6iGBqmbH pic.twitter.com/UuCm9a10ar

— India TV (@indiatvnews) March 29, 2018
In an emotional news conference shortly after touching down in Sydney following his 12-month ban from the Australian cricket team, Smith took responsibility for the scandal that has rocked the sport in Australia. "I just want to say I'm sorry for the pain that I've brought to Australia and the fans and the public," he said. "It's devastating and I'm truly sorry."
#WATCH Steve Smith says, 'there was a failure of leadership, of my leadership', breaks down as he addresses the media in Sydney. #BallTamperingRow pic.twitter.com/hXKB4e7DR2

— ANI (@ANI) March 29, 2018
Smith and Cameron Bancroft fronted news conferences on opposite sides of Australia on Thursday, while the third player involved in the controversial ball-tampering scandal in South Africa - David Warner - used social media to issue an apology while still in the air.
Smith, wearing a formal coat and drawing deep breaths as he spoke, addressed the fans and the children of Australia would wanted to know why he'd cheated. "Firstly. I'm deeply sorry. I love the game of cricket. I love kids wanting to play the great game of cricket that I love," he said. "Any time you're thinking of making a questionable decision. Think about who you're affecting."
"You're affecting your parents. To see the way my old man has been ...," Smith, stopping briefly to cry, continued. "... and my mum. It hurts."
"It was a failure of my leadership. I will do everything I can to make up for my mistake and the damage it has caused. If any good can come from this, then I hope I can be a force for change.
"I will regret this for the rest of my life, I am absolutely gutted, I hope in time I can earn back respect and forgiveness."
Nearly 4,000 kilometres (2,500 miles) west, an emotional Bancroft apologized at Perth, Western Australia and said he will forever regret his role in the episode that resulted in 12-month bans for team leaders Smith and Warner and a nine-month ban for him. Warner was scheduled to arrive back in Sydney late Thursday night but was not planning to speak to the media.
Smith and Warner were banned from playing for Australia, or any high-level cricket in Australia, for a year. They've also been barred by Indian authorities from the lucrative IPL. Smith lost the captaincy and won't be eligible to regain it for two years, Cricket Australia said. Warner will never again be considered for a leadership role in an Australian team.
(With AP Inputs)