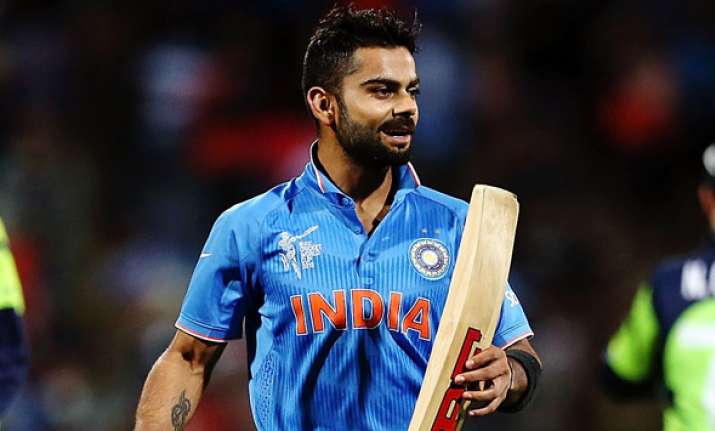 Leading the team from the front, Virat Kohli continued his spell-binding performance and shattered several records on Sunday with his innings of 122 runs against England.
Not only did he earn praise from his teammates, but also from the Opposition camp.
After his memorable innings in the first match of the three-ODI series which led India to a three-wicket win while chasing a mammoth target of 351 runs, former England skipper Nasser Hussain termed Kohli as the "Cristiano Ronaldo of Cricket". 
Playing his first match as full-time captain after taking over the ODI captaincy from Mahendra Singh Dhoni, Kohli came in to bat when India were reduced to 63/4. He, along with Kedar Jadhav, who smashed his second ODI hundred, made a 200-run partnership to lead the team to a historic win. 
Nasser Hussain compared Kohli to Real Madrid and Portugal football star Cristiano Ronaldo during his analysis on Sky Sports. 
"I think what Kohli is trying to do is push the boundary and raise the bar of everything he does," said Hussain. No-one says to him 'being captain in three forms is too much for you', no one says 'you can chase 300 but can you chase 350 from 63-4?" said Nasser. 
"I read out here that he prefers [Cristiano] Ronaldo to [Lionel] Messi. Messi was given a lot of natural ability but he prefers Ronaldo, who has made himself the footballer that he is and pushed himself on and off football pitch -- and that is what Kohli has done in cricketing terms," he added. 
Meanwhile, another former England skipper Michael Vaughan praised Kohli saying that he is "from another planet". In his tweet, he also said that Kohli is best player in all three formats of cricket. 
VIRAT KOHLI IS FROM ANOTHER PLANET #Fact

— Michael Vaughan (@MichaelVaughan) January 15, 2017
Best Test player ... KOHLI Best ODI player ... KOHLI. Best T20 player ... KOHLI

— Michael Vaughan (@MichaelVaughan) January 15, 2017
After the match, England captain Eoin Morgan said that Kohli is "fantastic" and that it was proven yet again in Pune. 
With his 27th ODI century, Kohli also surpassed Sachin Tendulkar's record for most hundreds (14) in successful run chases.