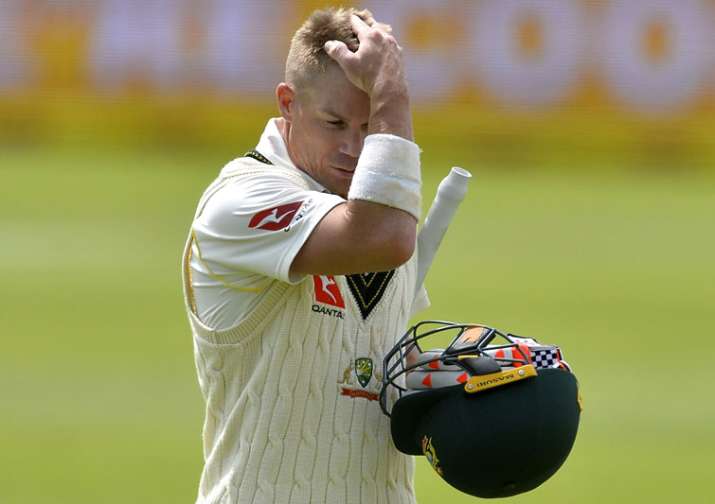 If the reports are to be believed, Australian vice-captain David Warner has 'gone rogue' following the shameful ball-tampering incident in the Cape Town Test against South Africa. Since the news of ball-tampering has broke, Warner has distanced himself from his teammates and also removed himself from a WhatsApp group comprising of his Australian teammates. 
The 31-year old batsman has further outraged his devastated teammates by swilling champagne in the bar of the team hotel in Cape Town with non-cricket friends. The whole incident has added fuel to the fire and Warner's already furious teammates have asked Cricket Australia bosses to "remove" the disgraced opener from the team hotel, as per the reports in foxsports.au. 
The players have further warned that there could be another 'incident' between Warner and them if he stayed along with the team. While skipper Steve Smith has taken responsibility for the ball-tampering affair and worn the brunt of world cricket's criticism, Warner has stayed largely in the shadows despite being strongly rumoured to have played a major role in concocting the plan.
The report further states that several of Australia's Test team players were unaware of the plot to tamper the ball until footage emerged on the big screen on the third day of the Cape Town Test. This whole incident shocked the Aussies players and aggravated their anger towards the attacking left-hander.
The New South Wales batter is expected to face heavy punishment which might result in a heavy ban from Cricket Australia. He is expected to miss the fourth Test against South Africa starting on Friday. 
Presently, Cricket Australia's head of integrity Iain Roy and high-performance manager Pat Howard are in Cape Town to lead the investigation. After arriving, Roy "will immediately conduct his inquiries around the specifics of the ball tampering incident," the Australian cricket body said.
The initial part of the investigation will likely be done at the Australian team's luxury Cape Town waterfront hotel, where they are holed up ahead of travelling to Johannesburg for the final Test of the series.
Smith had temporarily stepped down, confessed to being part of a player "leadership group" that came up with a plan to cheat by tampering with the ball during play in the third test against South Africa. Cameron Bancroft, a newcomer to the team, admitted that he was the player tasked with doing the on-field tampering, roughing up the ball with a piece of yellow adhesive tape and some dirt stuck to it in a desperate attempt to give the Australian bowlers an unfair advantage.