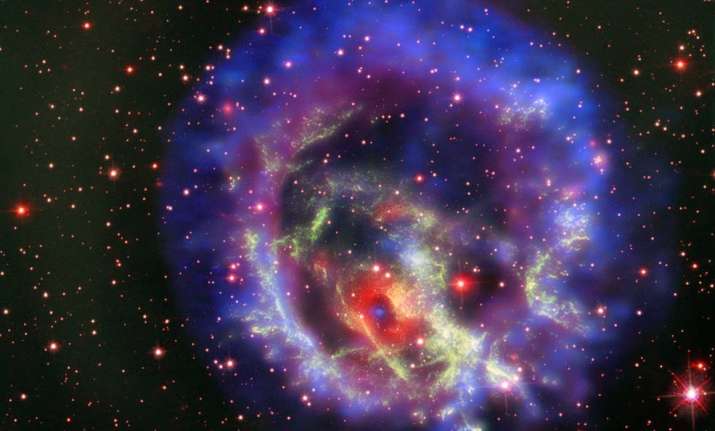 A neutron star has been discovered by NASA but for the first time it has been discovered outside the Milky Way galaxy.
A neutron star is the collapsed core of a large star which before collapse had a total of between 10 and 29 solar masses. Neutron stars are the smallest and densest stars, not counting hypothetical quark stars and strange stars.
"Neutron stars are the ultra-dense cores of massive stars that collapse and undergo a supernova explosion. This newly identified neutron star is a rare variety that has both a low magnetic field and no stellar companion," NASA explained on their website.
Although, 10 similar objects were seen before but all of them were inside the Milky Way, this is the first time that a neutron star's image has been captured outside the Milky Way. 
The star's image was captured with NASA's Chandra X-ray Observatory and the European Southern Observatory's Very Large Telescope (VLT) in Chile. The neutron star is located within the remains of a supernova – known as 1E 0102.2-7219 (E0102 for short), in the Small Magellanic Cloud, located 200,000 light years from Earth.
I spy with my little eye 👀 Spotted for the first time outside of the Milky way is a special kind of small neutron star, which forms when a massive star runs out of fuel and collapses. Learn more from @chandraxray: https://t.co/C9MSLMJb5D pic.twitter.com/7FQRCtLQ47

— NASA (@NASA) May 29, 2018
Scientists have analysed that this star is around "two millennia old" and was created in a supernova explosion. 
The first neutron star was discovered in 1967 by a British astrophysicist, Jocelyn Bell Burnell. He observed a few pulsars which suggested that neutron stars might exist.
NASA in an official statement has said that it might launch a new mission to learn more about the newly discovered star.
"The agency plans to launch the two-in-one Neutron Star Interior Composition Explorer, or NICER, aboard SpaceX CRS-11, a cargo resupply mission to the International Space Station to be launched aboard a Falcon 9 rocket," NASA said in a statement.  
"The mission will focus especially on pulsars — those neutron stars that appear to wink on and off because their spin sweeps beams of radiation past us, like a cosmic lighthouse," stated NASA.
NASA will equip its satellite with 56 X-ray mirror which will assist in gathering data and observation of the star.