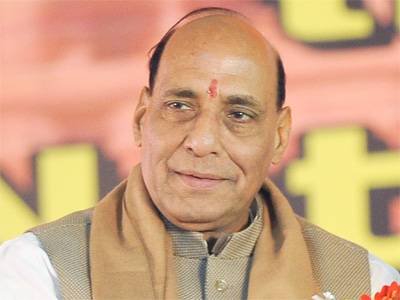 Hyderabad: Faced with rising cases of cyber crime, the government has decided to tighten the mechanism for preventing such attacks and tracing the perpetrators.
"The Home Ministry is taking all steps necessary for the prevention of cyber crime and very soon we will further strengthen the cyber crime prevention strategy," Home Minister Rajnath Singh said here today.
Addressing the 66th passing out parade of trainee officers of the Indian Police Service at the Sardar Vallabhbhai Patel National Police Academy here, Singh said that it is not necessary for a cyber criminal to reside in a particular town or country as these are crimes that can be committed sitting in any corner of the world.
"It can hit anyone, anywhere and any time," he said. On the occasion of the 139th birth anniversary of Sardar Patel, India's first home minister, Singh said he had single handedly achieved the merger of 562 princely states into the Indian Union with "minimum violence and maximum willingness".
"Especially, the merger of princely states like Junagarh and Hyderabad are inspiring instances in the annals of the country's post-independence history. It is for this reason that our government has decided to observe this day as 'National Unity Day'," he said.
Congratulating the trainee officers, Singh stressed that the role of the police has to change in keeping with the changing times.
"Police are the most visible representatives of the state and they are the most meaningful media of change in society," he said.
He said that a police station should be the temple of justice and police officials should experiment with new practices to develop harmony and confidence in society.
In view of the rise in crime and its ever newer dimensions, the modernisation of police training and police organisation is highly imperative, said Singh.
Of the 143 trainee officers at the function today, 28 are women while 15 officers belong to friendly foreign countries who received training at NPA.
Abhishek Tiwari of Madhya Pradesh cadre won the Prime Minister's baton and Home Ministry's revolver for the best all-round officer trainee.