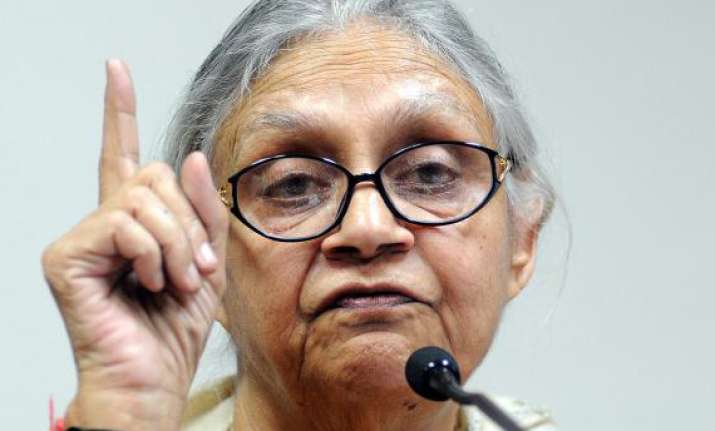 New Delhi, Feb 27: As she prepares for Assembly polls in November with "full courage and conviction", Chief Minister Sheila Dikshit today indicated giving special focus on social sector and infrastructure development when the Delhi Budget for 2013-14 is presented next month.
Dikshit, who has emerged as one of the most powerful chief ministers in the Congress, sounded confident of a fourth straight victory in the Assembly polls, saying the party would like to continue to serve the city.
"When we will go to the battle, we will go with full courage and conviction (to win). We will try our best. I will keep on working for people. It is our duty to serve the people," Dikshit told reporters here when asked about her preparation for the polls.
Dikshit, who has been at loggerheads with DPCC chief J P Agarwal on various issues, said though the party unit has not been very active of late, it will get its act together in due course of time.
"If it is made effective now, then it will lose steam during the election time. It will get its act together in due course of time," she said after releasing a 'Working Report' on the performance of her government in the year 2012.
Asked what would be her priority in the budget, Dikshit refused to divulge the details but said her government will keep its focus on social sector, infrastructure development, education and transport sector.
Dikshit, who also holds the Transport portfolio, had set aside 65 per cent of the total plan outlay for social sector schemes.
Earlier, the Chief Minister in her address to top officials of her administration, complimented them for working "diligently" despite facing "lot of difficulties" from the Union Home Ministry.
The Chief Minister was addressing top officials of her government at a function to mark completion of 14th year of her government in Delhi.
"We are facing lot of difficulties from the Home Ministry. I know you are working under pressure. But still you have been doing a good job," Dikshit said.
Last year, Dikshit had slammed the Union Home Ministry for its "unilateral decision" to transfer 25 senior officials of her administration without holding any consultation. She had even taken up the issue with Prime Minister Manmohan Singh.
Dikshit had taken a strong position on the issue saying there is a severe shortage of officials in Delhi government against the sanctioned strength, and transfer of the huge number of officials will seriously affect governance.
Asking the officials to ensure effective implementation of the schemes, the Chief Minister said her government was committed to make Delhi a "role model for governance".
"We want to make Delhi an electronically governed city. That is why we have introduced online transaction in so many areas including online registration of properties, Aadhar- linked direct cash transfer scheme," she said, adding that, "the dream of making Delhi a world-class city is coming true."
She said her government has managed to achieve a lot inspite of having no administrative control over land and police.
"Delhi has witnessed a positive change during the last 13- 14 years. The change is there to be felt as well as observed. The new generation would never know that there used to be longer power cuts, scarcity of drinking water, shortage of public transport, longer traffic jams and lethargic attitude of the government agencies," she said.
She also highlighted "successfully organisation" of the Commonwealth Games, round-the-clock power supply, adequate drinking water supply to all residents, expansion of green cover in the city as some of major achievements of her government.
The Chief Minister also termed regularisation of 895 unauthorised colonies and grant of ownership rights in resettlement colonies as other major achievements of her government.
Referring to the December 16 gang-rape, Dikshit said the city government was "quick" in responding to the situation.
"We established helpline 181 for women in distress. Moreover, five fast-track courts were established following our recommendation," she said.