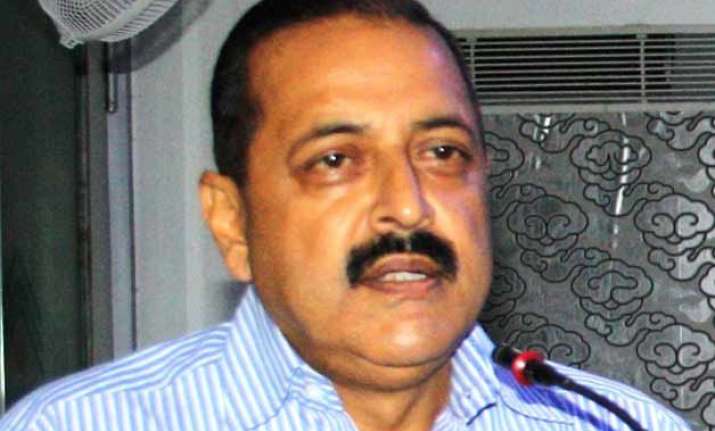 Jammu: Union Minister Jitendra Singh has said that within 15 months Udhampur will become the first district in Jammu and Kashmir to achieve hundred per cent rural electrification.
"Udhampur has achieved the distinction of being the first district in the state of Jammu and Kashmir to hold a formal meeting of District Electricity Committee for carrying forward the Government of India's Deen Dayal Upadhyay Gram Jyoti Yojana (DDUGJY) programme", Singh said during a meeting in Udhampur yesterday.
The Minister of State in the PMO said that Udhampur will also possibly be the first district in Jammu and Kashmir to achieve 100 per cent rural electrification within 15 months.
Earlier, Singh recalled, Udhampur was also the first district in the state to have officially launched Digital India programme and introduced e-Governance in administration within three days of its all-India launch by Prime Minister Narendra Modi at New Delhi on July 1.
He said that district Udhampur consists of 253 villages in total comprising 1772 hamlets, out of which 260 hamlets were still either not electrified or partly electrified.
This task will therefore be accomplished under DDUGJY for which an amount of Rs 39.95 crore has been allocated by the Central Government and more amount will also be sought to be obtained for the purpose, he said. 
"In addition, the district administration has been provided with 15,000 solar lights for providing the facility on immediate basis to the villages and hamlets till the task of electrification by conventional means gets completed", he said.
Referring to Deen Dayal Upadhyay's concept of 'Antyoday', Singh said, this also happens to be the birth centenary year of Upadhyay and the Modi government has come out with a befitting tribute to ensure that the process of rural electrification reaches the last village in the last corner.
Thus living up to Upadhyay's 'Antyoday' message of providing the benefits of democracy to the last man in the queue.
Singh said that he had promised his electorate that each of the six districts falling in his constituency will have one or the other 'first of its kind' distinction to claim.
"While one more 'first' has been added to Udhampur district, the Kathua district was already the 'first' to have inter-State Ravi bridge at Kedian-Garhiyal costing nearly Rs 180 crore and the state's 'first- ever' bio-tech park at the estimated cost of over Rs 90 Crore", he said.
Similarly, he said, district Reasi will have at Katra the terminal point of India's "longest" Express Corridor from Delhi via Amritsar and Sanjhi Chhat at Vaishno Devi has already been installed with the "first-ever" latest hi-tech weather forecast system.
"The Doda district has become the 'first' district in the state to launch a formal skill development programme on land survey and mapping introduced with the collaboration of a Hyderabad-based agency", he added.