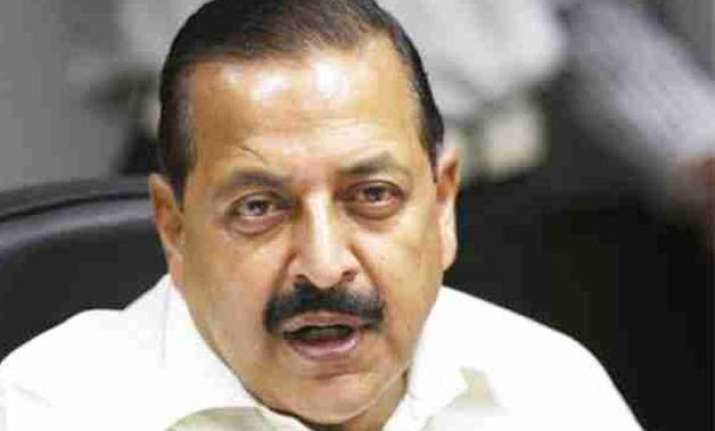 Jammu: Slamming remarks by Pakistan Prime Minister Nawaz Sharif over the Kashmir issue and for claiming that his country was the "primary victim" of terror, Union Minister Jitendra Singh today said it was the neighbouring country that was exporting terrorism from its soil to India.
"There is abundant evidence one after another that it is Pakistan which is supporting, sponsoring and even exporting terrorism to India," Singh said in the wake of a recent speech delivered by Sharif at the UN General Assembly.
Charging that Pakistan starts giving excuses and claims they are non-state actors whenever it is caught, he said, "But when a terrorist comes from Pakistani soil regardless of whether he is a state actor or non-state actor it is the responsibility of the power that is in Islamabad.
"Therefore, the liability lies with the government in Islamabad", he said.
Rejecting Pakistan's claim that human rights violations were taking place in Jammu and Kashmir, Singh said there was ample evidence to show that violations were actually taking place in the areas occupied by Pakistan.
"We live in an evidence-based era and, therefore, whatever is said by either side has to be supported with documents and evidence. Now, there is abundant evidence to show where actually the human right violation is happening," he said.
Referring to a recent video showing the people in Pakistan -occupied Kashmir seeking independence from Pakistan and being beaten by Pakistan army personnel, Singh called upon world human rights bodies to take a stand against the human rights violations taking place in Pakistan.
"Pakistan has been caught on camera indulging in human rights violation on the other side in Pakistan-Occupied Kashmir and Gilgit and Baltistan," he alleged.
Singh said that global human rights bodies should come and see the ground reality as to where the violations are actually happening.
"They have been accusing India of human rights violations and have turned a blind eye to what is happening on the other side in PoK," he claimed.
Using the podium of the UN, Sharif had on September 30 raked up the Kashmir issue, terming its non-resolution as a failure of the world body, and proposed a 4-point "peace initiative" with India which includes demilitarisation of Kashmir.