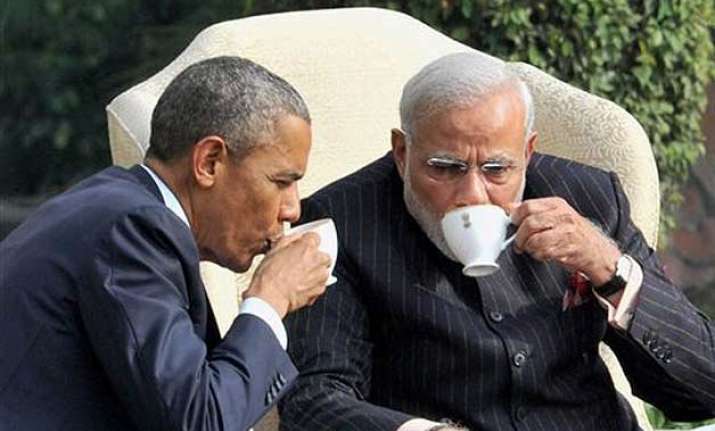 New Delhi: Prime Minister Narendra Modi is known for his innovative ways of striking personal rapport with world leaders.
Within a short span of 1 year, Modi has successfully struck personal chord with leading world leaders like Barack Obama, Shinzo Abe, Xi Xinping, Tony Abott and others. And his innovative 'charchas' have played a crucial role in strengthening his personal relations with these leaders.
Here are three famous 'Charcha' of Modi with top world:
Chai Pe Charcha
The concept of 'Chai Pe Charcha' became quite popular during Modi's campaign for the Lok Sabha polls last year.
Modi took his 'Chai Pe Charcha' concept to commanding heights in January this year serving up the brew to visiting US President Barack Obama from a silver teapot on the verdant green lawns of Hyderabad House.
The two leaders stepped out into the garden of the state guest house after a working lunch and leisurely strolled along the red sandstone pathways, talking animatedly and gesticulating for effect.
Their body language was quite electric and made it clear that the chemistry that had developed between them during Modi's visit to Washington has grown even stronger.
They sat down on two comfortable single-seater sofa chairs laid down in the Hyderabad House garden and Modi picked up the teapot, lifted a white cup and saucer, poured out the tea and handed it over to Obama without a break in the conversation.
They chatted amiably for more than 10 minutes before getting up and walking back into Hyderabad House.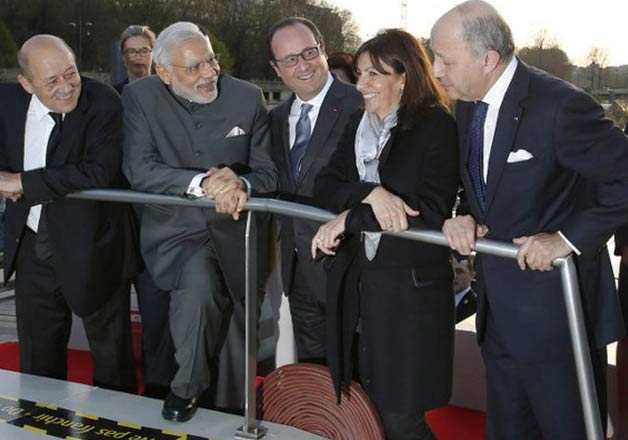 Naav Pe Charcha
Modi and French President Francois Hollande enjoyed a joint boat cruise on La Seine river in Paris which was described as "Naav Pe Charcha" (chat on the boat).
Hollande was seen giving details to Modi about various areas as the boat cruised through the river.
Many people enjoying a boat ride in the river at that time were seen waving at the dignitaries, including French ministers.
The two leaders had the boat ride after their detailed discussions, focusing on cooperation in the areas of civil nuclear energy, defence, space and trade.
It was the first time that Modi had 'Naav Pe Charcha' with any world leader.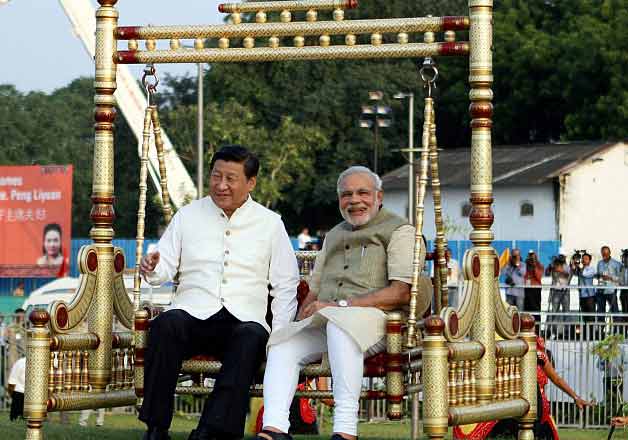 Jhoola Pe Charcha
It was the first time an Indian PM was receiving a foreign head of the state outside Delhi. The visiting dignitary was China President Xi Jinping who arrived in Ahmedabad instead Delhi in September last year.
There was also a departure from the tradition of signing international agreements in the national capital.
Xi was seen sporting a white sleeveless Nehru jacket, gifted to him by Modi, which Modi has already adopted as his fashion mantra.
In his trademark short-sleeved kurta, Modi and Xi strolled along the now clean Sabarmati river, walking through a park punctuated by colourful Gujarati dance and music pageants.
The Chinese present and Indian Prime Minister were seen together at 'jhoola' and having informal discussions.